Social media is one of the most important facets of marketing your streaming business as millions of users flock to social networks every day to pass their time
Using social media to increase your streaming service's visibility is one of the most cost-effective digital marketing strategies.
For instance, you might have a show with many short comic clips, but if nobody is aware of the show, very few people are likely to see it while browsing your content or through recommendations. However, the same as a Youtube short video might bring in a lot of audiences
The three main reasons to build your social following is
1. Generate traffic from the right audience
2. Build brand awareness
3. To engage your audience
In This Article
What should your social profiles include?
You need to make sure that your brand's name, profile picture, cover image, and background images on social handles look eye-catching and unique since they serve as billboards to showcase your brand.
Here are some key components your social handles must have
1. The Name and Logo
The name and logo of your VOD service —should be consistent across all tour social handles and VOD apps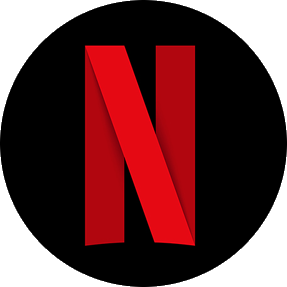 Lesson From Netflix
Netflix consistently uses its N logo as the profile picture and 'Netflix' as the profile name across social networks
2. A Catchy Tagline
Taglines take your company's message crystal and it helps you stand out among your competitors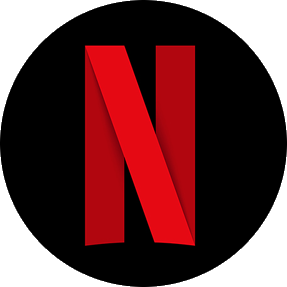 Lesson From Netflix
A few of the catchy lines that Netflix cleverly marketed in its social media handles are #SeeWhatsNext and #NetflixandChill
3. A Call To Action (CTA)
The purpose of having your social handles is to attract relevant traffic back to your streaming service. You need to navigate your audience to your streaming site or apps, for this you need to strategically place the navigation links.
💡 Your profile information should always have a link to your home page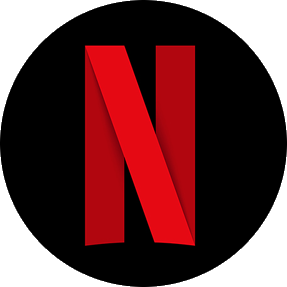 Lesson From Netflix
Netflix has a URL that redirects you to the Netflix homepage on all its social handles
4. Value Proposition
Show the value of your video library. Promote upcoming releases. Tag the artists and people involved. Make the people on social media want to watch your content.
As much as you are creating content for your social handles, you must create a curiosity to watch your VOD content.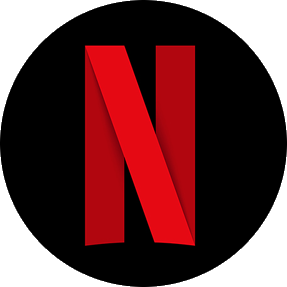 Lesson From Netflix
Netflix creates memes and gifs for all its upcoming and existing content to promote them
How to Build Your Social Audience
Users visit your social media pages for the same reasons they subscribe to your VOD service - they want to be entertained, educated, or informed (based on the type of your service).
If you cannot do this with your social pages, you'll lose your customers there - even before they try out your streaming service.

Did you know that over 83 percent of businesses use social media to promote their content or services?
But do they all have millions of followers and have their content shared virally? No.
Like cooking, social media marketing requires fresh ingredients (content), variety, experimentation, and serving with heart.
Creating promotional content that piques the curiosity of the audience can be tricky like poaching those perfect fluffy eggs but it is not impossible.
Here are some tricks and tips that will help you build your social following
1. Create posts that people want to share

If you announce something big coming up, it is likely to trend because your followers may get excited and share it with their connections.

Creating good posts on social media increases the likelihood of your post being shared widely.
2. Use Hashtags
Hashtags are incredibly powerful tools that can expose you to people who are interested in your content. For instance, if you put up a post with the hashtag kdrama, anyone who searches for korean drama will get to find you on the social platform.
Though hashtags can increase your discoverability, use them with caution. Too many hashtags make your posts look spammy
3. Interaction Is the Key
Host live streams on your social profiles, this is a great way for your audience to directly interact with the artists or creators involved.

Reply to user comments in a relevant and interesting way. Spark conversations where necessary. This creates a connection with your audience
Host competitions and encourage participation by crediting (mentioning) the winners in your stories. Even better, you can gift them coupon codes or gift cards, this way you could even acquire a new user
4. Solve Issues
Your viewers may turn to your social profile if they need some consumer support because it is the easiest way to reach you. Be there to rescue them from issues. Being witty can be an add-on advantage.

For instance, Spotify customer service responded to a reported issue and also shared a relevant music
5. Cross Promotion
Mentioning other brands in an interesting way can expose you to a larger audience
How Facebook Can Help Promote Your Streaming Business
Rather than just posting messages and content for followers to read and watch, the best way to use Facebook is to build an interactive community.
Create posts that your followers would like to comment on. You can boost the exposure of your posts by tagging the fan pages or profiles of the artists in the post.
Creating live streams is another great way to hear your audience. Moreover, the fans of the live stream also get to follow your page - thereby increasing your exposure.
The Facebook algorithm loves native videos. Though you share videos of your streaming site, make sure to add small promotional videos on Facebook that will pique the curiosity of the audience.

How Instagram Can Help Promote Your Streaming Business
Instagram has already become a household name for sharing visual content like videos and photos, so promoting your streaming business on the platform can take your content to a large audience.
Your Instagram bio can redirect people to your streaming service if you place the link to your streaming service there.
Behind-the-scenes and bloopers are great ways to grab Instagram users' attention and make them want to watch more.
For instance, many people are curious to know how their favorite artists are on the sets.
Use reels to grow your fans and viewers. Just share a sneak of upcoming shows and movies.
Don't miss-out to cross-promote your reels by sharing them on your stories
How Twitter Can Help Promote Your Streaming Business
Create a buzz on Twitter every time you add a new season or show. Provide a direct link to your content with a brief description of what it is.
Avoid bombarding your followers with tweets only about your content announcements. It may lead them to unfollow you on Twitter.
Post tweets to ask your followers which of your shows they enjoy. Prompt a discussion about topics relating to your shows.
You can also ask followers for feedback on your content or user experience.
Twitter chat is a great way to promote your streaming service. It creates engagement with your existing and potential audience.
Hosting a Twitter chat is easy. Simply select a topic with a hashtag, and pick up a suitable time and date for the chat. You can then share the word via tweets, website, your profile bio, or other platforms.
Remember, Twitter is all about engagement.
How Youtube Can Help Promote Your Streaming Business
Youtube is a great way to build awareness about your streaming service and its content.
Use Youtube as a platform for releasing trailers and promotional content. The best part is you can monetize your promotional content. Instead of you paying Youtube for marketing your content, YouTube would pay you when viewers watch your promotional videos.
Don't forget to link the actual video content on the video description. Also, pin comments with a link back to your website or app.
Create interviews with your artist and share them. Feature your followers – ask them to review your content and share those videos.
It is ultimately a matter of making the millions of Youtube users interested in your content and acquiring them.
How Netflix Is Nailing Social Media Marketing
In addition to spending my weekends with Netflix, I also enjoy following them on social media.
In 2012 Netflix had only 25 million subscribers, by 2017 it had almost 4x-ed its subscriber base with 99 million subscribers, and by 2022 it had further doubled its subscriber base to 221 million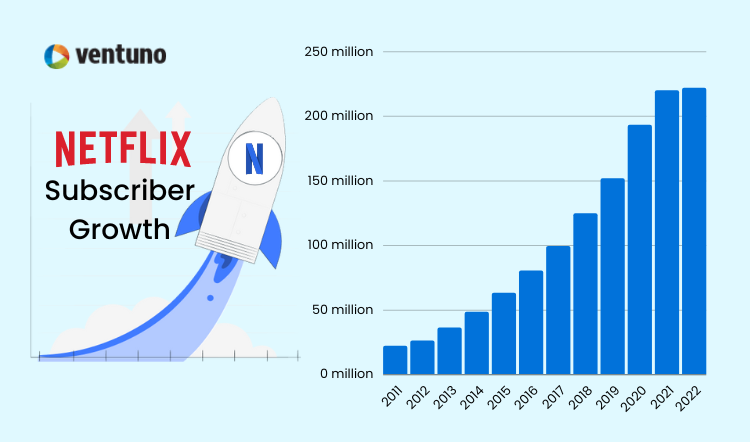 These statistics translate into roughly 37 percent of internet users being Netflix subscribers. Thanks to its amazing social media marketing strategy.
Let's break down what Netflix does on each of the platforms
Facebook
Netflix has over 88 million followers on Facebook, this is over 5 times the followers of its competitor Prime Video with over 16 million followers
Their Facebook page is typically filled with clips from upcoming movies and TV shows, giving fans a glimpse of what's to come.
While posts containing plain text are few and far between, they are often centered around movie and TV show questions, leading to a spike in engagement.
Instagram
As Instagram is all about images and video, Netflix's posts typically feature images. But at times, they also post scenes from TV shows, behind-the-scenes clips, and interviews with the cast and crew of a movie or show to engage their audience.
Twitter
Netflix is known for its witty comebacks on Twitter. On an average day, there are about 10–15 tweets from Netflix.
Netflix's Twitter handle makes one thing evident - they really care about user engagement.
YouTube
Despite being Netflix's biggest competitor, YouTube is one of Netflix's most effective marketing tools.
By creating content based on YouTube user behavior, Netflix was able to gain viewers and subscribers.
For instance, Netflix has a comedy YouTube channel called 'Netflix is a Joke'. Currently, the channel has over 3 million subscribers and posts video clips from stand-up specials.
Viewers who enjoy these clips will tend to subscribe to Netflix to watch the entire series
How to Post Content on Social Media
Posting promotional content such as trailers and short clips on social media can help you with building a brand voice.
Most importantly, it can shine a light on your content library's value.
Firstly, link your social handles with your Ventuno account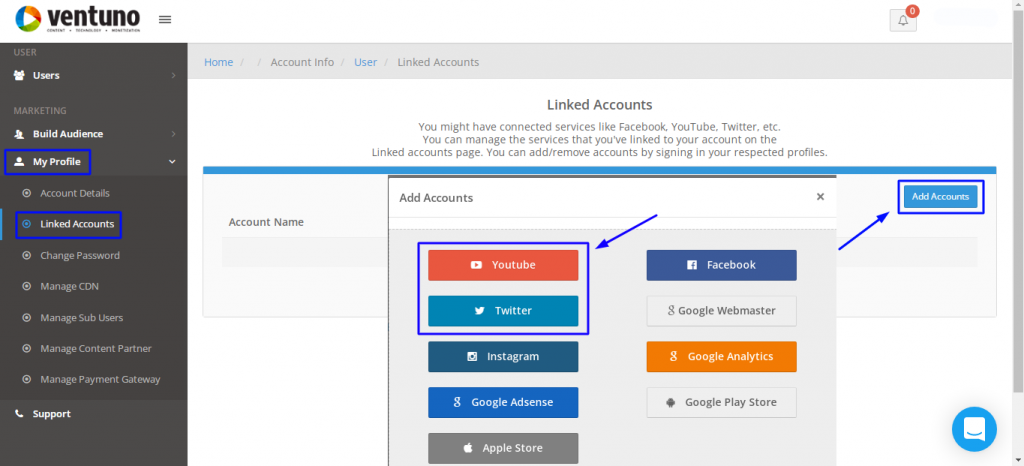 While uploading your video, head to the social distribution section and select all of the social profiles where you want the video to be shared.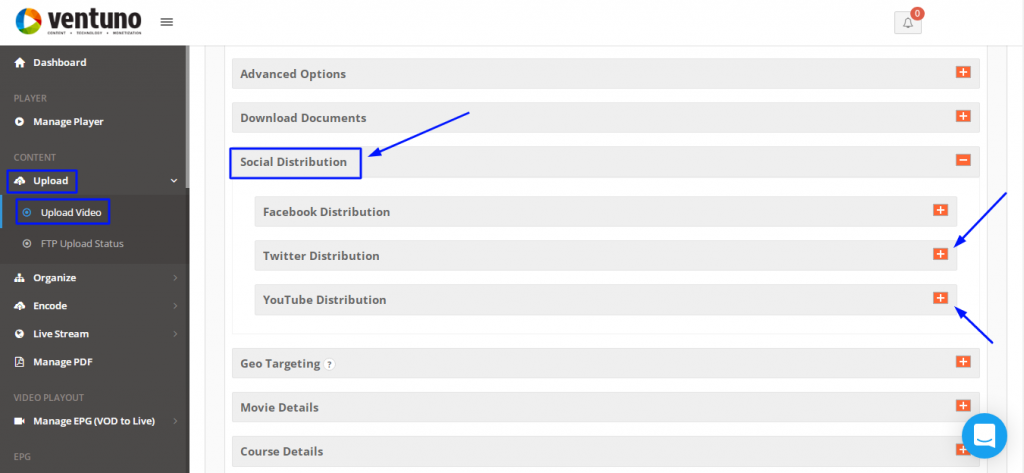 You can also post an already uploaded video to your social handles by clicking the Add Social button to the right of the video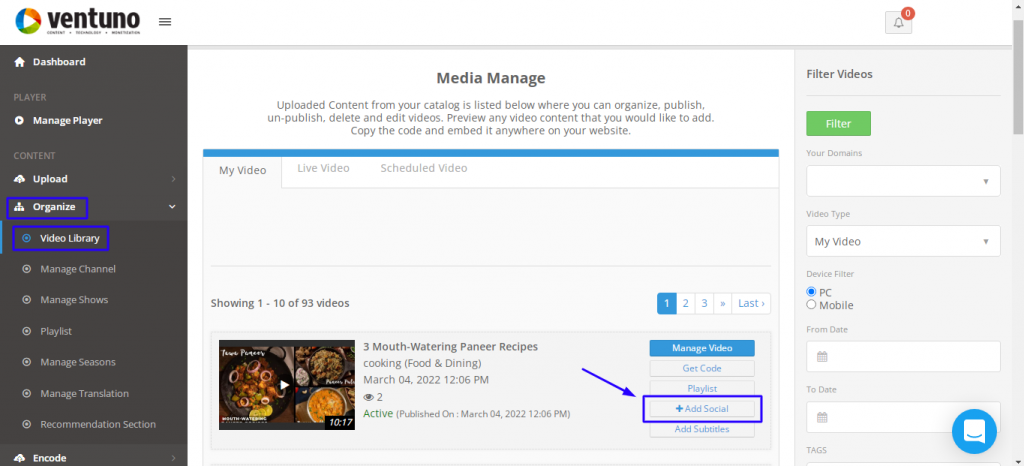 Take Away
People aren't won over only by having great content. You need to take your content to people through social media to get their attention.
Your brand voice needs to be authentic and convey what your company stands for clearly.
Like you do when creating streaming content, create social media content no one else can match you with.
Looking to launch your own streaming service?