Looking to make your online video content more secure?
We know how difficult that can be. There are so many video piracy websites that are looking to steal your content and data.
In 2019, Disney+ had launched its own streaming platform. Within just a few hours of the launch, most IDs and passwords were hacked into and changed. The hackers then went on to sell this hacked data further for $3-$11, each.
The concern is real and the threat is imminent.
In this article, let's explore the different ways you can secure your video content against piracy.
It is important for you to know that securing digital content isn't a simple one-step process. In most cases, it works a combination of several different techniques.

Table of Contents :
3. Digital Rights Management (DRM) Packaging
5. Data masking or Obfuscation
7. Use of Watermark on your videos
9. Protection from DDoS Attacks
Using HTTPS
The foremost important step in setting up digital content is to ensure that you are using the HTTPS delivery system.
HTTPS, or HTTP-Secured, ensures that the connection is set up between the end user's device and your website through a trusted certificate. The data that passes through this connection is encrypted and cannot be intercepted or altered by any lingering third party.
Though HTTPS was initially used by eCommerce companies primarily, it has gained significant importance in protection from theft of identity and content.
Authentication of the user
The next best practice for the protection of your content is to verify the user's credentials. Companies use several static and dynamic content elements like username, password, captcha, OTP, etc. for this verification.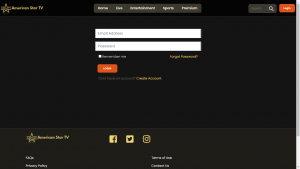 The sign-up page on American Star TV
Digital Rights Management (DRM) Packaging
DRM or Digital Rights Management is a technology used to safeguard copyrighted digital content from unauthorized redistribution. It gives you control over how a paying user can use your digital content and associated assets.
DRM cannot help in the identification of online pirates. It simply makes it difficult for anyone to steal and share the protected content altogether.
Encrypting the Video
Adding encryption to the video files acts as a protective blanket over the digital content that is hard to break.
The browser needs the access key to the encrypted file, without which the video cannot be played. One of the most common encryption methods is HLS encryption.
You can encrypt your videos using several tools available online, such as Widevine, Amazon's Elastic Video Transcoder, etc.
If you'd like to understand more about HLS, click here.
Data masking or Obfuscation
Everything on the web is trackable using a URI, short for 'Unique Resource Identifier'. Most video URIs end with a .mp4 extension, which makes them susceptible to tracking and downloaded by video thieves easily.
Obfuscation is a technique by which the URI of the video is masked, with an abrupt end in its URI. The video data becomes unreadable and untrackable.
Therefore, when oblivious video thieves try to access these obfuscated videos, the videos are delivered to them from completely different URIs.
Tokenization
Explained simply, tokenization is the technique used to mask relevant data with irrelevant data, that is of no consequence to a third party. Tokenization finds its uses in several areas of data protection like IP range, access tokens, video URLs, etc.
For example, if you see a YouTube link of any video, it is just a random alphanumeric string with no meaning to a user whatsoever. This is tokenization.
Use a watermark on your videos
In case your concerns are about unsolicited circulation and distribution of your digital content, and not about restricting access to the data, then watermarking is the solution for you.
Watermark allows you to embed a text or an image that is displayed continuously in the background of the video. Usually, players are able to identify this watermark and disallow the illegal playback of such videos.
Click here to learn more about how you can watermark your videos. 
IP and Domain Restriction
IP restriction on playback of videos is an interesting way to control the playback and download of your videos. Every device connects to a router for the internet. These internet-serving routers issue unique IP addresses, that follow a similar pattern across all routers connected in the same locality.
This allows you to restrict the playback of your videos to certain specific strings of IP addresses or block certain IP addresses too.
IP restriction can be especially helpful in safeguarding your internal company videos from being circulated and played outside.
The only drawback, however, is that even your employee or top-level executives will not be able to access and play these videos unless they are connected to the company network.
Domain restriction works similarly. However, the only difference here is that you can limit the playback of your videos to certain specific websites only or similar websites sharing the same domain name.
Domain restriction works best when you want to play your videos on your own website, along with certain other pre-approved websites only.
Protection from DDoS attacks
Distributed Denial-of-Service attacks are those that target websites and applications through large volumes of traffic, messages, etc. that could leave the platform inoperable.
These attacks are extremely difficult to recover from, and thus, companies need to plan well on how to mitigate and handle the threat of such attacks.
Here are some of the ways you can prepare for such attacks.
Keep a constant check on spikes and anomalies in your platform's activities. Anti-DDoS services can help you understand the signs of such threats.

Robust firewalls and routers can help reject fake traffic and prevent such abnormal and harmful spikes from taking place.

Adopting AI technologies can help manage and redistribute the traffic in a more systematic and manageable manner. AI can also block any malicious and harm-causing traffic before any damage is done.
The video streaming world is going to be constantly growing and so will the continuous threat that comes along in the form of cybercrime and piracy. The only way to survive and protect your content from such mishaps is through the adoption of the above-mentioned techniques.
We can help you create video streaming services that are well protected from such online attacks.
What are your thoughts on this article? reach out to us at info@ventunotech.com if you would like to discuss!
Looking to launch your own streaming service?