Do you remember the time when online video was limited to 480p on computers and the content centered primarily around short clips of funny children, skateboarding action, or dancing dogs? Successful videos, at the time, garnered thousands of views, had a shelf life measured in weeks, and were monetized only with ads.
Today, streaming premium content to family-room TVs, computers and mobile phones has become a norm. Consumers enjoy long-form online video via subscription video-on-demand (SVOD) services. In the US alone, at least half of subscribers have two or more SVOD services.
No wonder the SVOD market is estimated to grow to $156.9 billion by 2024. You see – consumers only pay for the content they consume, which enables them to choose from a range of options, personally tailored according to their preferences.
Table of Contents:
Movies
Netflix is probably the most popular SVOD service in the world. An estimated 37 percent of internet users around the globe use Netflix! Given it is available across a range of devices such as Smart TVs, laptops, desktops, tablets, and even smartphones, Netflix is able to reach customers on all devices. 
Most Netflix subscribers sign up on their mobile phones or computers. But 70 percent of viewing happens on TVs. By Q4 of 2019, Netflix had garnered 167 million paid subscribers in the world, owing to its popularity and the wide range of content available for consumers to choose from. 
Netflix has three separate pricing plans. The Basic plan costs $8.99 per month and allows only one screen per user at a time. The Standard plan costs $12.99 per month, allowing up to two screens at the same time. The Premium plan costs $15.99 per month and runs on four separate screens separately.
HBO Go is essentially a TV-everywhere service that is offered by HBO and allows consumers to stream content available on HBO, including past and present series. It has a significant customer audience in the US, followed by the UK, Canada, and Thailand.
By 2019-end, the SVOD service had raked in $5.81 billion just in terms of subscription revenue, a rise from $3.2 billion in 2018. Similar to Netflix, HBO Go is also available on several platforms such as Apple TV, Amazon Fire TV, Chromecast, Android phones and tablets, iPhone and iPad, and PlayStation 4 
Users can watch HBO Go content only if they are subscribers of HBO. Its Cable or Satellite TV Subscription ranges between $5–$20 per month.
Establishing a niche is perhaps the route that many successful SVOD businesses have taken. Although OTT brands such as Netflix, Hulu, and Amazon Prime cater to almost every kind of viewer, many independent video content enterprises stuck to a niche, including Crunchyroll.
Founded in 2006 in San Francisco, Crunchyroll is an American company focused on streaming content featuring Anime, Manga, and Dorama. It has a pervasive collection of titles that specifically cater to these interests of its subscribers.
A survey held in the US in early 2020 found that the interest in anime movies varied significantly across age groups, with 54 percent of adults aged 30 to 44 years old saying that they had a very favorable impression of anime films.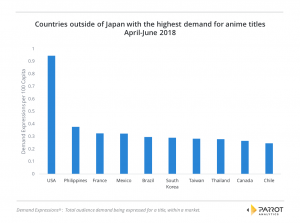 Given that the US tops the list of countries with the highest demand for anime outside of Japan, it is not surprising to see that Crunchyroll has about two million paid subscribers in the world, and $1.13 million in revenues are generated from the US alone. The subscription cost of Crunchyroll is $7.99 per month. 
Speaking of niche, there is another SVOD service that has become widely successful owing to its specialized offerings for South Indian viewers. Simply South is one of the largest South Indian online entertainment platforms with a library base comprising over 2000 movies in Tamil, Telugu, and Malayalam. 
Simply South caters to an enormous subscriber base from South India in the UK, US, UAE, and Malaysia. Subscribers can watch movies in 1080p HD with 5.1 Surround Sound and with English subtitles. It is available on Android and iOS devices, Roku, and others.
Sports 
If you are a fan of sports and love watching sports, then you must have heard of ESPN. Its video streaming service, ESPN+, was launched in 2018 as a joint venture with Disney. With a little more than a million subscribers, ESPN+ has become a popular video streaming service for consumers who specifically want to watch sports content from any device.
Contrary to popular belief, ESPN+ is not a replacement for the cable channel, but it gives subscribers plenty of access to new sports coverage and events. ESPN+'s subscription cost for ESPN+ is $4.99 a month or $49.99 annually. It is currently available in the US.
Launched in June 2019, Rakuten Sports is a video streaming service that features both on-demand content and live sports events across the globe. The service provides content, currently focused on football, from top J1 Leagues and sports teams to 140 countries and regions countrywide.
Extremely popular in Germany, followed by the US, Rakuten Sports is steadily gaining momentum in SEA countries such as Singapore, Vietnam, the Philippines, Malaysia, Indonesia, Laos, Myanmar, and others owing to the J1 Leagues' fan base.
Rakuten Sports is viewable on desktops, smart TVs, smartphones, laptops, and tablets. It only supports the English language at the moment.
Adventure Sports TV is another video streaming service that is known for its niche sports-related content. This SVOD service offers a collection of documentary films, which include extreme and endurance sports activities such as solo sailing, rock climbing, mountain climbing, snowboarding, and so on.
The subscription cost for Adventure Sports TV is $4.99 a month or $49.99 annually. It can be accessed via Amazon Fire, Apple's App Store, Roku, LG and Samsung TVs, and Google Play Store.
Religion
Up Faith & Family is a video streaming service that offers content specifically tailored for families that practice the faith. For instance, the service gives users access to an ever-growing library of over 1,000 uplifting family movies, Christian movies, comedies, animated features, music specials, and more. 
Consumers can subscribe to this faith-friendly entertainment service at the cost of $5.99 a month or get an annual subscription for 25% off at $53.99 billed for a year. The content can be accessed via smartphones, tablets, and TV.
The average number of Catholics attending a church event once a week is down to 39 percent in the US. In an attempt to attract more practitioners, Churchstreaming.tv is a live video streaming service that allows consumers to watch a church service on their device if they are unable to be at the service physically. For instance, if someone is at home or traveling, or even out on vacation, they can access Churchstreaming.tv to attend a live church service from wherever they are.
The SVOD service offers a great variety of features such as viewing content on all devices, ad-free content, social media sharing, chat facility, technical support, and so on.
Sixty-four percent of parishioners say that their church's website is essential in facilitating participation and attendance, says a report from The Church Online. This was perhaps the reason why the Crossroads church of Mason County decided to launch its web-based streaming service called WorshipStream.
The SVOD brand provides high-quality content from the Crossroads church to the consumers looking to attend any service or event about the faith. As of today, the membership is only open to those consumers living within the region of Mason County.
Fitness
All Out Studio is a web and mobile application for fitness developed by Hearst Magazine. Their content comprises fitness videos for strength training, weight loss, agility, kettlebell, yoga, dance cardio, and more.
The subscription comes with a 14-day free trial period, after which consumers can subscribe to a monthly plan at $9 per month or pay a one-time annual fee at $5 per month. They can download the app on their android or iOS smartphone or Apple TV.
The reason this OTT app has become so popular is it can also customize actual regimens for subscribers as per their fitness goals and preferences, and certified fitness trainers take the 30-60-minute sessions for them. Subscription costs $5 per month and comes with a 14-day free trial.
Another SVOD service provider operating in a niche industry is Peloton. Founded in February of 2012, Peloton is an exercise equipment company that now provides stationary bike spinning classes online.
They also sell a bike with an interactive screen that allows users to participate in live online classes. With over 1.4 million subscribers worldwide, the company has made a name in the online fitness industry.
What sets Peloton apart from its competitors is that it offers a 90-day free trial to new users, irrespective of 14 or 30 days, which is the usual free trial period. Consumers can access the service for as low as $58 per month for 39 months with 0% APR.
Unofficially hailed as Fitness Netflix, Cyberobics is one of the largest fitness platforms as of today. Founded by the McFit Global Group, the SVOD service was launched with the idea to enable every consumer to be able to work out at home.
Video training by celebrity trainers, Cyberobics can be accessed via Roku, personal computers, Roku, Smart TVs, and Android and iOS smartphones and tablets. The monthly subscription for Cyberobics costs $4.99, and the annual subscription costs $34.99.
Similar to All Out Studio is YogaGlo, a health and fitness app featuring yoga, Pilates, and meditation classes, targets those interested in any of these activities. It offers a two-week trial to potential subscribers.
The classes, which are recorded live at the YogaGlo studio in California can be accessed for free if the consumers live near Santa Monica. Otherwise, the membership fee is $18 per month, which gives unlimited access to new classes and Glo's extensive archive of over 2,500 videos.
YogaGlo can be integrated with many popular viewing devices such as Google Play, Apple TV, Roku, and apps for Android and iOS devices.
Education
Have you wondered how high school students watch more films than reading books outside academia, yet on campus, it is all books and journals? Kanopy was founded in 2008 to bridge this disconnect.
An Australian on-demand online video streaming service for universities and public libraries, Kanopy offers educational content such as films and documentaries. Their content can be accessed via Android and iOS smartphones, desktops, Roku, Amazon Fire Stick, and Smart TVs.
Having gained an early foothold in New Zealand, Singapore, Hong Kong, besides Australia, Kanopy eventually targeted the UK and US markets as well.
The company has collaborated with many public libraries and universities in the country to stream educational video content to the subscribers for free. University students, faculty, and public library patrons can view Kanopy content for free with their institution's library card.
CuriosityStream is an independent media company that also offers an on-demand video streaming service for content related to science, technology, art, and history. The streaming service was launched in 2015 and has featured several award-winning docuseries and other such educational content for adults, and students from both K-12 and higher secondary. The subscription cost for CuriosityStream is $2.99 a month and $11.99 a year
Summing it up
As an increasing number of viewers are cutting the cable TV cord, now is the time for businesses to make the most of it and take advantage of OTT platforms such as Apple TV, Amazon Fire TV, and Roku by starting their SVOD services that will cater to a specific consumer need.
If you are looking to launch your video streaming service, Ventuno can help. Launch your streaming website, mobile apps (iOS, Android), and connected TV apps (Amazon FireTV, Roku, Android TV, and Apple TV) using our platform.
What are your thoughts on this article? reach out to us at info@ventunotech.com if you would like to discuss!
Looking to launch your own streaming service?