Video content is winning the game across platforms. Be it 15-30 second reels on Instagram, YouTube shorts or long-form content on OTT platforms, video content consumption on the internet has grown massively over the years.
But there is a newly emerging problem appearing with too much video content being created, especially on OTT platforms and regular Pay TV. The challenge is about how to keep users engaged and increase user retention on these platforms. Metadata plays an important role here.
According to a report, nearly 73% of users are either extremely or somewhat frustrated when they cannot find enjoyable content. Two-thirds of respondents of the survey said that they would renew their subscription or upgrade their plan if the service provider offers better search or recommendations of content on their platform.
Metadata enables ease of navigation and content discovery, and provides high-quality recommendations to users. As an important OTT engagement strategy, metadata plays a key role in increasing the engagement and satisfaction level of users towards the OTT platform.
Let us now understand metadata in much more depth and know its importance for OTT users and businesses.
What is Metadata?
Simply put, metadata can be defined as data about the data. It is the information that is not prevalent to the user but performs important tasks from the back end in terms of quality content being recommended to users.
The key role that OTT metadata performs is to collect information about user behavior and store it for future reference. This allows the machine learning technology of the OTT platforms to improve its recommendations based on user preferences.
User behavior and preferences are an ever-evolving preferential and subjective matter. For the platforms to keep up with it, they will need to ensure that they are constantly monitoring these changes in user preferences and behavior.
Video streaming and OTT platforms also need to ensure that they have the right tools in place to understand these patterns, one of which is metadata.
Metadata Analogy
To break down the meaning of OTT metadata, let us compare it with a book.
Every book has an index page with titles of chapters and page numbers written against them in the beginning. This helps readers to easily go through the book. Readers know exactly on which page a particular chapter starts.
Similarly, content metadata enables better search, content discovery, and organization of data for users and enables users to navigate through the content easily.
Another analogy that can be used for metadata is the packaging.
An item is packed with some wrapping and then put in a box and goes through various ports, and means of transportation before it finally reaches its intended destination.
Contextual metadata also does the same. It goes through various user-centric data points and metadata is hidden or not too prevalent to the user, kind of like the wrap used in packaging, yet has a very important role in storing the data and delivering the right content to the intended user.
What is Metadata in OTT?
Metadata in movies, tv shows, and OTT platforms refers to content that provides context to the video. In regular Pay TV, you will find a synopsis of the show that is currently streaming on the platform.
For OTT platforms, it goes slightly more advanced. Metadata has a very significant role for OTT platforms; it provides users with complete context to a movie or video that is being streamed or viewed.
Metadata for OTT platforms can be in the form of the title of the content, genre, tags, release date, cast and crew, video duration, and so on. All this information enables OTT platforms and OTT apps to increase the reach of the content to its target audience.
Metadata in OTT provides three key benefits to the users: Search, Recommendations, and Information.
#1. Search: If a user is looking for a show with a specific cast, crew, or release date of a show or movie, metadata can allow users to simply help pop up the relevant content based on search query if the metadata is accurately populated.
#2. Recommendations: Say a user likes rom-com, sitcoms, and stand up comedy genres a lot. Once the user finishes watching their show on the list, the OTT platform can recommend something that may be of similar interest to the user, enabling more engagement thanks to metadata.
#3. Information: Synopsis, cast and crew member details, trivia, and so on provides additional information to the users that provide them with an interactive and informative experience while streaming on OTT solutions.
Metadata in OTT Example
Let's say you are a fan of the horror-thriller series Stranger Things on Netflix and streamed the latest season of it. Each episode that you enjoyed watching is the data in itself.
Apart from the actual web series, Netflix will have a lot of other information and relevant content which is considered metadata. Metadata enables recommendations on your Netflix user profile after you complete watching the latest season of Stranger Things.
Let us see what is the supporting information available for the show Stranger Things and a particular episode of it on Netflix:
Series Title: Stranger Things
Series Description: When a young boy disappears, his mother, a police chief, and his friends must confront terrifying supernatural forces to get him back.
Cast: Winona Ryder, David Harbour, Finn Wolfhard, Millie Bobby Brown, Gaten Matarazzo, Caleb McLaughlin, Noah Schnapp, Sadie Sink, Natalia Dyer, Charlie Heaton, Joe Keery.
Genres: Sci-Fi TV, Teen TV Shows, TV Horror, US TV Shows
This Show is: Ominous, Scary
Maturity Rating: U/A 16+. Gore, violence
Season: 3 Episode: 8 Episode Title: The Battle of Starcourt
Episode Description: Terror reigns in the food court when the Mind Flayer comes to collect. But down below, in the dark, the future of the world is at stake.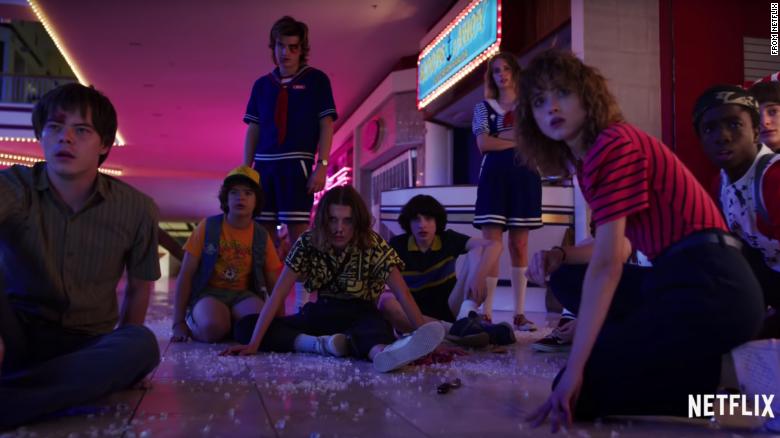 Thumbnails: Image Source – CNN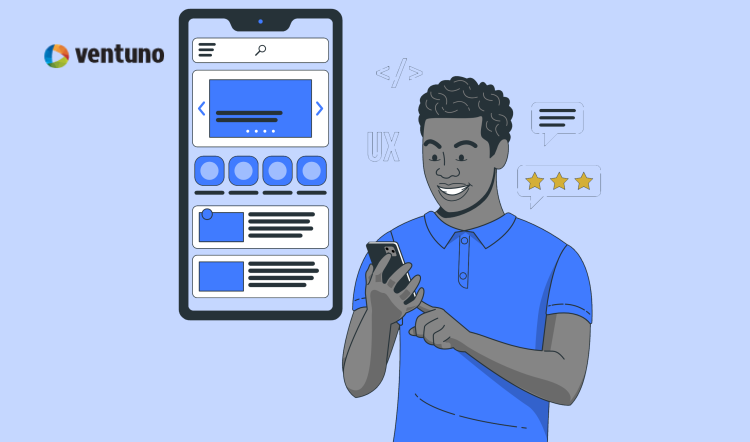 Contextual metadata plays a vital role in enhancing the user experience for video content on OTT platforms and VoD streaming apps. Users streaming OTT content can get the additional information and discover their favorite shows with a simple search that makes the user journey on OTT platforms quite efficient for users.
If the metadata for video content is populated accurately on OTT platforms, it becomes super efficient for users to discover and watch the shows they like.
By understanding behavior patterns and the type of shows the user likes to watch, OTT and live streaming platforms can leverage this data to ensure longevity and higher engagement of users on these platforms.
Therefore, the importance of metadata in improving user experience point of view while streaming shows on the OTT online video platform is crucial as it boils down to user retention, engagement, and long usage.
User experience in the context of metadata is also about additional information provided. Amazon Prime, for instance, provides a lot of trivia and scene-by-scene character names. This provides way more insights than just genres and tags while streaming video content.
Let's again use the example of Stranger Things. After finishing Stranger Things, the OTT platform has realized that this particular user is interested in Sci-Fi, Teen shows, and other horror movies or shows.
If the user has different interests and starts watching comedy shows on the same platform, for example, sitcoms will be recommended to them.
Apart from recommendations, managing metadata improves user experience on OTT platforms by organizing the video content and helping in the discovery of the same.
Here are the different features of metadata.
Organizing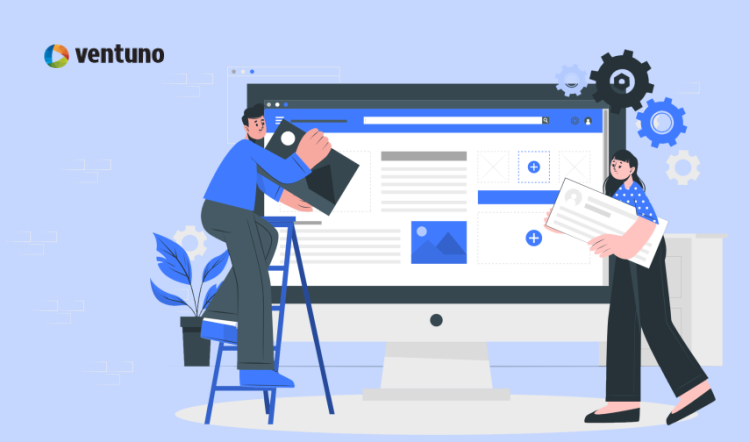 If the metadata of video content is updated accurately, it enables the classification of numerous movies and shows on a variety of factors.
Maturity level, genre, cast and crew, and creators are some of the many ways that the video content on OTT apps and platforms can be classified and organized. This creates a digital library or a digital catalog within the live streaming app that enables easy navigation for users to stream content.
Genres are the most important classification on an OTT platform as they determine the taste and preferences of users.
In recent times, social causes-related genres have also gained importance while streaming content on OTT platforms. African-American and LGBT+ are some of many search terms used to classify video content on OTT to highlight social causes related content.
Apart from genres, the organization of content on OTT platforms through metadata is done by sorting out entire similar content in one row or column on the homepage itself.
If you are a first-time user of a streaming service and have no idea what to watch, the classification is done in such a way that the first-time user can also easily go through the homepage and select shows from any genre to watch and stream it.
This is possible because, on the homepage, rows are created for each top genre or top-ranking show that might intrigue the new user.
Content Discovery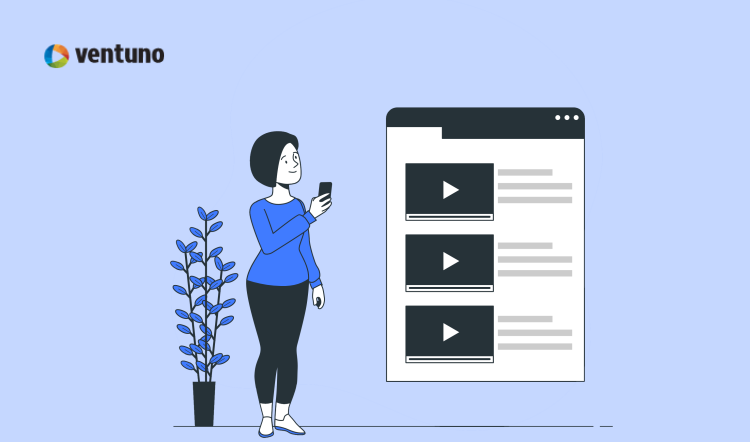 Metadata helps in the content discovery of video content on the OTT platform. Say there is a particular show you want to watch that is not currently trending or is not in relevancy more but you want to stream it. Through a simple search on the OTT service provider, that will be possible.
A lot of nostalgic shows, especially sitcoms, are watched, discovered, and streamed this way. Shows like Friends, Seinfeld, and The Office, are some classic hits that are no longer streaming but are still liked by their fans.
Metadata makes it for users to look up old content and refresh their memory. Had there been no metadata in OTT, these kinds of shows would be buried deep in the library and the algorithm would most likely recommend only top liked and currently trending shows.
New video content is added almost every day now on OTT and online video platforms and that makes yesterday's content almost irrelevant to users unless it has gained popularity through social media and mainstream media.
Content discovery, therefore, allows users to pull up old but fantastic classics to be watched and streamed at their convenience, thanks to metadata.
Recommendations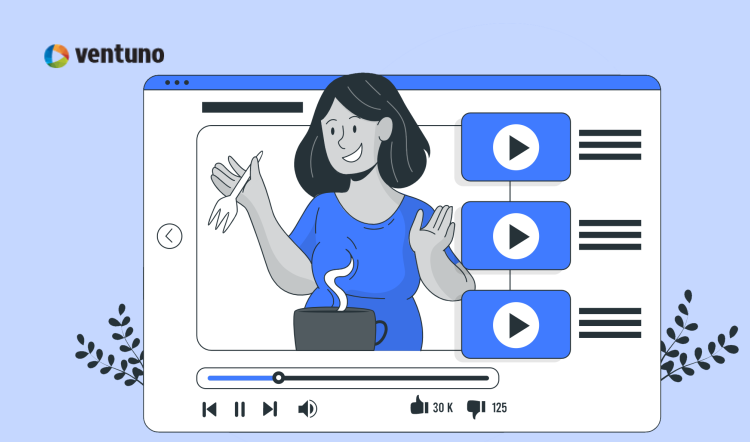 Recommendation is one of the most crucial roles that metadata has to perform in the context of the user journey and user experience on OTT platforms.
Let us elaborate on the example given above about Stranger Things.
As it falls in the horror, sci-fi, and teen show genre, Netflix will recommend shows like The Walking Dead, Haunting, Rick & Morty, The 100, and so on that have similar genre categories. This is because it matches the genre of your previously watched shows.
Netflix, especially, has something called a relevancy score. Based on your previous watch history, Netflix will understand what type of shows you like and pop up other similar kinds of content on the homepage of your profile.
The majority of OTT platform providers use a similar recommendation strategy to not only create an amazing user experience but to ensure quality engagement is being provided to users through their platform.
Ventuno Metadata Management
Ventuno has features that enable you to add metadata to videos to organize, search and recommend video content. Simply fill up the metadata in the form format and viola! Your video content is easily searchable and discoverable by users.
Here's how you can enter metadata for movies in Ventuno.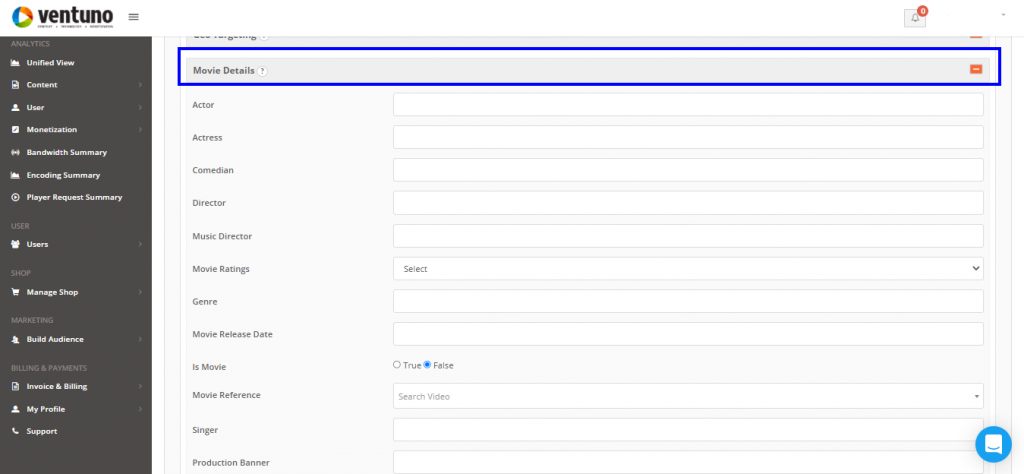 Some of the important features of the Ventuno platform are:
Organize Content
The purpose of metadata is to organize content. Organizing content in your library helps you curate your content into the right playlists, shows, and other groupings
The pre-defined tags help you organize your content at a granular level. Content can be accessed across multiple categorizations, and also appropriate content can be retrieved for a narrow look-up.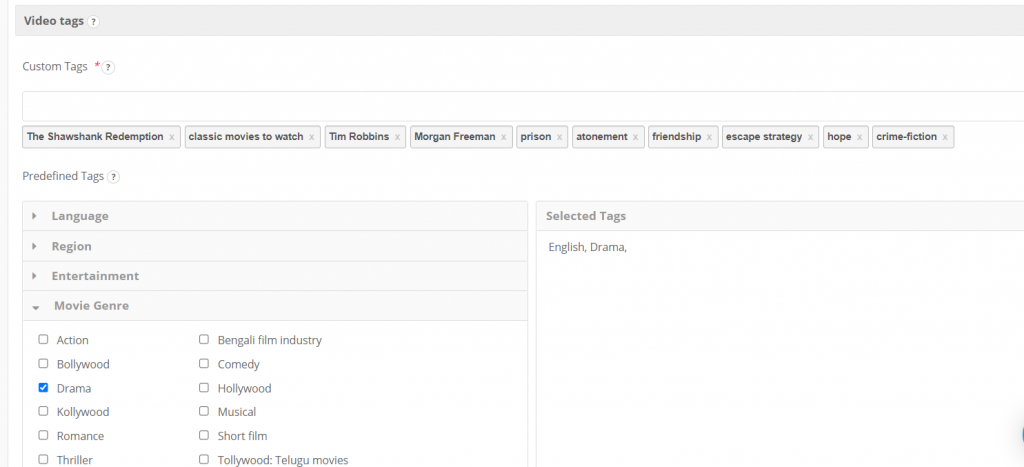 Manage Shows
Ventuno allows you to organize videos as shows and seasons and episodes, this enables the viewers to quickly look for a particular content
​​Search Content
Enabling your audience to look for specific content is the very purpose of organizing the content. Tags make the process of searching simplified. Simply fill in tags with search phrases for the content. Filling the right keywords in the tags section will improve the search experience for the audience.
💡 Title, tags, and video descriptions play an important role in searching and recommending content
Recommendation Section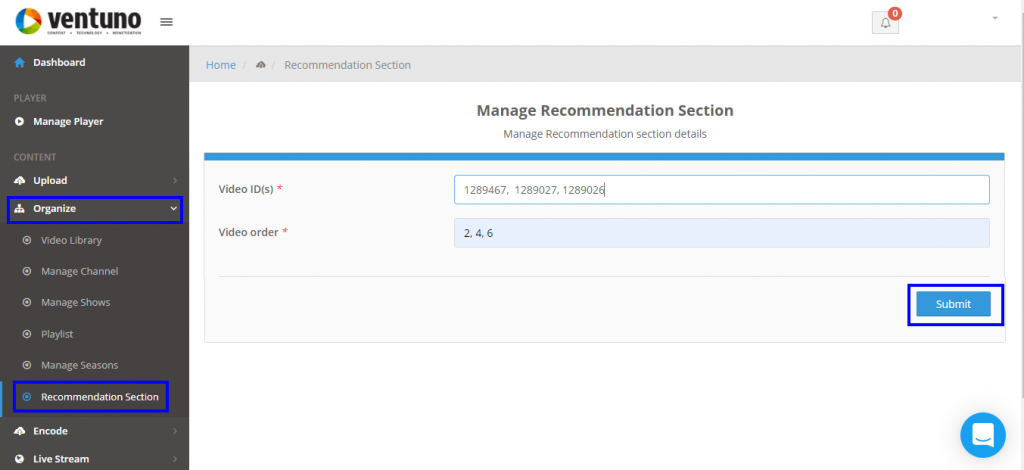 Apart from recommending content based on title and tags, Ventuno has a dedicated section to recommend specific videos across all other videos that are uploaded on the platform. All you need to do is insert the video id and then that video will be recommended across all the videos.
Wrapping up
Recommendation, relevancy, cataloging, content discovery, user engagement & retention are some of the many reasons why OTT metadata is so important for live streaming, VoD and OTT platforms, and businesses.
If you are an OTT platform provider, ensure that managing metadata is an integral part of your business strategy. As an additional set of information about video content, metadata in OTT makes the user's journey of browsing through the content gallery seamless.
Looking to launch your own streaming service?