After a brief decline in 2020, the global Entertainment and Media (E&M) industry is poised for strong growth with revenues rising a strong 10.4%.
The report also forecasts that by 2026, the E&M industry will approach US$3tn in revenues.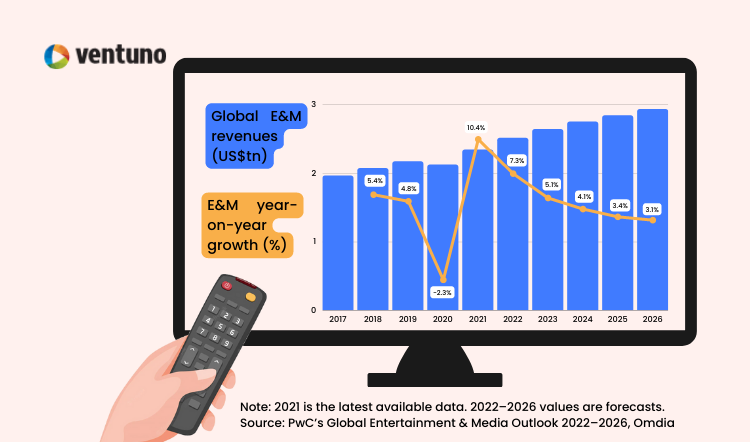 The image shows the fierce competition in the E&M market.
But you don't need to jump up to the likes of Netflix, Amazon Prime Video, or HBO to claim a share on the subscriber waller and viewing time.
There's still plenty of room and a bundle of opportunities for new entrants in this widely popular market. But what you need to do is choose the right OTT monetization strategy for your video content.
Before going into more details about choosing the best OTT monetization model, we'll familiarize you with the 3 most popular types - SVOD, TVOD, and AVOD.
SVOD
Subscription Video-On-Demand (SVOD) is the preferred monetization model and the most promising for many new OTT entrants. The reason behind this is the monthly or yearly subscription fee to access the video content creates a steady stream of recurring revenue.
In 2022, the average revenue per user (ARPU) in the OTT Video Streaming (SVoD) segment is projected to amount to US$231.40 in the United States.
The best example of the SVOD video monetization model is Netflix. Other popular examples are Hulu, Amazon Prime Video, and Disney+.
Advantages of the SVOD model
1. Structured Revenue Stream: The monthly or annual fee to access video content provides a steady revenue stream you can rely on.
2. Loyal Customer Base: With the right set of video content and a varied content library, SVOD earns an army of committed followers.
3. Exclusivity: SVOD content is exclusive to the platform, it represents the value of your content because there is no alternative to it.
Crafting your SVOD pricing model
1. The Ad-supported and Ad-free pricing
1. A lower subscription fee
Strict categorization of video content on various OTT platforms pushes users to subscribe to 4-5 different OTT platforms, pushing the overall cost of entertainment up.
With ad-supported content, OTT channels have an opportunity to shift their value proposition, which is why many popular platforms like HBO Max offer an ad-supported tier at $9.99 while access to ad-free content costs $14.99.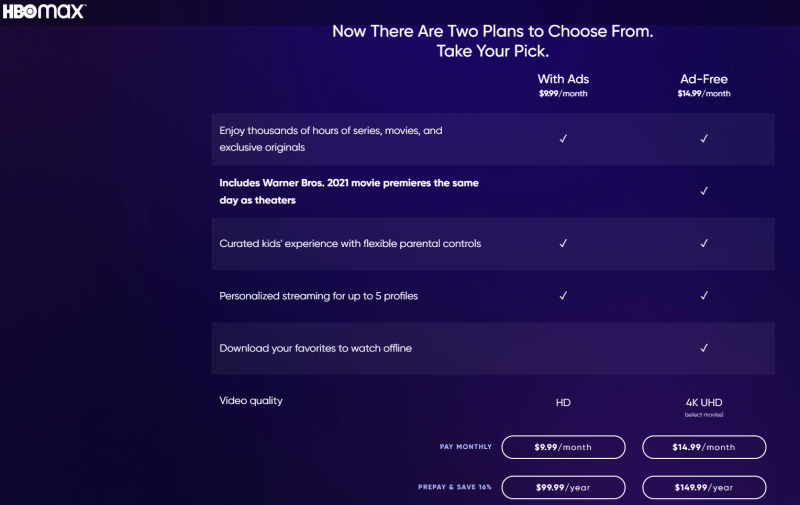 2. More monetization opportunities
The ad-supported model is considered to be a more sustainable OTT business model for the future of OTT video streaming because it brings in incremental revenue for the platforms.
Even the ad experiences are transforming largely due to improved technologies, making it possible to hit with more relevant ads for an improved user experience.
2. Content Categorization Model
The content categorization model allows an OTT platform to club various channels together and offer them as an ensemble targeting different audiences.
SlingTV does something similar with its channels - Sling Orange and Sling Blue.
While Sling Orange has channels like Disney, Freeform, and a bunch of ESPN channels, Sling Blue offers NFL Network, FOX News, Discovery, FOX, and NBC.
Another difference between both these channels is that Sling Orange is single-stream while Sling Blue allows streaming on three devices at once.
The lineup of channels on these two different plans allows Sling to attract a larger, more varied audience at a more affordable rate.
Both Sling Blue and Sling Orange are priced similarly at $35 per month.
But Sling Blue and Sling Orange are great distinctions within a channel to serve a larger audience, have a varied content library, and earn more revenue with each sign-up.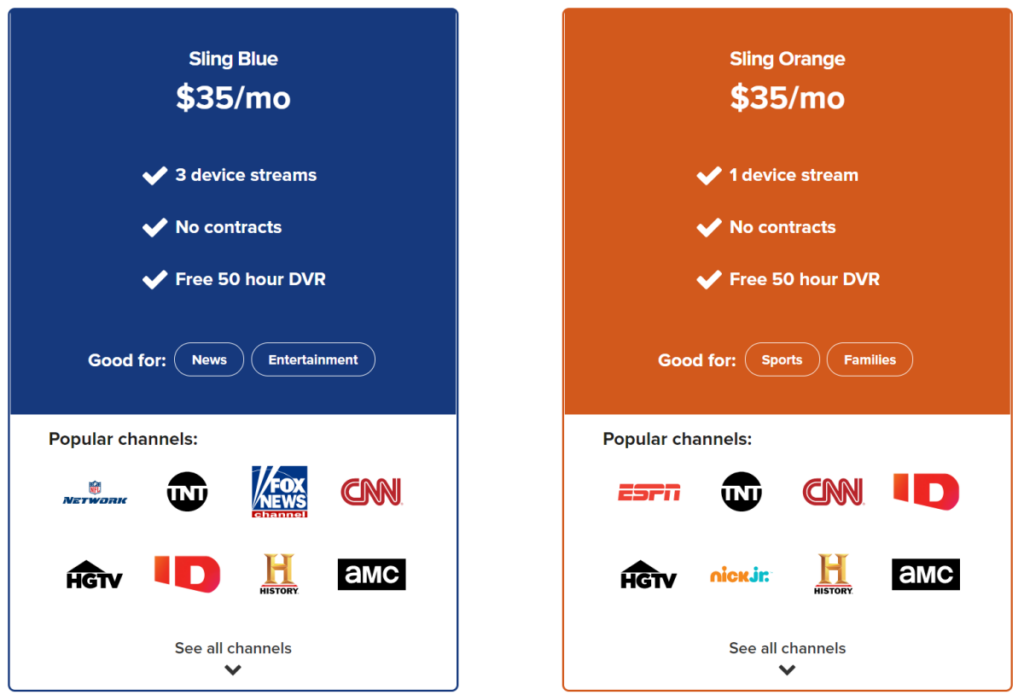 3. Varied Access Model
The varied access model is designed to offer differentiated content access for subscribers based on their subscription plan.
For instance, Netflix allows users to pay for either 1 screen, 2 screens +HD, or 4 screens + Ultra HD.
Customers can choose a basic 1-screen viewing or can upgrade to add more screens and increase video quality.
As an OTT service provider, you can be as creative as you can be in offering these options for differentiated quality of service.
TVOD
As opposed to SVOD, the TVOD video monetization model allows consumers to purchase content on a one-time pay-per-view basis for films, TV shows, and live events.
TVOD is a great model for new and on-demand content of all sorts. The E&M vertical captured the largest revenue share of more than 40.0% in 2020.
TVOD services tend to offer more recent releases. When compared to SVOD, it is difficult for channels to acquire and retain users on a purely TVOD platform. Similarly, for TVOD channels it becomes difficult to encourage the users to continue using the channel after they have paid and watched the content.
Some of the popular examples of TVOD services are Apple's iTunes, Sky Box Office and Amazon's video store.
Advantages of the TVOD model
1. Selling single, multi-part, or one-off videos - The TVOD model allows channels to showcase even the smallest piece of content. Channels can sell both single-part and multipart videos to their end-users, including live streaming videos.
2. Setting up time restrictions - Time-sensitive content can also be offered through the TVOD model. Channels can control the duration of time for which the viewers consume the content.
3. Selling Pay-Per-View bundles - The biggest advantage of a TVOD streaming platform is that you can sell Pay-Per-View (PPV) bundles to offer bundled or a collection of videos to your end-users.
For example, you can sell a bunch of franchise movies like Final Destination or Spider-man in a pay-per-view bundle and set a cost for the entire bundle. In this way, you can monetize your OTT service by providing multiple bundled video content to your viewers.
4. Monetizing fresh releases - During the lockdown, theatrical releases were put on hold. This offered PPV or TVOD the opportunity to monetize fresh video releases.
For example, Disney's decision to launch Mulan as a TVOD purchase on Disney+ has reportedly paid off with over a quarter of US Disney+ subscribers forking out the extra US$29.99.
Crafting your TVOD pricing model
Bundling TVOD Content
Prime Video Bundles offer viewers the opportunity to buy franchise films as part of a bundle.
By offering a bundle price, Amazon allows viewers to get access to movies at a price that is lower compared to buying those titles separately.
Purchasing Prime Video Bundles can help you save money, as opposed to buying the titles individually.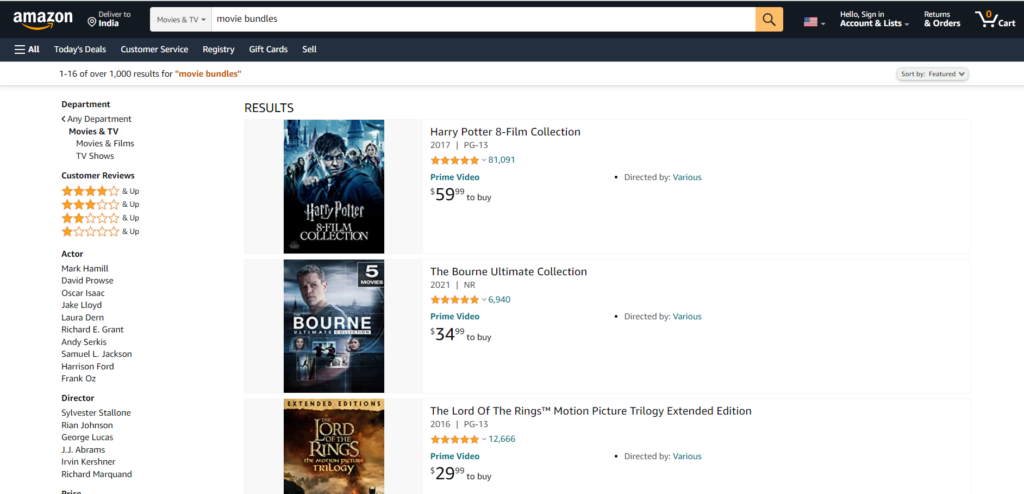 AVOD
AVOD or ad-based video on demand allows channels to offer free OTT content to its users who are not willing to pay a subscription or transaction fee.
In the AVOD model, ad revenue is used to offset production and hosting costs. The content recommendation engine for the AVOD model needs to be extremely strong to ensure viewers spend more time on the platform.
Compared to SVOD and TVOD, AVOD generates lower amounts of revenue.
Some examples of AVOD service providers include YouTube, Facebook Watch, Peacock, IMDb TV and Pluto TV.
Advantages of the AVOD model
1. No-cost commitment: AVOD requires no commitment as your users can sign up and start viewing content. Due to this ease of access, attracting new users does not take much effort.
2. Payments received from businesses and not users: AVOD is a monetization model that relies solely on ads as its revenue generator. All its revenue comes from businesses that want to advertise and reach a large set of audiences on the platform. This allows AVOD platforms to charge higher rates from advertisers and in turn offer discounted prices to their customers.
How to maximize AVOD profitability
1. Strike a balance between content length and ad load
For a video that is between 2 to 5 minutes, the viewers will not be willing to sit through a 30-second pre-roll ad. So OTT providers start by showcasing a lighter ad load to new viewers depending on the length of the content. By doing this, users stay engaged on the platform and avoid sudden drop-offs.
Loyalty matters a lot in the AVOD platform since there is nothing that keeps the viewers bound to the platform except for the quality of content.
Once you recognize which users have been loyal to your platform, you can push one or two 30-second ads or two 15-second ads.
The ad load must be gradually increased once the viewer shows signs of loyalty.
2. Leverage SSAI
SSAI or the server-side ad insertion allows the ads to be inserted at the server-side and not at the client-side (CSAI). SSAI enables publishers and advertisers to avoid ad blocking software by stitching together videos and ads.
Unlike CSAI, SSAI helps avoid API calls to ad servers. By eliminating this step, SSAI reduces the latency before the ad starts and continuity in the video quality between the ad and content.
SSAI can adapt to varying bandwidth conditions while providing a smooth playback experience.
3. Advanced Ad Targeting
AVOD is a great platform for advertisers as the data made available to them is exceptionally detailed and accurate. This kind of data supports the marketers with the ability to hyper-target individual viewers.
The data recorded by AVOD platforms relate to the following categories: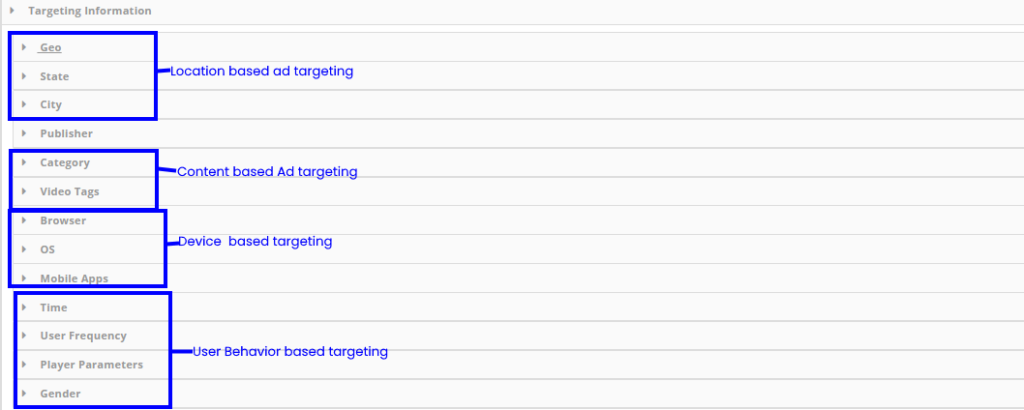 So AVOD platforms can expect a major chunk of revenue from a variety of advertisers who are willing to get access to such detailed viewer data.
FAST
FAST (free ad-supported streaming TV) is an OTT business model that offers access to live video content for free. On the other hand, AVOD (ad-supported video on demand) is a way of delivering content on demand with ads included.
It is the "free" part that sets FASTs apart from AVOD since both the models show ads and that is the only way for them to earn revenue.
AVOD and FAST achieve the same goal through different types of content and use ads to monetize their content library.
Here is how you can create a FAST channel with Ventuno
Hybrid Monetization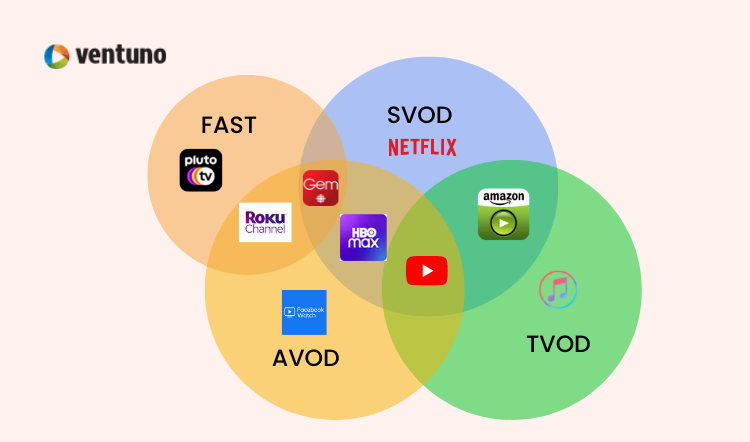 The video content landscape is a dynamic niche and to receive maximum benefits from it, OTT platforms are required to be equally dynamic by adopting a hybrid video monetization model.
Hybrid video monetization is a blend of different approaches to on-demand video models.
The goal of hybrid monetization is for video channels to maximize the lifetime value (LTV) of their content library by using any number of those combinations together.
SVOD and TVOD
An SVOD platform can add TVOD to its structure and offer its viewers the option to rent or buy the content of their choice.
By doing this, OTT platforms can gain more viewership and revenue for any specific new releases or live events that are specifically showcased on the platform.
Example: Amazon Prime Video, audiences pay a fixed subscription fee per month to access its content library. Still, new movie releases and premium content can be purchased separately.
You can have the same piece of content as part of your SVOD plan and also sell it individually for non-subscribers.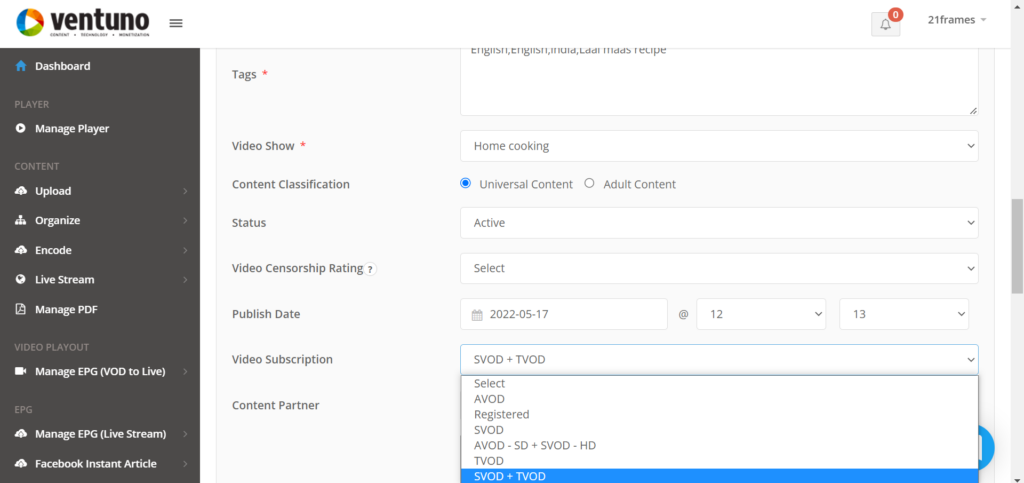 SVOD and AVOD
If you choose to add AVOD to your existing SVOD model or vice versa and add limited OTT advertising on top of your subscription content. This approach allows you to monetize through OTT subscriptions as well as ads.
Example: The Peacock offering consists of 3 tiers; each meant to appeal to a different demographic.
The first, 100% ad-supported, can be accessed for free. The second, including live and early access content, combines a reduced subscription ($4.99 per month) with some OTT advertising.
The premium tier has unlimited access to over 20,000 hours of content and no ads and costs $9.99 per month. That's how you can use an AVOD and SVOD freemium model to combine forces through a tiered pricing strategy.
You can subsidize your subscription fee with ads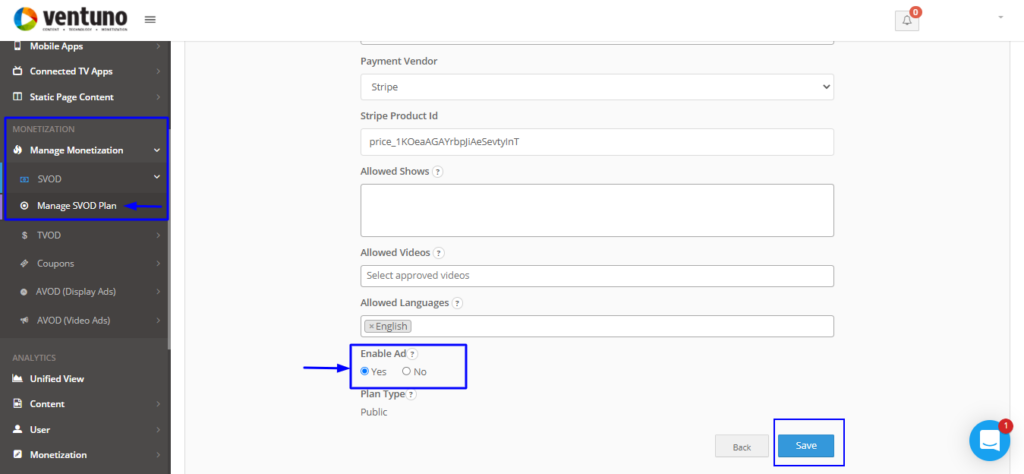 SVOD, TVOD & AVOD
Suppose you have a subscription video business and use TVOD to generate revenue on your live streams. There is no reason why you can't have OTT advertising or even brand sponsorships incorporated into your transactional live streams.
If you have an existing SVOD model, you can add TVOD to generate revenue through live streams and also add AVOD on top of your live streams.
If you are looking to go for a hybrid monetization model and want to avail the benefits of AVOD and TVOD on your SVOD model, you have come to the right place.
Here's how you can combine ads with SVOD on Ventuno's video monetization platform:
Whether you are creating a new subscription plan with ads or enabling ads on existing subscription plans you can easily customize plans through Ventuno.
Final thoughts
Picking a video monetization model for your OTT app will entirely depend on the content library and types of video content you offer your viewers.
In order to build a more profitable OTT app that offers the best of all OTT monetization models, you need the right ad support at your disposal.
Ventuno provides you with the ease of adapting to a more hybrid model of the content display by combining ads, setting up multiple pricing tiers, and customizing your pricing page.
Looking to launch your own streaming service with the best monetization model? We've got you covered.
Looking to launch your own streaming service?