In today's world, there are plenty of excellent options besides Netflix, Hulu, and Amazon Prime that can keep people entertained. For streaming services to survive, great content and user experience have become essential requirements.
A streaming app can enhance your viewers' experience when watching your carefully planned streaming content. Moreover, an app that is properly designed has the potential to engage and retain your audience.
To engage your audience, you need apps. But how can you make sure people discover your streaming app when there are so many of them out there?
Getting your streaming app discovered by the potential audience is one of the biggest challenges you will face. If your potential viewer doesn't find your OTT app on popular app stores (Google Play Store, Apple App Store, etc.), they'll never download it. Perhaps they will never know you exist.
It is for this reason that you need to understand App Store Optimization.
We'll walk you through exactly how to optimize your streaming app. But before that, you should know what is App Store Optimization.
What is App Store Optimization?
App Store Optimization (ASO) is about optimizing your streaming app for the app stores to increase visibility and get more downloads
ASO for streaming apps is not very different from regular App Store Optimization. However, ASO for streaming apps is challenging since there are so many new streaming services coming up every month taking the competition to a whole new level.
In general, the higher your streaming app ranks for relevant searches, the more traffic it will get. Just the way Search Engine Optimization (SEO) is essential for a website, ASO helps to increase the user base of your streaming service
ASO is not only about ranking high in app store search results but also about increasing the click-through rate (CTR) of your app in the stores. A high CTR depends on convincing people to click on your app store listing when they find it on searches. For this, you must focus on your app name, app title, app icon, app screenshots, and app ratings.
| | |
| --- | --- |
| Apple App Store | Play store |
| App name | App title |
| App subtitle | App short description |
| Keywords | App long description |
| In-app purchases | In-app purchases |
| What's new (updates) | What's new (updates) |
| Number of installs | Number of installs |
| Reviews and ratings | Reviews and ratings |
| App URL | |
1. App Name
Your app's title is not only the first thing a user will see on the search listing but it is also used by the app stores to rank your app.
Even though you might think keeping the app title minimal is a good idea, adding the basic functionality can improve your app store ranking.
It is important to use the keyword that has the highest search traffic in the title. Spend time researching which keyword you will add to your app store title because changing it frequently would do more harm than good.
Though Spotify is a universally established brand for music streaming and podcasts they still use these keywords like Music and Podcasts in their title and subtitle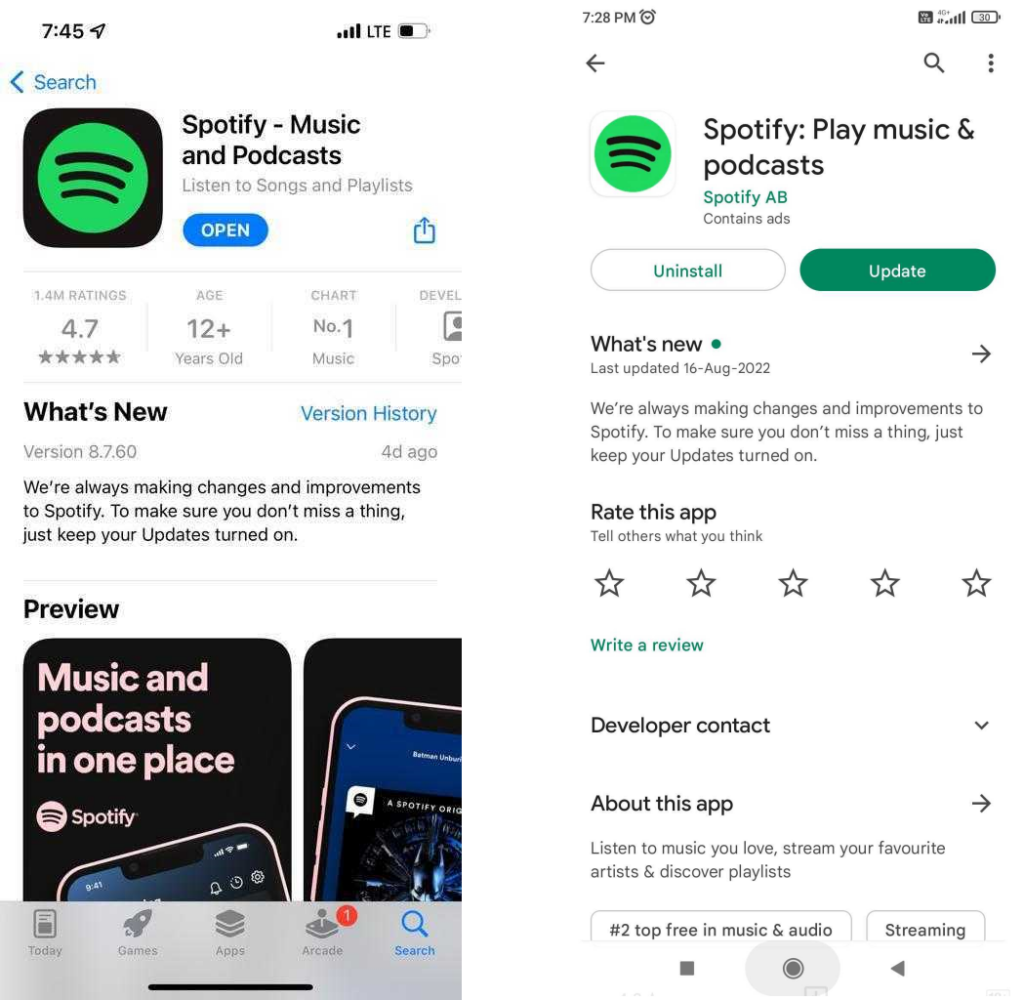 2. Keywords in the description
App store algorithms rely heavily on keywords, so ensuring high app rankings requires constant keyword optimization.
As in any optimization process, research is the first step. Come up with relevant keywords by describing the type of content you have. Also, check your competitor's app – analyze the keywords they have used.
Now that you have picked up as many keywords as possible, the second step is to filter the most relevant ones to your streaming service.
Finding the winning keywords for your app requires testing different combinations of keywords. After discovering it, keep in mind that people's interests and behavior are constantly changing, which means you have to monitor your keywords closely. In order to continue optimizing your keyword strategy keep updating your keywords based on user search terms.
In the Apple App Store's keyword field, you can include keywords up to 100 characters long; however, the Google Play Store does not have a keyword field. There are other sections where keywords are indexed, such as titles, short descriptions, and long descriptions.
When it comes to the Apple app store, it handles creating a combination of search terms from your keywords. In other words, you do not need to enter full search terms, but rather enter them individually. For example, the term "watch movies" and be split into "watch" and "movies". Apple will automatically create the combination "watch movies" for you.
Make sure you choose your keywords carefully across both the app and play store and focus on the key queries that users type in. Keyword stuffing is seen as a bad practice in both stores and may result in your app being banned.
Here is an example of how SonyLiv is using unique keywords in a very human-readable way. This description ensures that the user finds the app when they are looking for specific content and also for generic terms related to their content.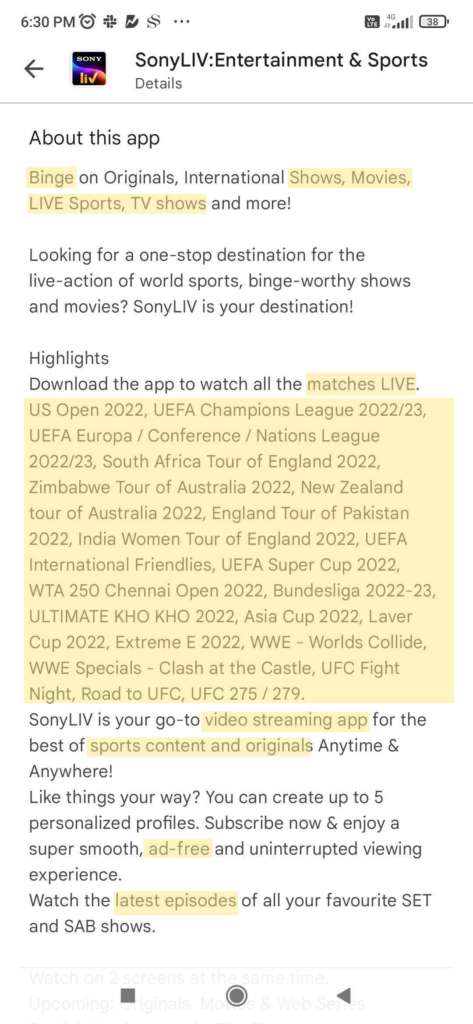 3. Review and Ratings
A study says that 90% of users consider star ratings to be deciding factor in downloading a new app. Interestingly, ratings have an effect not just on new app downloads, but also on updates – 53% of users look at ratings and reviews before updating their apps.
When your users leave ratings and reviews on the app stores it is not only feedback for you to act upon. But also their way of sharing their experience with the world and helping others decide before they hit the download button.
Your app's ratings affect the number of downloads it receives, in addition to making it easier for potential users to discover it in the app stores. Apps with good ratings appear at the top of the search results, while the ones with lower ratings may not even show up.
47% of iOS users discover apps through a search on the App Store and 53% of Android users discover apps through a search on the Play Store.
Requesting a review from a happy customer is the best way to improve your rating. You can do this through in-app messaging in strategic scenarios.
To improve your app's user experience, you have to talk with users with bad experiences just as you did the happy ones. Ask them where you can improve. And act upon the feedback in the subsequent updates.
When a user leaves negative feedback on the app/play store, make sure you respond to the issue, fix it, and update the user regarding the same. This will let others know that you care about your users and their experience.
Here is how Discovery responds to users with issues in streaming and makes sure they fix them. They also encourage those users to rate them a five-star rating.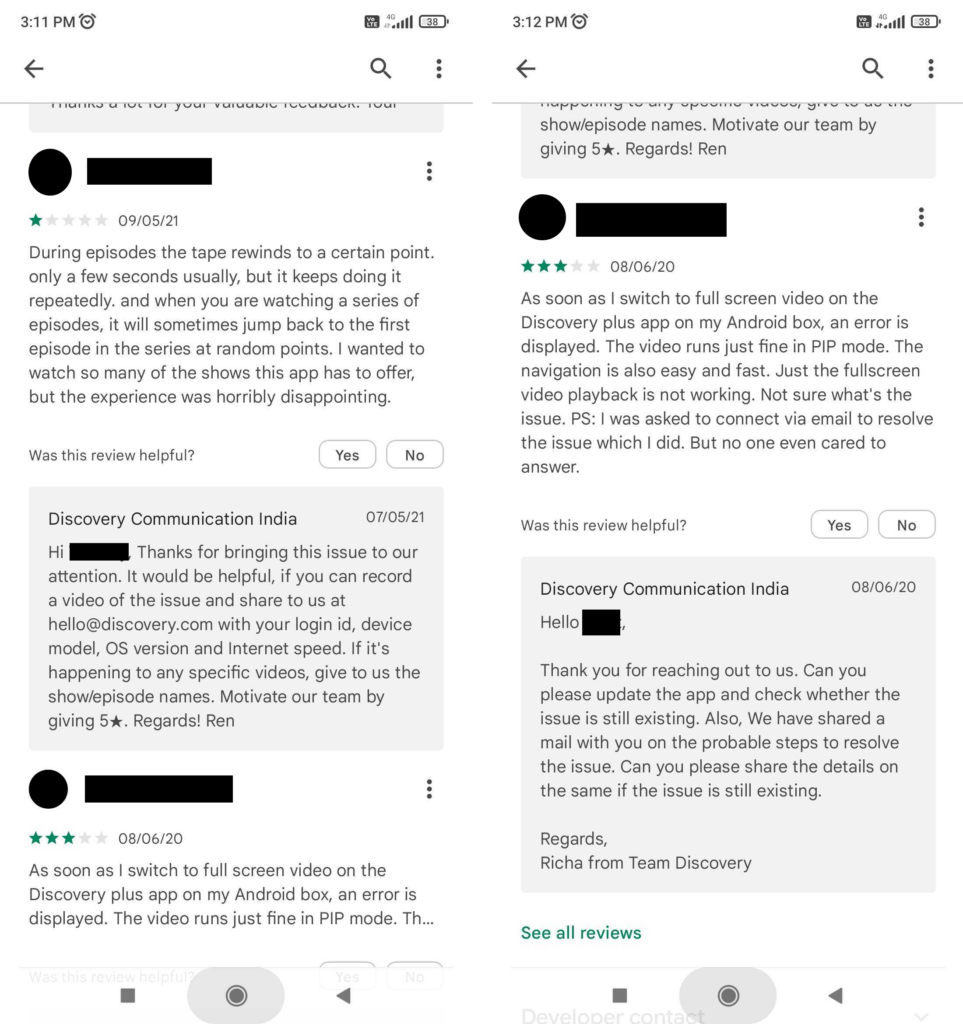 4. App Updates
Optimizing your streaming app is a continuous, iterative process. You've already created your streaming app, so what's next?
Do you think your users will have the same app on their phones forever? In most cases NO. The novel feature that your streaming app had at the time of its launch may become old and obsolete in a few months. The app industry is constantly changing and you need to be evolving along to be taken seriously.
By maintaining and updating your app regularly, you can improve the user experience and thereby improve the ratings and reviews on your app.
User experience plays a great role in the success of a streaming service. So you need to constantly delight your users with new features that will improve their experience.
Netflix releases several updates each month.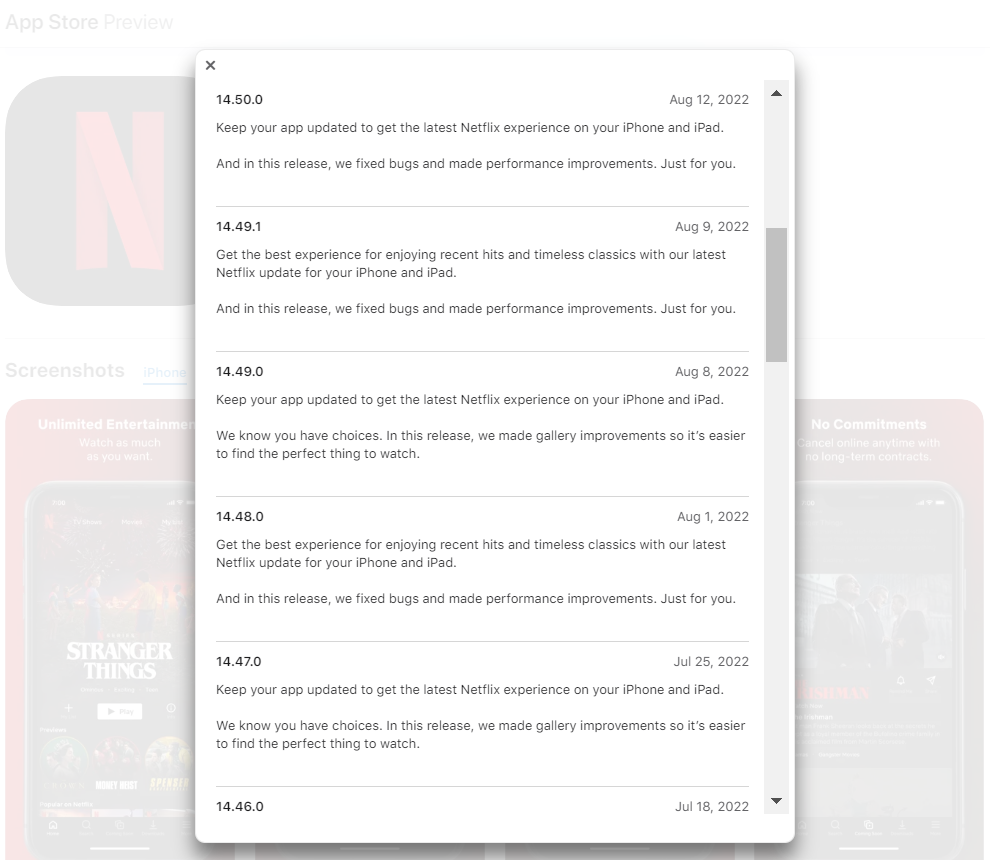 For streaming apps to be built, maintained, and periodically updated on different platforms, you must not only have platform-specific skills, but also invest in a video platform, video ad server, payment system, and user management system. Not only would this be time-consuming and costly, but you'll need qualified people (developers, testers, product managers). with experience putting together a winning tech stack and providing great service to your audience.
By choosing the right OTT platform provider, you can ensure that your app is in line with industry standards. Also, you know that the user experience is consistent across all devices like mobile and CTVs.
In order to ensure that their apps are of high quality, both app stores have app review processes. It's always a good idea to consider a three to seven-day buffer when releasing an app or update. Within 24 hours of being approved, your app will be live in the App Store and Google Play.
Wrap Up
Simply put, if you are not focusing on ASO, you are missing out on an important marketing channel to take your content to the right viewers. You will ultimately increase your app downloads if your app listing is optimized for app store searches.
With SaaS providers like Ventuno, you can launch your video streaming service for web, mobile, and TV quickly and manage them all in one place. Managing your content, payment, ads, and analytics becomes simple and you can focus on your content strategy.
Looking to launch your own streaming app?