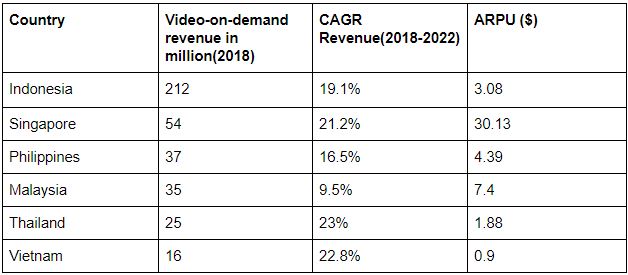 Trends:
Keep these points in mind if you are a content creator looking to launch your video streaming service in Southeast Asia:
Video consumption on mobile is far higher than connected TV devices. Usage of devices like Roku and Apple TV is yet to catch up in Southeast Asia. Your first priority should be to focus on mobile apps and gain a sizable audience base before diving into TV apps.
Most users prefer a free VOD service than a paid one. Unless you produce premium videos for which users are ready to pay, focus on keeping your service free and monetize with ads. Just ensure that ads are not too long and intrusive. Learn more about the different ways of monetizing your video streaming service.
Different languages are spoken in different Southeast Asian countries and your catalog should have a mix of local and western content to be successful. Most users in countries like Vietnam and Thailand are comfortable with English so you may need to add subtitles for your foreign videos.
Conclusion:
The video on demand in Southeast Asia is booming and poised for a good growth in the coming years. This is the perfect time for content creators to launch their own video streaming service and reach out to the content hungry audience.
If you are a content creator, contact Ventuno at info@vetunotech.com to find out how you can launch your multi-platform video streaming service in 4 steps.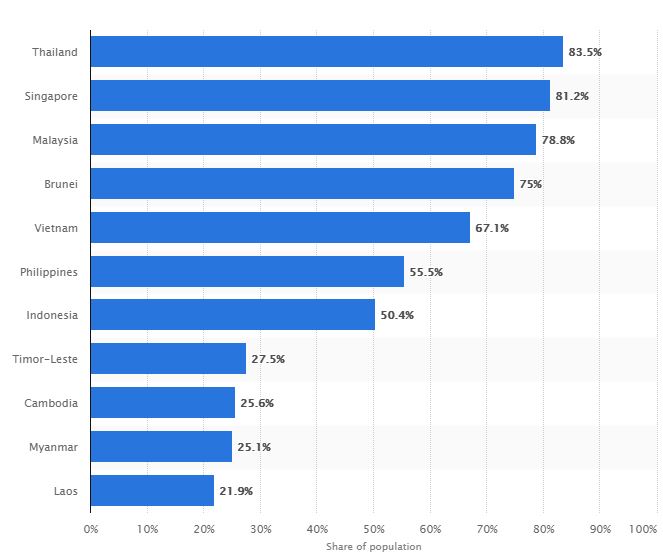 The players:
Southeast Asia has a lot of local OTT players providing content in regional languages. The competition got heated up with the launch of Netflix in Southeast Asia in 2016.
Some of the top streaming services in Southeast Asia are Netflix, Viu, VuClip, Tonton, Iflix, Spuul, HOOQ, and Oona.
VOD Revenue by country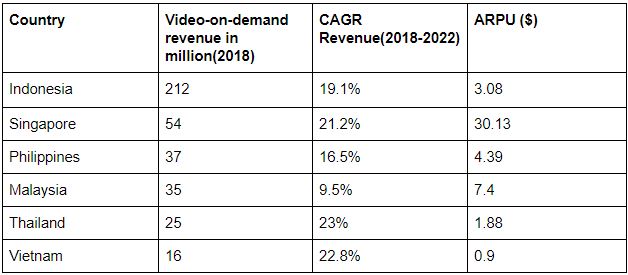 OTT is taking the world by storm. Millions of users around the world are cutting the cord and consuming videos directly through mobile and connected TV devices.
But what is the state of the OTT market in Southeast Asia? Let's take a look.
According to The Star Malaysia, online video revenue will grow at 21% CAGR across the Asia Pacific from 2017 to 2022. This includes revenue from both advertisements and subscription.
In other words, online video revenue in the Asia Pacific will climb from USD18 billion to USD46 billion in just 5 years!
This growth is largely driven by 3 factors:
The Increase in internet penetration across Southeast Asia(see image).
Users in SEA spend more time on their mobile devices compared to users from other regions. For example, users in Thailand spend 4.2 hours/ day on their mobile phone compared to users in the US who spend 2 hours/ day.
78% of mobile data traffic is projected to come from video content by 2021(shocking, isn't it?).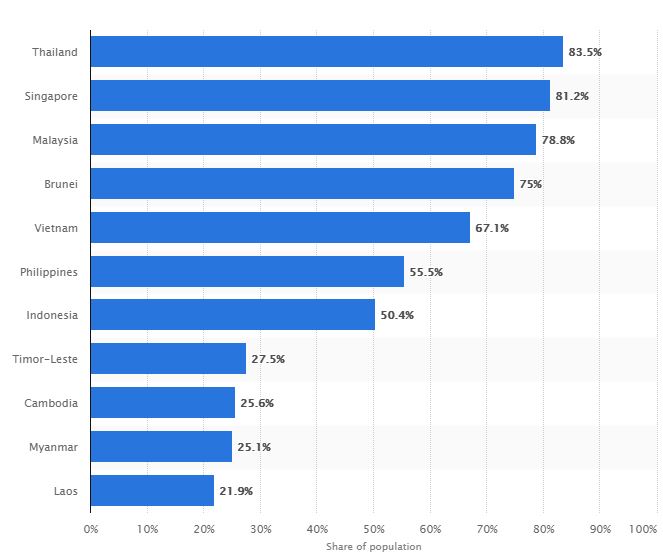 What are your thoughts on this article? reach out to us at info@ventunotech.com if you would like to discuss! 
Looking to launch your own streaming service?