Over the last few years, streaming device maker Roku has become one of the most attractive opportunities for broadcasters. The reason? It powers 38% of smart TVs sold in the United States.
As of the second quarter of 2022, Roku reported a total of around 63.1 million monthly active users in the United States.
Roku content library is diverse – it offers over 5,000 streaming channels and enables access to over 500,000 movies and TV episodes.
Table of Contents:
Why publish a channel on Roku?
41% of US broadband households have a streaming media player
Over 50% of the connected TV usage in the US happens on Roku.
Over 50% of the connected TV usage happens on Roku. It is therefore necessary for you to create a Roku channel in order to reach the largest streaming audience in the US.
For content creators, Roku simply gives them the "biggest bang for the buck".
Roku is a household name in many parts of the world, having pioneered streaming in the United States.
It's an open platform that enables developers from all over the world to create their own apps (or channels, as Roku refers to them) in order to expand their audiences.
You can provide better value for money by increasing the accessibility of your videos by allowing users who already own a Roku device.
Furthermore, you can also capture a whole new segment of potential customers — individuals who are already using Roku and looking for new channels
It goes without saying, a larger (and happier) audience equals more money!
Therefore your presence on Roku as a VOD platform is a strategic decision and a proven way to promote your brand to a much broader audience.
Now that I have explained why being present on Roku is a must, let's dive down into the different ways to create your Roku channel.
From the outset, learning how to create your own Roku channel can be overwhelming.
In this article, I'll break down each method, how long it takes and how much it costs. You can choose the most efficient and budget-friendly option.
Roku Direct Publishing:
Roku offers its own, totally-free channel-building system called Roku Direct Publishing (available at http://developer.roku.com). You need a Roku device and an account to get started. Follow the instructions in the above link to develop and launch your own channel.
Give your channel a title, add the description, add a logo (in the required sizes) and so on.
Once you're done with all the steps, you've technically finished and created the base of your channel where your users can find you. However, this is where it gets hard for a novice channel publisher.
First, Roku Direct Publisher requires every channel to have its own channel "code" and channel "feed". The channel code should be in Roku's proprietary brightscript and channel feed (either in JSON or MRSS XML).
Feed is a piece of code that provides instruction to your CDN where it needs to stream your content to. You'll have to find a developer who can write your feed in either MRSS XML or JSON. Once your code has been created, you'll need a place to HOST your feed (you 'll need to invest in web-hosting services).
Next, you need your own Content Delivery Network (CDN) & Storage to stream and store the videos. For most creators, this is the biggest expense. The CDN alone can cost anywhere from several hundred to several thousands of dollars just to set up, and then in most cases, there are monthly bandwidth charges.
Finally, with Roku Direct Publishing, you are confined to monetizing your content only with ads. If you plan to charge your subscribers, Roku Direct Publishing' would not be the right option for you.
Though this method is free of cost it requires a lot of upfront acquaintance about how the platform works. And maintaining the apps for its lifetime can be a quite hectic and time-consuming process
Moreover, you are not free to monetize your content the way you want. After all, 86 percent of viewers are willing to spend more for a better experience.
Custom development:
If you are a large-sized creator and have a healthy budget, you can hire Developers, Product managers, QA, Content producers to create a custom Roku channel. It'll be built from scratch and can be highly customizable.
The whole process takes anywhere between 3 to 6 months and costs are often between $15,000 and $20,000.
Getting your Roku app built is only a part of the story; scaling, enhancing, and supporting the platform as you grow is equally a time consuming and expensive task.
It is fair to say that if you are a huge content powerhouse and have deep pockets, it's probably worth investing in your own technology platform. But if you are a content creator like the rest of the tens of thousands, it's best to explore a SaaS solution for your streaming service and focus on what you are good at – making great and engaging content.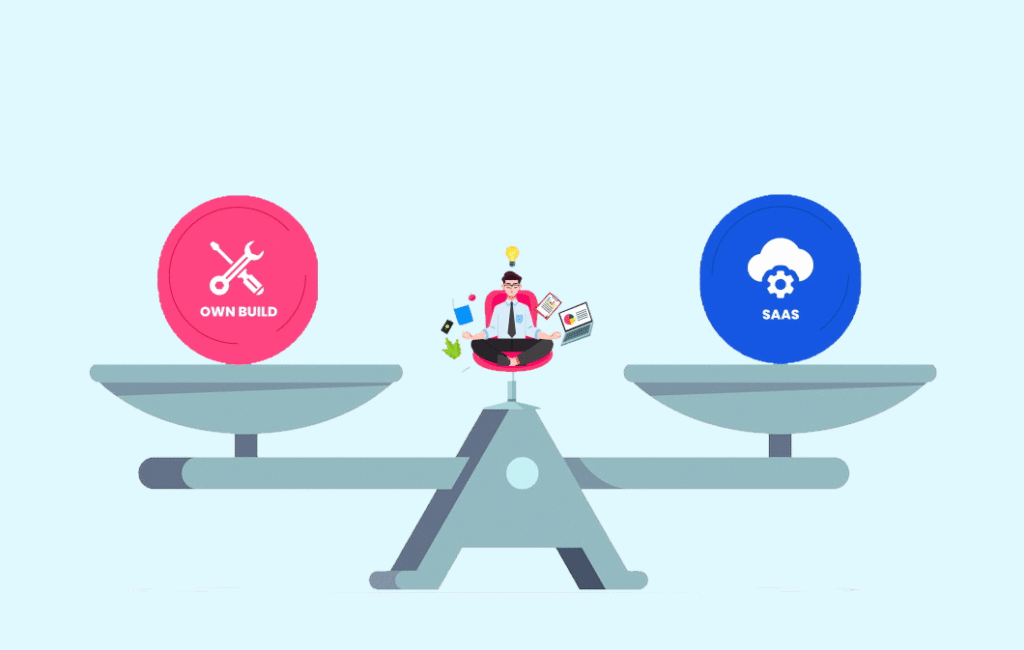 Should you build your own OTT platform or use a SaaS service to build one?
Should you build your own OTT platform or use a SaaS service to build one?
Using a SaaS platform:
For most content creators, going ahead with a SaaS-based solution is the most efficient and budget-friendly option for creating a Roku channel.
With SaaS OTT platforms like Ventuno, you can launch your Roku channel in just 24 hours. You don't need to spend months of time and money on development. Managing your app becomes a breeze as you can use a single platform to manage your content, payment, ads, and analytics. You can simply focus on your business, without worrying about the technology and the complexity of managing multiple vendors.
Ventuno's SaaS platform lets you have full control over your monetization strategy (whether it is to run ads, charge your subscribers a recurring fee or sell individual videos) and lets you keep 100% of your revenue.
The platform is fully customizable to fit your branding.
It's a super easy platform to use and completely DIY in nature. All you need to do is to simply follow the 4 step process.
1. Upload your content
2.Choose the template design
4. Go live.
The entire process can be completed in a few clicks and submitted to the Roku channel store for approval.
And the best part is you can choose to create other CTV and mobile apps without breaking your bank.
You get a dedicated account manager who answers your queries and helps you grow your channel. Ventuno's team regularly updates the app with new features to make sure it's running optimally.
Since there are no upfront costs involved, a SaaS-based solution is a great way for most creators.
Wrapping Up.
Roku is one of the widely used streaming devices today. Creating your own Roku channel allows you to reach a wide range of people and create your own following on a new platform. With over 41 million Roku-powered devices, there are lots of opportunities to connect with new customers.
Roku Direct Publishing is free but requires a lot of technical knowledge or you'll have to hire someone who does. In addition, there's CDN, storage & server cost and your channel can be monetized only with ads (no subscription possible).
Custom development is a great option if you are a bigger organization and have the luxury to invest a lot of cash. But, the process can take months, and you're not always covered for maintenance and updates.
Moreover, achieving UI-UX consistency across your website and apps, could be quite a task. With an expert like Ventuno, your app is built for the best user experience.
The most efficient and cost-effective option is to go with a SaaS-based platform that comes with all features. You can get your customized app build instantly without having to worry about technology or maintenance.
What are your thoughts on this article? reach out to us at info@ventunotech.com if you would like to discuss!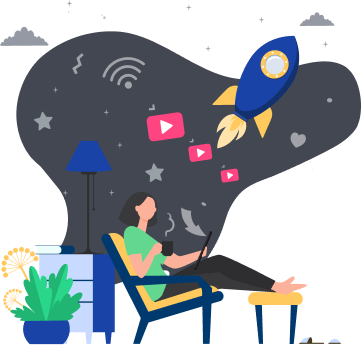 Looking to create your own Roku app?