With consumers spending an exceptional amount of time on the internet, the rise of OTT platforms and streaming media content is inevitable. The global OTT market has the potential to grow to $77.73 billion by 2023.
OTT subscriptions are disrupting traditional cable TV networks as more and more consumers shift to viewing online channels. In fact, viewership of streaming services such as YouTube, Hulu, Roku, and others has grown by 35% turning it into a $7 billion market in the US alone.
As we move well into 2020, let us share our top seven predictions of the streaming media service this year in this article:
Table of Contents:
1. Cord-cutting to happen at a faster rate
2. Re-bundling will become the latest acquisition tactic
3. More OTT content to be pulled from pay-TV
4. Vernacular content will grow further
5. Mobile will become the main channel for content delivery
6. We will see more of hybrid monetization models
7. Increased content fragmentation due to competition
Cord-cutting to happen at a faster rate
A total of 50 million consumers will have ditched their satellite TV or cable subscriptions by 2021 - indicating a rise in canceled subscriptions by 20 million. Further, a report by the Video Advertising Bureau claims that there are more than 800 million connected devices in the US alone.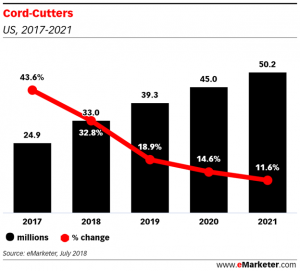 Because OTT media gives consumers a variety of options to choose from, the popularity of such platforms is steadily increasing. Besides, they are making the shift from traditional cable TV to OTT owing to convenience, subscription costs, and an array of content to choose from.
Due to these benefits of OTT, we predict that cord-cutting will happen at a faster rate in 2020.
Rebundling will become the latest acquisition tactic
Due to the influx of a large number of OTT services, consumers can subscribe and unsubscribe according to their preferences. A Hub Research survey states that 36% of consumers drop a video service or two before adding a new one.
It comes as no surprise that online audiences are always looking for variety in the content they consume. Naturally, they would want to try out a new streaming platform and discontinue the ones they don't use at that time.
In an attempt to stay ahead in competition, broadcasters and pay-TV providers are constantly looking at new ways of customer acquisition strategies. And the one that has become popular is rebundling.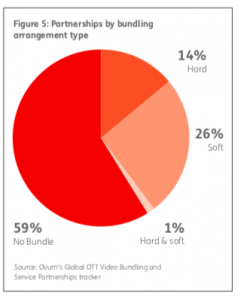 Imagine a limited--time offer stating, "200 channels plus Netflix, Disney+, Hulu and HBO Max in just $99!" Consumers will flock to purchase the package before the deal expires. Thus, rebundling enables streaming service providers to stay in the game and drive profits.
A lot of consolidation is happening in the OTT space and we predict that it will drive rebundling further in 2020.
More OTT content to be pulled from pay-TV
As traditional cable TV is quickly becoming old news, pay-TV operators are joining hands with OTT service providers to appeal to local audiences and offset revenue losses from cord-cutting.
Hotstar, a leading Indian streaming service, for example, provides access to live sports matches such as cricket that are originally broadcast on TV channels such as STAR India. It allows access to STAR India's huge content library consisting of movies and web series in various regional languages.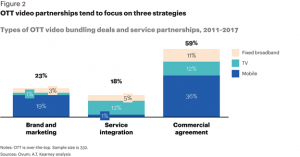 Hotstar has managed to garner a large audience (an impressive global record of 10.3 million real-time viewers) while broadcasting Indian Premier League, which was earlier available exclusively on STAR India. Similarly, Amazon Prime Video has grown enormously featuring content from HBO, Cinemax, and Showtime.
HBO, for instance, is creating distribution alliances globally on its OTT platforms with HBO España, HBO Now and HBO Nordic. In 2020, we expect more such competition that will lead to companies to merge with OTT platforms or streaming services and share target audiences and revenues.
Vernacular content will grow further
Production and consumption of vernacular content is on the rise. For example, India is one of the largest consumers of the global OTT market and the audience there is culturally diverse and speaks many different languages.
A KPMG report titled, "India's Digital Future: Mass Of Niches" states that the regional markets have become the next frontier of growth across sub-segments in the Media and Entertainment space, with substantial consumption across TV, Print, Films and of course, OTT.
Popular OTT platforms such as Netflix and Amazon Prime are heavily investing in hiring writers to translate and dub content in English into other languages, regional and global. India-based OTT players such as ALTBalaji and MX Player have also started producing shows in regional languages.
This trend will continue to gain prominence in other parts of the world as more content is produced and newer streaming services are brought into the market.
Mobile will become the main channel for content delivery
Mobile is gradually becoming the primary channel for streaming content viewership, especially in developing markets. Lower subscription rates of OTT services in countries such as India and Malaysia contribute to the occurrence of the trend.
Last year, we saw Netflix and T-mobile enter into a streaming partnership called "Netflix On Us" to allow the users to binge-watch their favorite movies and TV shows on-the-go. As the CEO and President of T-Mobile John Legere says, "The future is mobile, over-the-top and unlimited."
We will see more of hybrid monetization models
A Statista report predicts the OTT media revenue is expected to reach $83.4 billion by the end of this year.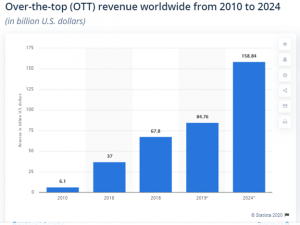 As many subscribers have shown an interest in paying for premium content, pay-TV service providers are rolling out standalone subscription-based OTT services in an attempt to increase profits.
Another trend that is fast picking up pace is the hybrid monetization model in streaming services where consumers are offered a "freemium" subscription to gain free access to a selected content catalog.
This is essentially a way for streaming service providers to acquire new subscribers along with premium content and to drive up average revenue.
Dish's Sling TV and AT&T's DirecTV are successful examples of affordable standalone services in the US. Also, Europe certainly is a growing OTT market. The Western Europe OTT and online video market will double in revenues between 2015 and 2021.
Further, the UK will contribute massively by amounting to a 35% share of the entire Western European OTT market.
Increased content fragmentation due to competition
The U.S operators of OTT services generated nearly $28.8 billion in subscription and advertising revenue in 2018. As more companies hop on to the OTT bandwagon, the race to acquiring more customers is rife.
Content fragmentation has become one way to do so. By making content exclusive to their OTT platform, the service providers ensure that the consumers subscribe to them to access that content.
The trend is expected to blow massively in 2020 as Apple, WarnerMedia and Disney launch and expand their own OTT services.
For example, Disney+ has already pulled more than half of its TV box sets from Sky's streaming service, including the very popular Marvel films and other TV shows, in the UK. Customers have to subscribe to them to see their favorite superheroes come into action.
Summing it up
The inception of OTT streaming platforms coupled with the growing internet penetration and mobile usage has triggered the OTT industry to transform. How do you think the OTT global market will shape up this year?
What are your thoughts on this article? reach out to us at info@ventunotech.com if you would like to discuss!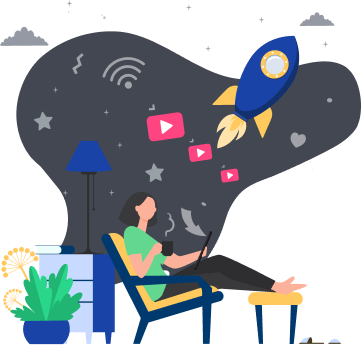 Discover how to launch and grow your ott business