You keep hearing about YouTube influencers raking all the moolah from their channels. Their success stories make earning money seem so easy. Many times, their video content is basic and even run-of-the-mill. And that makes you wonder how they grew their subscriber base.
Despite spending much time and effort in curating and creating quality content, your videos are unable to garner the attention they deserve. Guess what? The problem is not always you.
It could be YouTube.
For starters, YouTube changes its policies frequently, which makes it difficult for every content creator to profit from their channel. Secondly, you have to comply with the advertiser's policies – given you get any advertisers.
Ironically, to get sponsorship of any kind, you need a decent viewership first.
Lastly, the competition is rife on the platform. In fact, 96% of YouTube content creators hardly generate even their basic rent amount from YouTube.
And those who are successful enough to generate more income are limited by YouTube's ad guidelines, profit limitations imposed by YouTube, and viewer statistics.
Therefore, if you are looking to make more money from your videos, you can explore other channels outside of YouTube. If not YouTube, then what are the other alternatives for monetizing videos? Plenty!
You can generate income through videos that you share on any platform – via advertising, subscriptions, or direct transactions. For example, social media sites such as Facebook, Instagram, and YouTube allow users to upload and share their videos regularly and earn revenue on shared content.
While consumers love watching videos, brands get the highest ROI from videos because they engage with users for longer. 54% of millennial consumers prefer video content from the brands they like when compared to the content in any other form.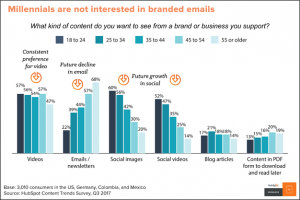 So, yes: YouTube monetization is popular. But given the cons we discussed earlier, the platform may not always be the best choice for video monetization. And that brings us to six ways in which you can monetize your videos outside of YouTube:
Table of Contents:
1. Your Video Streaming Website (and apps)
Your video streaming website (and apps)
The best way to make money outside YouTube is through your own website and apps.
Think about it: You already have an audience on YouTube. All you need to do is to redirect your audience to your website.
There are 4 ways you can make money from your own website:
Ads

Subscription

One-time sales

A combination of these 3 models
When Hayden Hill, founder of Jazz piano tutorial site, PianoGroove, started creating and uploading videos on YouTube in 2015, little did he know that his content would not only fetch him followers in the guise of loyal budding musicians.
In Jan 2019, Hill launched his official paid website, wherein Jazz enthusiasts could sign up to learn to play the piano for as little as $29 per month. His website still offers a few resources. However, he feels by offering freemium content, he is better able to portray that the website is managed by an established thought leader.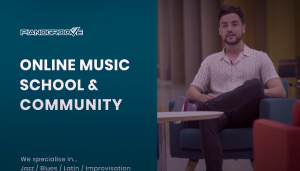 Plus, another significant benefit of running such a website is that you can keep charging a fee for accessing new paid videos every month or year, maintain your customer retention at the same time.
To make this model work, your videos should have a longer shelf life (such as Yoga or Jazz tutorials) so that people can access it even after several years and the content would still be relevant.
Ventuno can help you launch and monetize your video streaming website and apps. Click here to know more.
Barter exchange
79% of consumers say a brand's video has convinced them to make a purchase. That is why another excellent method to monetize your videos is by sponsoring a third-party product or service in your video and getting another business to mention your offerings in their video.
In doing so, you are paid to mention someone else's product in your content. And your product is exposed to a whole new set of audience at the same time.
In 2015, Gaming studio Super Evil Megacorp collaborated with PewDiePie on their new game, Vainglory 5V5. PewDiePie, an avid gamer himself, had a strong following of video game enthusiasts of 61 million subscribers at the time.
As a promotional strategy, the YouTuber made a video of himself playing the game and posted it on his channel. Through this collaboration, the gaming company got to promote the game to its target audience, i.e., 19-34-year-olds, who also happened to be PewDiePie's loyal audience. The success of the campaign is evident from the 2.2 million viewership the video got.
Affiliate marketing
The affiliate marketing strategy is relatively simple – you need to link outside products and services in your video content and charge a commission on each sale or click.
Nearly half of content creators say that affiliate marketing does not disrupt their user experience. Here's an example: The Deal Guy, a YouTube channel about the best deals online, shared a couple of affiliate links in his video comparing Jet.com and Amazon. These are deals from Jet.com and the channel earns a commission every time someone makes a purchase using the link.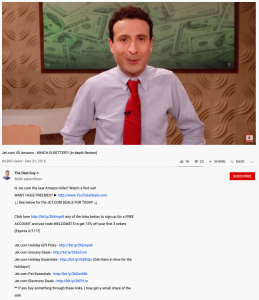 Affiliate Window, MaxBounty, and CJ Affiliate are popular affiliate networks, to begin with, if this method interests you.
Gated content
Another way to make money from your videos is by offering digital downloads to your audience. This can be in the form of eBooks, cheat sheets, graphic designs, short films, jingles, and so on.
If your target audience is not ready to pay and watch your videos just yet, give them something else that is of value to them – in any format – audio, video, or textual. The more specific and relevant content, the better the likelihood of converting the customer.
Tim Schmoyer from VideoCreators follows a similar strategy. He produces videos on growing YouTube channels that may not appeal to everyone. But if someone still wants to learn the tricks of the trade, they can download a free guide that Tim offers on his YouTube channel.

When the user clicks on the button "How to build a video audience," they are directed to the resource's landing page.
That's an excellent tactic to keep your potential customers coming back for more – even if you have to offer them something completely different in the beginning.
Selling your merchandise
Grace Helbig, known for her self-deprecating humor on video, sells hoodies with captions like "I don't know" and "well-intentioned," along with sweatshirts and t-shirts with equally witty messages. The merchandise captures her awkward yet confident personality effectively.
Often called YouTube's "Queen of Comedy," her YouTube channel has over three million subscribers, comprising primarily young girls and women. Mixing her merchandise and humor is definitely the right step towards adding to her fan base.
Similarly, DailyBurn, a health and fitness company, launched its streaming device in 2011 as a low-cost alternative to private training. Its online store enables them to mix eCommerce with their video content operation, and offer a lot of value to their customers.
A part of the website functions as a paid membership site where the target audience can purchase subscriptions and access training videos. The other part of DailyBurn operates like an online store selling merchandise such as vitamins.
Today, the company has more than 100,000 subscribers and is one of the most successful OTT services under the health and fitness category.
Have you thought of selling merchandise to your audience? It's the right time to do that and diversify your revenue streams.
Content syndication
By leveraging the distribution reach of TV operators and OTT aggregators, you can widen your audience base and promote your videos on a larger scale.
For example, India-based direct-to-home (DTH) Tata Sky launched its own OTT aggregator service called "Tata Sky Binge" last year. The service offers digital content from multiple OTT apps on TV through the Amazon Fire TV stick.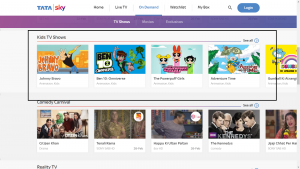 You can approach them and ask them to add your videos in the app. How does it help you? 2 ways – it helps expand your reach and revenue. You get paid a share of the revenue they make from your content.
Similarly, you can also partner with TV channels if your video content is for the local audience.
Alternatively, join hands with OTT aggregators such as Arre or content aggregators such as Huffington Post to run your videos for a nominal fee.
Facebook watch
Today, Facebook is taking more aggressive steps to help video creators monetize their content while pushing more consumers to their original video content hub, Facebook Watch, in the following ways:
A. Ad Breaks
As the name implies,Ad Breaks allow you to insert short advertisements during Live videos. The viewers watching your video at the time will see an in-stream ad of up to 15 seconds. Ad breaks will fetch you a certain share of the resulting ad revenue.
Benito Skinner, a comedian, has built a strong brand on Facebook by posting his videos on Facebook. Not only has he leveraged the platform for boosting ticket and merch sales but also monetized his videos with in-stream ads. His Facebook page doubled last year from 141,000 followers in 2018.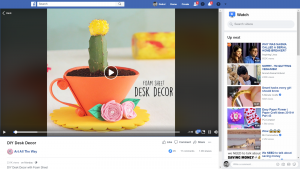 B. Brand Collabs Manager
The tool helps content creators connect with brands that are looking to promote their products and services through you. These posts look like something like the image shared below.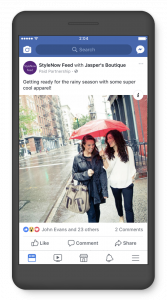 Brands Collabs Manager is only limited to a few users; you can check your profile or page's eligibility here.
Facebook is definitely polishing up its video monetization offerings for video creators through its Facebook Watch platform, and it shows a strong aspiration for competing with YouTube.
Summing it up
There are several platforms where you can distribute and monetize your video content, including your own website. Choosing which one to use entirely depends on business requirements and target audience.
Now that you have learned of six ways to monetize your videos, aren't your excited to try them out? If you are thinking of launching your OTT service.
What are your thoughts on this article? reach out to us at info@ventunotech.com if you would like to discuss!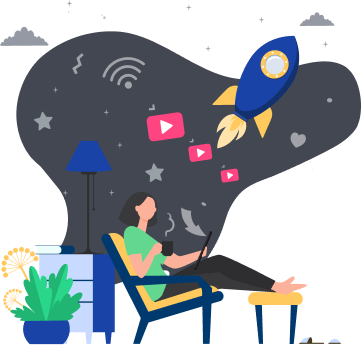 Looking to Monetize your video business?