This is a complete guide to SVOD or Subscription Video on Demand.
Let's begin.
WHAT IS SVOD?
SVOD, or Subscription Video on Demand, is a video monetization model where viewers pay a recurring fee to access the content.
Take Netflix. It's the most famous SVOD service out there. You pay a monthly or yearly subscription fee to watch unlimited content anytime on any device.
SVOD is one of the most popular ways to monetize videos. Other video monetization models are AVOD (ad-based) and TVOD (transaction-based).
EXAMPLES OF SVOD SERVICES
Some of the most popular SVOD services are:
Netflix
HBO Go
ESPN+
Crunchyroll
As you might have known already, Netflix and HBO Go stream movies and TV series, ESPN+ streams sports content, while Crunchyroll streams anime content.
All of these services have two things in common – the content is gated (i.e not accessible to free-users), and viewers pay a monthly/ yearly fee to access the content.
You can find SVOD services in so many different niches – movies, fitness, religion, sports, education, and more.
Suggested read: 16 examples of successful SVOD services
BENEFITS OF STARTING AN SVOD BUSINESS
As opposed to Pay-TV, the SVOD market continues to expand with an increasing number of consumers opting for video content that is personalized and on-demand. Statista reports a rise in the global users for SVOD content to 411 million by 2022.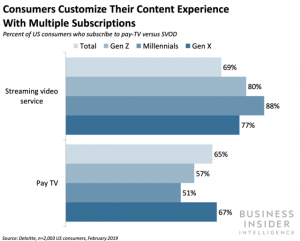 Here are the benefits of launching an SVOD service:
Recurring & predictable revenue
Revenue and profits make or break a business. This is even more true for video production companies where the cost of production is high and margins are razor-thin.
Today, most of the videos are monetized with ads. The problem with ad revenue is that it is not predictable and keeps fluctuating every month.
The best way to get consistent and predictable revenue? Add a paywall to your videos.
Revenue prediction for SVOD businesses is easier. Have 1000 subscribers at $9 per subscriber per month? Great. Your revenue will be $9000 this month (assuming your subscriber count doesn't change).
Instead of depending on advertisers who don't pay on time, launch your SVOD service and get paid directly by your viewers!
Higher margins
Based on our experience, margins of SVOD businesses are far better than AVOD businesses.
Most ad-based streaming services need hundreds of thousands of users to become profitable. With SVOD, you just need a few thousand subscribers to become profitable.
Let's say your overall cost per month (cost for content production, employee salary, equipment, rent, etc) is $10,000. Assuming you charge $5 per subscriber per month, you just need 2000 subscribers to break-even.
Loyal customer base
It's a known fact that users value a paid product more than something they get for free. Your users will spend more time on your subscription service because they have already invested their money in it.
To increase your user-engagement further, you should be looking at increasing the watch-time further. Regular users are more likely to regularly pay for content than one-time viewers.
One of the best ways to increase your watch time is by recommending personalized videos to each user. You already have a lot of information about your users – what are their likes and dislikes, watch history, location, gender, devices they use and much more. This can be used to recommend videos and increase watch time.
Ever thought how Netflix is able to recommend personalized videos to each user? It is because each user has a separate account on Netflix (if we don't consider password sharing for a moment!) which helps them know their tastes and preferences.
Direct connect with viewers
Users generally fill their details before subscribing to a service. You can use this information to send them emails and push notifications, inform them about the latest releases, discounts, sell products, and more.
To give you an example, the cooking YouTube channel HomeCookingShow has 1.7M followers. They have a website where they collect emails from users. When they created a cookbook, they sold the cookbooks primarily by informing users through emails.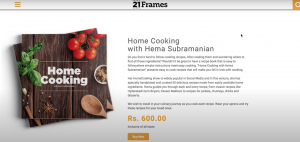 Without much promotion, they have sold the cookbook to 4000 fans. At $8 per book, they have made $32000 using this simple method.
WHEN TO MONETIZE WITH SVOD?
While SVOD is an excellent model, it is not suitable for every content owner. You should consider monetizing with SVOD if you meet the following criteria:
Your content is exclusive
Do you have premium content that is not available on free platforms like YouTube? If yes, then adding a paywall might work well for you.
One of the first criteria for launching an SVOD service is to make sure the content is exclusive to your service. If your content is available on other platforms for free, then users can watch it there without paying you.
If you have decided to start charging for your content, make sure to remove your content from all the free platforms!
Your viewers are ready to pay for it
At the same time, you need to see if your users are ready to pay for your videos? Do they have the budget? Will they continue watching even after you add a paywall?
If the answer to all of these questions is a "yes," then go ahead and add a paywall to your videos.
If you are not sure, you can run a limited offer on a few videos to check if this strategy can be implemented in the long term.
You are in a niche category
Sometimes it's better to be a big fish in a small pond. It's easier to become successful in a niche category such as fitness, sports, and movies.
Although OTT brands such as Netflix, Hulu, and Amazon Prime cater to almost every kind of viewer, independent video content creators/enterprises often have to look for a niche.
Let's take the example of Simply South, one of the largest OTT platform for South Indian movies. It has over 2000 movies in Tamil, Telugu, and Malayalam, catering to an enormous subscriber base from South India in the UK, US, UAE, and Malaysia. They have carved a niche and cater to the South Indian diaspora.
Some categories just work better than others. These categories, according to our experience, are movies, sports, fitness, yoga, and education.
If your content falls under these categories, you should consider starting an SVOD business.
You have a clear path to profitability
Starting an SVOD business without keeping an eye on the costs can be a fatal mistake.
There are lots of costs involved in producing high-quality videos – the cost of production, technology expenses, rent, employee overheads, marketing to give you a few.
No matter what your costs are, you should have an idea of when you can become profitable.
One good aspect of the SVOD business is that it's easier to predict the revenue because it doesn't fluctuate like ad revenue.
Suggested read: When should you start a Subscription Video Business?
HOW TO LAUNCH YOUR OWN SVOD SERVICE
Now that you have decided to launch your SVOD service, you need 3 things for the launch:
Technology

Content

Marketing
Technology
You have 2 options for creating your OTT service –
Building it in-house

Using a SaaS OTT platform (like Ventuno)
Building an OTT app is not as straightforward as building any other app. There are a lot of features of an OTT service that makes the app development process complicated.
To launch a fully functional OTT service, you need to think and plan for the following things:
hiring developers who build and maintain 9+ different apps (across web, mobile, and TV)

video CMS to upload and organize videos

storage and CDN to store and stream videos

encoder to encode videos in different formats

integrating payment gateways to collect payments

ad-server to run advertisements

dashboard to view analytics

servers to scale when traffic spikes
and more.
All of these things cost a lot of time and money. For this reason, we recommend using a SaaS platform that has all the features you are looking for. There are no upfront costs, no maintenance overheads and you pay a reasonable monthly fee.
This way, you can focus on what you are great at – creating awesome content!
Ventuno handles all the above things for you. You get a readymade platform that can be used to launch, manage, and monetize your OTT service – without any coding!

Suggested read: In-house development vs using a SaaS OTT platform
Content
There are 2 ways to get content for your OTT service:
creating it

acquiring it from others.
Do you already have the resources or knowledge to create videos? Great. Start producing content for your SVOD service.
If you don't, you can look at acquiring videos. You can either purchase them and keep all the rights or get it for free and share the revenue with the content owner.
Initially, Netflix used to purchase content from production houses. After gaining traction, they figured out it's better to produce content in-house as it gives them distribution rights that were not available with purchased content.
In 2013, they started producing original content (called Netflix Originals) and their first production was 'House of Cards'. Now, many of their originals, including, Stranger Things, Narcos, Dark have become a huge hit.
Marketing
It's wise to market your service before the launch. This will create a buzz in the market and get the initial set of users.
Without users, no streaming service (heck, no business) can be successful. You need to have a strategy to acquire users and convert them to paying subscribers.
There are 3 ways to acquire users:
Social
The easiest way to promote your service is through social media (Facebook, YouTube, Twitter, Instagram, TikTok, Snapchat). You can ask your existing followers to subscribe to your new service.
Look at how Adriene, a yoga instructor, is promoting her SVOD website on YouTube. She has a huge audience on YouTube and is diverting that traffic to her website. She also mentions her website in her videos to drive traffic to her website.

Ads
You can also run paid ads on Google, Facebook, and Instagram. You can start small and see how many clicks you are getting at what cost. Scale your spend once you have figured out a way to get more clicks while keeping the cost low.
These platforms provide detailed demographic information about your audience. You can even utilize that to understand what your audience likes and develop content around those topics to garner a greater target audience.
Organic
I am sure you would have heard of SEO. The goal of SEO is to rank #1 on search engines when someone searches for a related term. Wouldn't it be great if you rank at the top position for a high-volume keyword such as 'best yoga streaming websites'?
The results for SEO takes a long time (anywhere from 3 months to a year) but it's totally worth it.
Suggested read: 6 tips for launching a successful SVOD service
HOW TO FIND THE PERFECT OTT PROVIDER FOR YOUR SVOD SERVICE
Finding an OTT provider is not easy. You need to make sure the platform is easy to use, has all the features you are looking for, is within your budget, and more.
Don't worry. You can use the below checklist for choosing an OTT provider:
Do they provide an all-in-one platform? Or do you need to use 2-3 separate platforms?

Are they able to launch all possible apps (web, mobile, TV)?

How long does it take to launch the apps?

How easy it is to use it? Do you need developers for maintaining it?

Can it handle millions of users?

How good is their support?

What's their pricing? Any hidden charges?

Do they accept custom feature requests?
Of course, you can add more things to this checklist. But you can use this to compare different OTT providers and choose the right one.
Reach out to our team if you are planning to launch your OTT apps. You will get an all-in-one platform for managing your entire OTT operations – right from uploading, organizing, monetizing, and analyzing videos.
CONCLUSION
SVOD services are growing at a crazy rate. With projected revenue of $87 billion in 2024, SVOD is one of the fastest-growing verticals out there.
This is the perfect time for you to launch your SVOD-based streaming service!
Planning to launch your streaming service but not sure where to start? We can help! Our SaaS platform is used by content creators of all sizes to launch and manage a successful streaming service. Reach out to us here.