The SVOD market is booming with an expected growth rate of 4.1% in the next few years. Today, more consumers are ready to pay for watching premium content online. Knowing that the SVOD market is growing, it makes sense to launch a subscription video business at this time. 
Are you a content creator looking to launch your subscription video business? In this article, we list down six tips that will help you launch your own successful SVOD service:
Table of Contents :
4. Plan your distribution strategy
5. Test Everything before you launch
6. Create a Buzz before you launch
Find your niche
Trying to mimic bigger brands like Netflix or Hulu is probably the biggest mistake most independent content creators make. According to our experience, it's far easier to attract subscribers for a niche streaming service. You can always add more categories and expand your offerings later.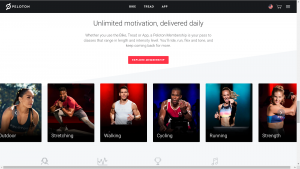 Peloton – A niche SVOD app
Finding your niche also helps develop a personal brand for your business. That includes a great website, a user-friendly platform, and high-quality and unique content. Your target audience will be drawn to your brand because of the kind of content you offer to them and how easy it is to access that content.
Decide your pricing
Pricing is one of the most important things you need to figure out before the launch.
Study your competition and find out how much other SVOD services are charging. Offer similar pricing as your competitors if you are not sure of what the right pricing for your content is. Most streaming services have 2 or 3 plans – monthly, quarterly, and annually.
If you have users in multiple countries, you might want to have different plans for different countries. For example, $5.99/mo for the US, £4.99 for the UK, and A$6.99 for Australia.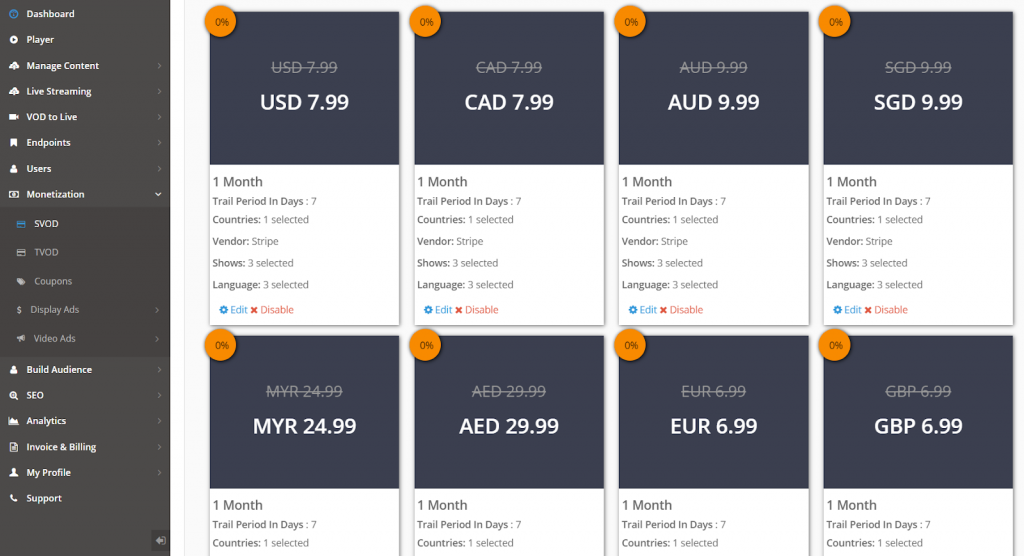 An example of different plans you can set up in Ventuno
Ventuno can identify where the user is located (based on their IP address) and showcase your pricing in their local currency.
Do you plan to offer a free trial? Free-trial can be an excellent way for your users to try out your service before subscribing.
You can also look at other models to make additional income. The other 2 common options are AVOD and TVOD.
Use the right technology
One of the most important aspects of running a successful SVOD business is using the right technology.
Building a streaming service is not so easy. There are lots of features that are needed such as app development and submission, video CMS, video player, payment gateway, servers, CDN, analytics that might overwhelm someone who is just getting started.
If you are planning to launch your streaming website, mobile, and TV apps, you will need separate development teams to update and maintain these apps.
For this reason, we suggest SaaS providers such as Ventuno. Using Ventuno, you can quickly launch your video streaming service for web, mobile, and TV. You get a single dashboard to upload, syndicate, monetize, and analyze your content across all these platforms.
Want to try out Ventuno for free? Click here
Plan your distribution strategy
How do you plan to distribute your content? Do you plan to start with a website and launch apps later or would you rather launch your website, mobile apps, and TV apps in one go?
If you are just testing the waters, we suggest that you start with a website. You can always launch mobile/ TV apps in the future. But if you are certain that your audience is distributed across platforms, you can very well launch all your apps.
With Ventuno, you can instantly launch your streaming website, mobile apps (Android, iOS), and OTT apps (Roku, FireTV, Apple TV, Android TV, LG, and Samsung TV).
As a content creator, it might be overwhelming to understand the different platforms available to distribute your content. Check out this article to find out the top devices used by users and which ones make sense for your business.
Test everything before the launch
Before you launch your service online, it is a good measure to conduct a test to check if everything is functioning smoothly. There are many things you need to test before submitting the apps to the store. Check if:
all the videos are playing properly
you are happy with the UX
the performance of the website and app is good
you are able to make payments to watch videos
If you identify some gaps then you can resolve it before launching the service and waiting for someone else to notice the flaw in your platform.
Create a buzz before your launch
It's wise to market your service before the launch to get the initial user-base on the day of the launch. This is very important as the very first users will help you identify the gaps with the content and technology.
Once you have fixed these gaps, you can focus on getting a larger audience.
The easiest way to create a buzz is to promote your service on social media. You can ask your followers to check out your service and share their valuable feedback.
Look at how Adriene, a yoga instructor, is promoting her SVOD website on YouTube.

She has a huge audience on YouTube and is diverting that traffic to her website. Apart from adding a link to your website, you can also regularly mention your service in your videos.
Another way to market your apps is by running paid ads on Google, Facebook, and Instagram. These platforms are effective in providing data about your audience. You can even utilize these platforms to understand what your audience likes and develop content around those topics to garner a greater target audience.
Follow the six tips mentioned above to help you create a well-known brand and a successful SVOD business.
What are your thoughts on this article? reach out to us at info@ventunotech.com if you would like to discuss!
Looking to launch your own streaming service?