With the traditional cable TV slowly going out of use, it is not strange to find people using several different devices for content consumption.
They could stream Amazon Fire TV with their family in the evenings, catch up on their favorite films while commuting to work on Netflix mobile, and end the day with watching funny YouTube videos on their tablet.
That is how we would describe the typical day of an average internet user. If you don't believe us, let us share some statistics with you.
A recent study on device usage by Siemens suggests that nearly 70% of consumers prefer using their smartphones to enjoy their favorite OTT streaming services, which are then followed by desktops and smart TVs.
By 2022, online videos will account for more than 82% of all internet traffic, according to Cisco. In the US alone, around 70% of consumers have access to a smart TV, internet-connected device, and video game console.
There are many reasons viewers are preferring online video: convenience & flexibility, higher cost of cable, shorter and skippable ads, and cheap internet
As an increasing number of consumers make the migration from cable TV to OTT streaming services, we anticipate many changes in terms of the devices that will be used for viewing online content.
Adding to that, here's a rundown of the most used devices for online videos:
Table of Contents :
Mobile phones
The future of OTT streaming services revolves around mobile devices. In 2019, 75% of OTT streaming occurred on mobile devices. Furthermore, a 2019 survey by Statista declared smartphones as the primary device used for watching online video content.
Today, many streaming service providers have moved to mobile applications to enable consumers to have access to the streaming service on their smartphones.
Netflix and HBO Now have dipped their toes into the mobile pond and launched low-cost subscription models for expanding their customer base.
PC and Laptops
Computers are the second most popular streaming device among consumers after smartphones. As cord-cutting accelerated, computers and laptops quickly became the go-to device for online videos.
Another factor that has contributed to the increase in preference is the high resolution and easy portability that these devices offer as compared to Television.
Even though these devices have a smaller screen, they provide video content in high resolution, which makes it more entertaining for consumers to watch, and carry anywhere with them.
Tablets
Tablets, just like smartphones, are popular with both iOS and Android users. Because tablets mimic both a desktop and a smartphone in some ways, they are the fourth most popular choice of devices among consumers, according to a report by Statista.
Besides, a study by Adobe confirms that iOS-based tablets iPads grab a bigger slice of the consumption pie, nearly 86% of all online video consumption.
On the other hand, Android tablets such as Galaxy tablets and Kindle Fire account for 7%, and 4% of the market share, respectively, claims the same study.
Streaming devices
Streaming devices such as Amazon Fire Stick, Roku, and Apple TV are some of the most used devices among users.
Millions of people have canceled their cable subscriptions and are consuming videos on these popular streaming devices.
It's very easy to use streaming devices on Television – all one needs to do is to plug the device in their Smart TV!
If Prime and Alexa control your home, then a streaming device is apt for you. Apart from giving access to the Prime video library, Netflix, Hotstar, and more, the Amazon Fire Stick allows its users to stream live TV and record it at their convenience.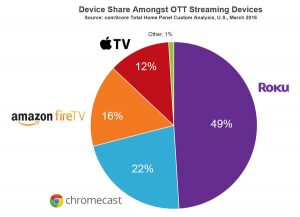 Roku is an excellent device that supports almost every video platform such as Netflix and Hulu. It is cheap and can be easily plugged through an HDMI outlet. It is the most popular streaming platform in the US.
Apple TV, although significantly pricier than Amazon and Roku, supports fast 4K streaming. It is also absolutely easy to integrate everything you have ever bought on an Apple device. More so, it comes with a Siri-controlled remote.
Smart TV
Although cable TVs have seen a decline, smart TVs have seen a steady rise in popularity. Some of the leading smart TV companies include LG TV, Samsung TV, Sony TV, Vizio TV, and Android TV. Android is the most widely used operating system among smart TVs.
According to a 2019 Statista report, 70% of the TVs being sold globally today are smart TV – making them one of the most popular devices when it comes to watching videos online.
That is because the device combines the features of a standard TV with a few elements of a computer, allowing the consumers to watch not only their favorite shows and films but also access the internet and download apps.
Gaming consoles
We have all heard of the Xbox, PlayStation, and Nintendo. Most of us have played interactive games on these devices.
Did you know that these gaming consoles can also be used as streaming devices?
For example, PlayStation has its own store called PlayStation Store where you can install famous apps such as Netflix, Hulu, HBO. Just like the App Store, you can purchase and watch movies on the PlayStation store as well.
Independent app stores for TV
Most Smart TV devices have their own app store. But did you know that a few Smart TV devices use a third-party app store instead of building a store on their own?
Yes, and the most famous independent app store is VEWD. Formerly known as Opera TV, VEWD is a TV app store that is used with smart TVs and set-top boxes. Smart TV manufacturers who do not have their app store can incorporate their offerings with the VEWD app store.
Consumers can then view content on the OTT apps without having to download or install them because VEWD runs them directly from its cloud-based app store. That means that the apps don't take up storage space, nor do you have to worry about updating them.
Here is an overview of some of the apps offered by VEWD OS:
Movies and TV – TubiTV, Viewster, and Crackle

Lifestyle – TED, Mashable, and Wired

Music – Radioline and Deezer TIDAL

Sports – Motorcyclist, Play Sports TV, and Nitro Circus

Kids – Toon Goggles and Kids News

News and Weather – CBS News and CNBC

Weather – The Weather Network and Accuweather
Simply put, VEWD is a leading technology partner for smart TVs and provides premium content from Hulu, HBO, BBC, Amazon, and more.
Casting
Another popular device used for online content consumption is casting devices that allow wireless streaming between devices. Casting devices plug into your TV and enable you to easily access multiple streaming services like Netflix, YouTube, Hotstar, and more.
Chromecast, ROKU, and AirPlay are some of the most popular casting apps. While Chromecast is done from Android mobile devices, iOS is used for AirPlay.
Over to you
We hope the list mentioned above has given you a clear idea about the popular OTT streaming devices, which will further help you launch OTT services that best suit your target audience and the platform offerings.
How do you think the OTT global market will shape up this year, and what other OTT streaming devices or platforms can we anticipate?
What are your thoughts on this article? reach out to us at info@ventunotech.com if you would like to discuss!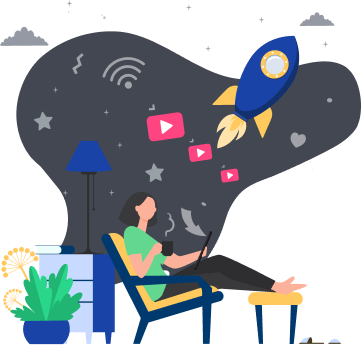 Build multi-devices ott platform