The FAST TV audience has been on the rise in recent times. Multiple FAST platforms are now bigger in terms of the number of viewers compared to cable and satellite TV platforms in the U.S. This is a turning point for many live TV channels and content publishers as it is going to demand a lot more from them both. FAST Channels are not only at a turning point in terms of content quantity and the rising number of viewers but the revenue as well.
A recent example is Amazon's pitch to publishers about carrying out linear channels on IMDB TV. Publishers would stand to receive 55% of the net revenue from their IMDb TV channels.
FASTs are services that are free to use, supported by advertisements. FAST TVs provide both linear channel and on-demand programming in a single viewing experience. Some of the biggest names are Samsung TV Plus and The Roku Channel.
The revenue of linear free ad-supported streaming TV (FAST) in the United States is expected to reach 4.1 billion U.S. dollars by 2023.
In this article, we will see why it is a good replacement for linear TV, why audiences and brands are steering towards FAST channels, and how content publishers can make the most out of this opportunity.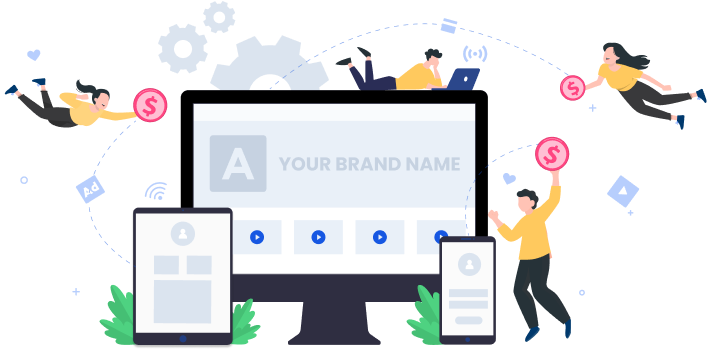 Read our interesting article about how to create a Whitelabel OTT Platform
What is the FAST channel?
FAST TV is a white-label platform dedicated to OTT Content distribution of dubbed FAST Channels TV. FAST TVs are designed to deploy content to users across the world in a fully developed system for channel playout with automation.
The most popular FASTs are Pluto TV (ViacomCBS), Xumo (NBCU), Tubi (Fox), Peacock (NBCU), The Roku Channel (RokuTM), IMDbTV (Amazon), and Samsung TV+ (Samsung).
FAST channels are of two types: Syndicated or niche channels and Brand channels.
Syndicated or niche channels are published by media and catalog holders with themes like cooking and science-fiction. These are quite similar to thematic channels found on cable and satellite packages.
An example of a niche channel is Peacock – launched by Comcast. All its channels are based entirely on the content from NBCUniversal.
Brand channels are published by companies and brands. These channels offer content related to the products, services, or values of that particular brand or company. They also broadcast premium content.
The best example of branded channels is Pluto TV which showcases over 40 channels of Viacom after being purchased by the brand.
It is vital to understand the difference between FAST and AVOD. The distinction between the two will help us understand the audience better. It will also help content owners and publishers in deciding the genre of content they want to push on their FAST channels.
How is FAST different from AVOD?
AVOD stands for ad-supported video-on-demand. This ad-supported video content is monetized instead of a subscription.
On the other hand, FAST channels are the same. The only difference is that instead of ad-supported on-demand content, it is ad-supported live TV content.
AVOD and FAST achieve the same goal through different types of content and use ads to monetize their inventory.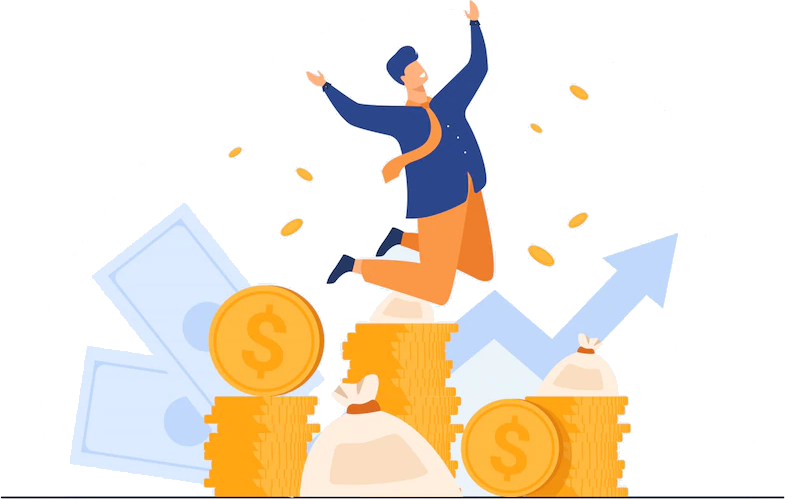 Learn how to launch your own AVOD streaming service
Types of FAST Channel
1. Platform-agnostic FAST channels
These channels are available on multiple platforms, such as smart TVs, streaming devices, and mobile apps. Examples include Pluto TV and Xumo TV.
2. Platform-exclusive FAST channels
These channels are only available on a specific platform, such as Apple TV+ on Apple devices.and Samsung TV plus for Samsung devices.
3. Niche/syndicated FAST channels
These channels focus on a specific genre or topic, such as KweliTV for black community movies or Hayu for reality TV.
4. Branded FAST channels
These channels are created by and associated with a specific brand, such as Red Bull TV from Red Bull.
5. Pure FAST channels
These channels offer a free, ad-supported streaming experience without any premium tiers or subscriptions. Examples include Tubi, Crackle, and Popcornflix.
6. Premium FAST channels
These channels offer a free, ad-supported streaming experience with a premium tier that offers additional features, such as ad-free viewing or early access to new content. Examples include Peacock Premium and Paramount+ Premium.
Why are brands entering the FAST race?
There has been an acceleration of free, ad-supported channels on platforms like The Roku Channel. Roku came up with this platform to provide their customers who wanted more free content on the platform.
This brings us to the investments that are being directed toward video services from Amazon and Roku. Viacom invested a whopping $340 million to acquire Pluto TV, which shows that the race of owning a free streaming service is picking up speed.
Let us take a look at the major reasons why brands are entering the market to own the FAST race.
Maximizing content usage – More impressions
With free content, platforms now have an opportunity to make use of all the idle content in their library. Many channels are providing idle content as free to watch content in order to improve views or impressions on the platform. As a result, ad-supported programming is experiencing a faster growth when it comes to users and overall consumption, as compared to subscriptions.
Exposure – Reaching more audience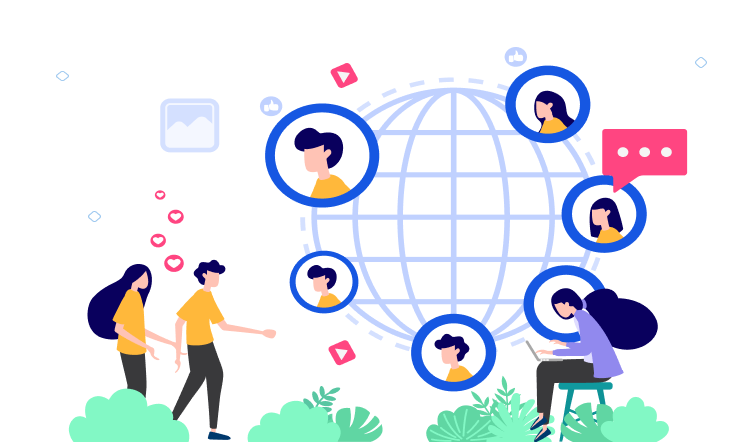 As more content is offered to be viewed without any subscription fee, reaching a new audience who are looking for free content and maxed out subscriptions is easier. This gives platforms an opportunity to get exposure in terms of reaching out to more audiences and raising the number of viewers on their platform.
Additional ad revenue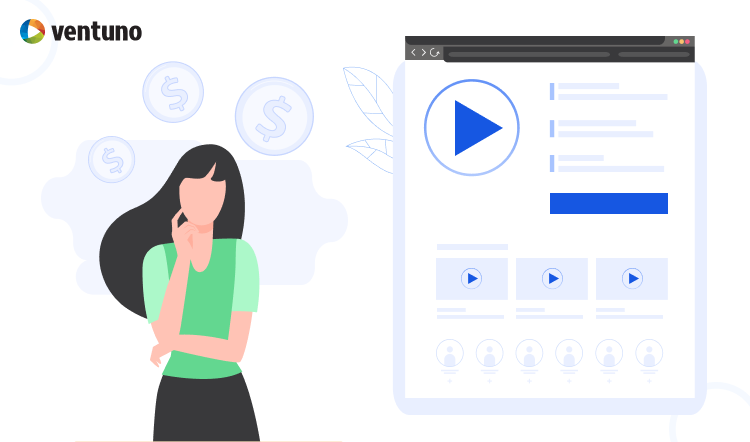 As a result of the free, ad-supported content for visitors on the OTT platform, the revenue from the supporting ads is only going to grow bigger. With more channels, your OTT channel will have more breaks. And with more breaks, there will be more ads to be shown in between. Indeed, a great way to create an ad revenue stream.
Advertisers are said to spend over $25 million on ad-supported TV by 2025, this means more revenue for content owners and publishers.
How to launch your FAST channel?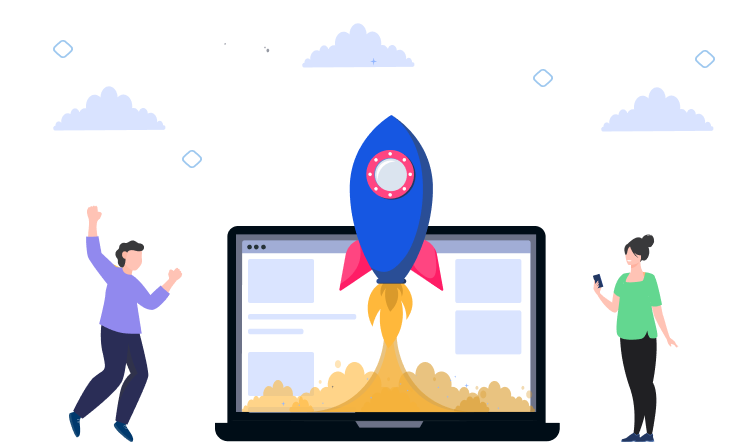 There are two things you must look into at the time of launching your FAST service: content quantity and scheduling.
Content Quantity – At the time of launch, your FAST channel must offer 100-250 hours of content. This must be updated to 10-20 hours of content every month. A large quantity helps you rotate the content and provide your viewers with something new every time they visit your channel.
Scheduling – A FAST platform can schedule programming in two ways: looped playlists and scheduled.
A looped playlist is simply a playlist of on-demand videos in a loop. Looped playlists do not have the look and feel of a traditional TV channel.
On the other hand, scheduled playlists are more involved in improving viewer engagement habits by providing them with new content according to a particular schedule.
Here are the three major aspects you must consider before launching your FAST channel.
Content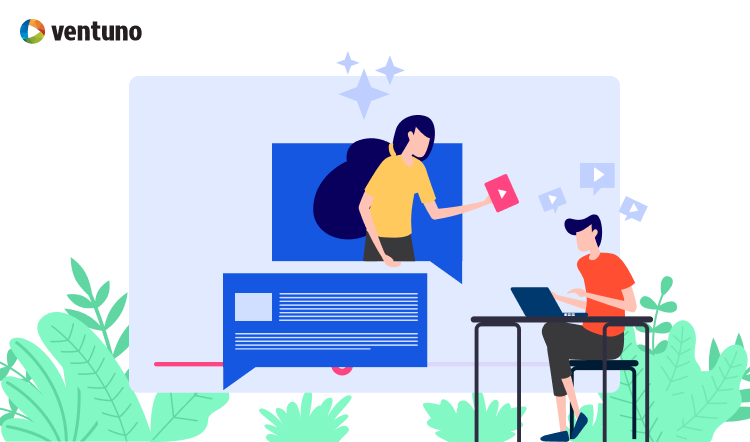 If you want to succeed in European markets, you must start by localizing your content in native languages. Don't be limited to using subtitles for the programs, but go ahead and consider dubbing to a local European language.
Many successful FAST TVs like Pluto are successful because they were able to localize their content in different countries.
Also, consider offering more local content. Local news and programs that your target audience will like to watch are also good content options.
Technology
The quality of EPG data must be exceptional. Since FAST is still a linear model of TV watching, the strategy that is followed here must be the same as the linear TV model.
The best way to do this is by controlling your output yourself. Control your content in such a way that users can easily discover your content, whether it is on your own channel or a third-party site.
Ensure that all the EPG data that is translated into the local language is easily findable.
Advertising
Advertising and marketing help you stay several steps ahead of the competition. With advertising, you can make sure potential customers are kept informed of your channel through SEO, proactive distribution of schedules, advertising and more.
Both conventional and digital ads must be utilized to promote FAST channels.
Make sure you are adjusting your marketing and advertising strategy according to the market. The same ad approach for every country will not work out for your FAST channel. You need to understand how users in different countries consume content and ads.
For example, Europeans must be offered an ad structure with fewer breaks to reel them in, this is different from how ads are shown in the United States.
Why Should Your Streaming Service Have a FAST Channel?
Your streaming service should have a FAST channel because it can bring a lot of benefits to streaming platforms of all sizes and types. By carefully assessing your unique needs and objectives, you can formulate a FAST channel strategy tailored to help you accomplish your business goals.
For instance if you are a Small Streaming Service a FAST channel can help you with
1. Increasing Brand Visibility and Discovery
FAST channels offer smaller streaming services an opportunity to boost brand awareness and discoverability, reaching a broader audience.
2. Competitive Advantage
Smaller streaming platforms can leverage FAST channels to compete effectively against larger, established rivals. These channels provide viewers with a free and convenient means of accessing their content, giving them a competitive edge.
If you are a New Streaming Service, you can use FAST channel to
3. Affordable Market Entry
For emerging streaming services, FAST channels are a great way to acquire new customers. Instead of spending heavily on marketing campaigns, you can launch a FAST channel that will help you acquire users at the same time earn with ads.
4. Improving User Engagement
FAST channels empower newer streaming platforms to enhance user engagement by offering viewers a free and convenient avenue to enjoy their content.
If you have a Subscription-Based Streaming Service, your FAST channel can help you with
5. Expanded Subscriber Acquisition and Retention
Subscription-based services can utilize FAST channels as a means to acquire and retain subscribers. These channels can promote subscriptions and encourage viewers to sign up.
6. Improving Customer Satisfaction
FAST channels can be used to provide added value to subscribers, ultimately enhancing their overall satisfaction with the service.
Using Ventuno, you can convert your VOD content into a Linear live stream.
All you need to do is
1. Create your Ventuno account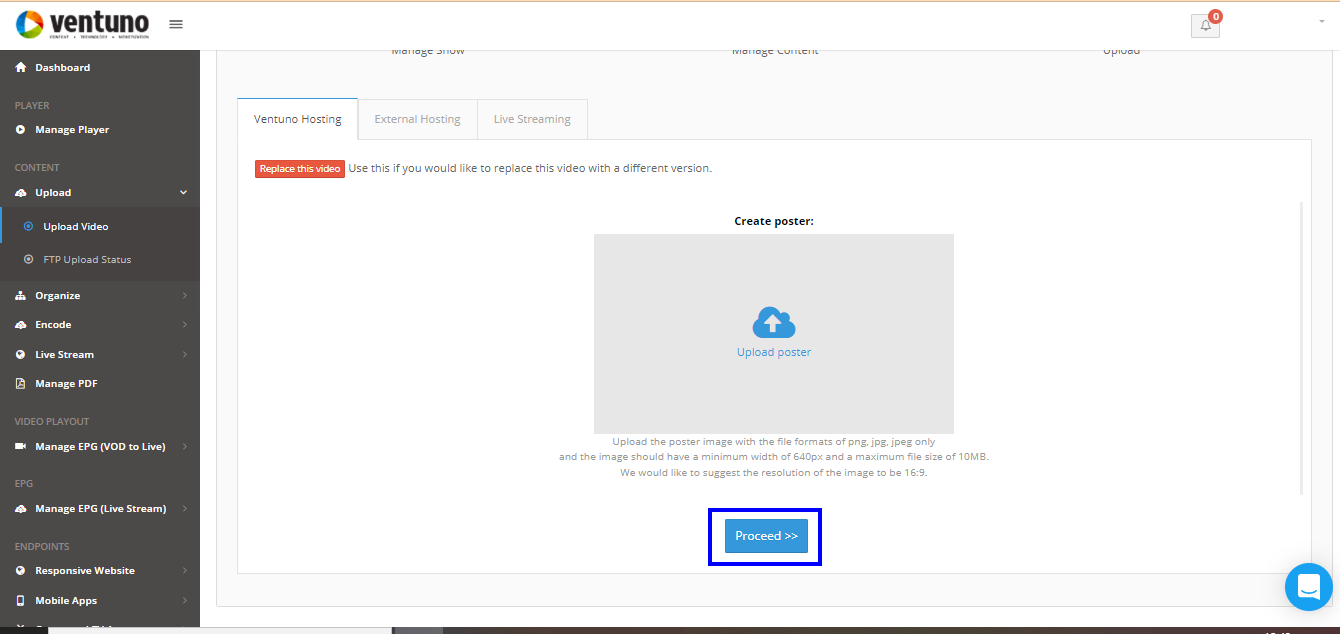 2. Upload your video content.
3. Create your apps to deliver the content (eg: Fire TV app, Roku channel)
4. Convert your uploaded content to a live feed
Here is how to convert your content to a live feed
Add the VOD content as a program so that it can be converted into an HLS link. Once the Channel is created, you need to link the channel with the show. This allows the Live stream to work smoothly.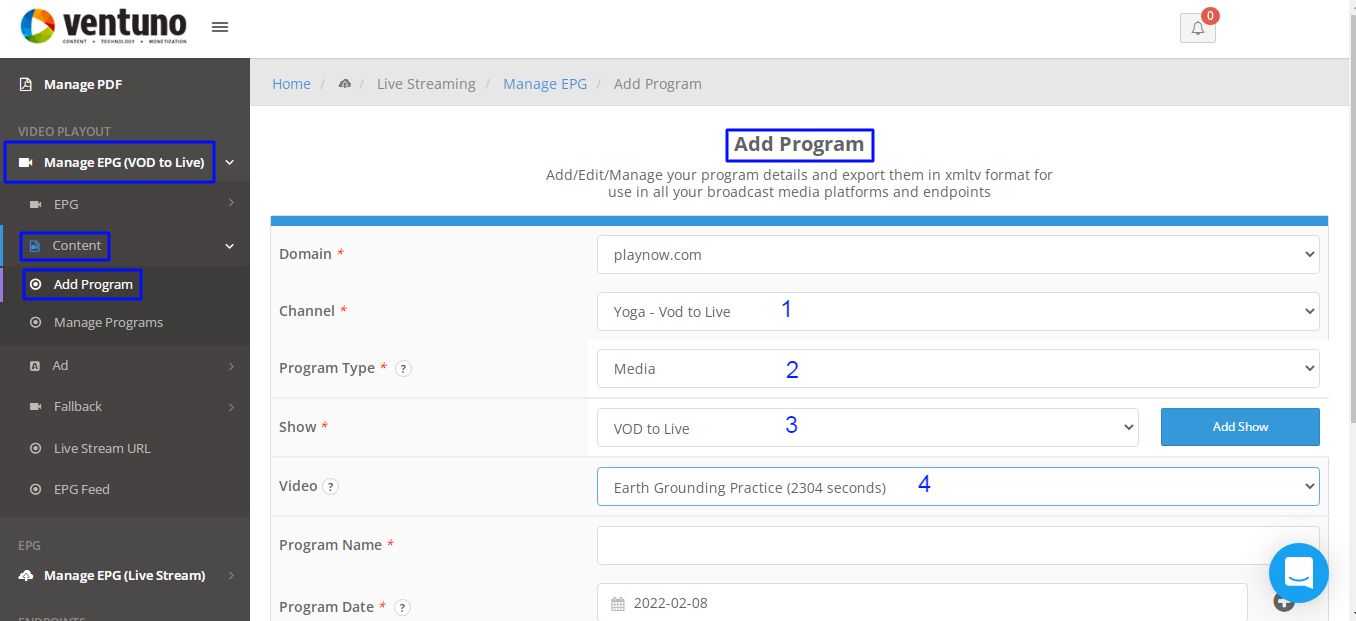 Choose the Media option from the 'Program Type' dropdown.
Pick the 'Show' mapped under the channel selected above.
Once you select the show, all the videos in the show will be listed in the dropdown under the Videos section. Select the video you want to add as a program.
You can then add Program Name, Program Date, and Program Start Time and End Time. Once this information is selected, click on Submit.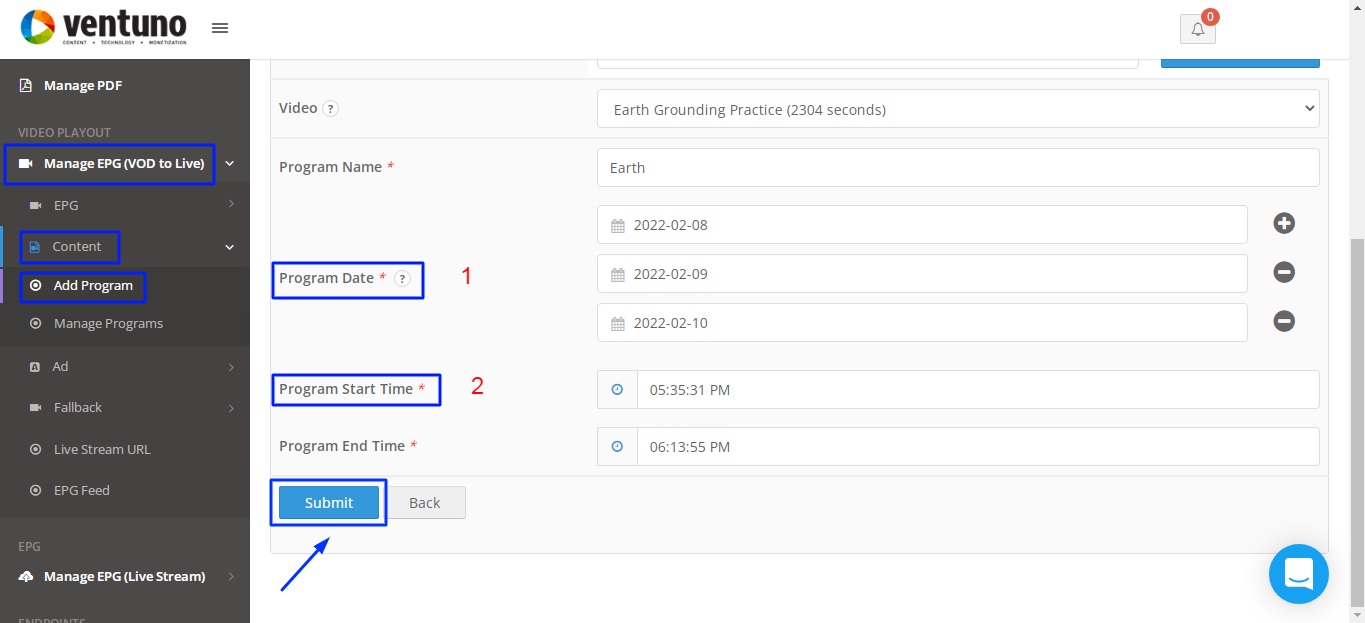 Now you must add EPG- Electronic Programme Guide to schedule videos under the channel for your VOD content. Once you create the EPG, the EPG URL for the selected channel will be generated and displayed on your screen.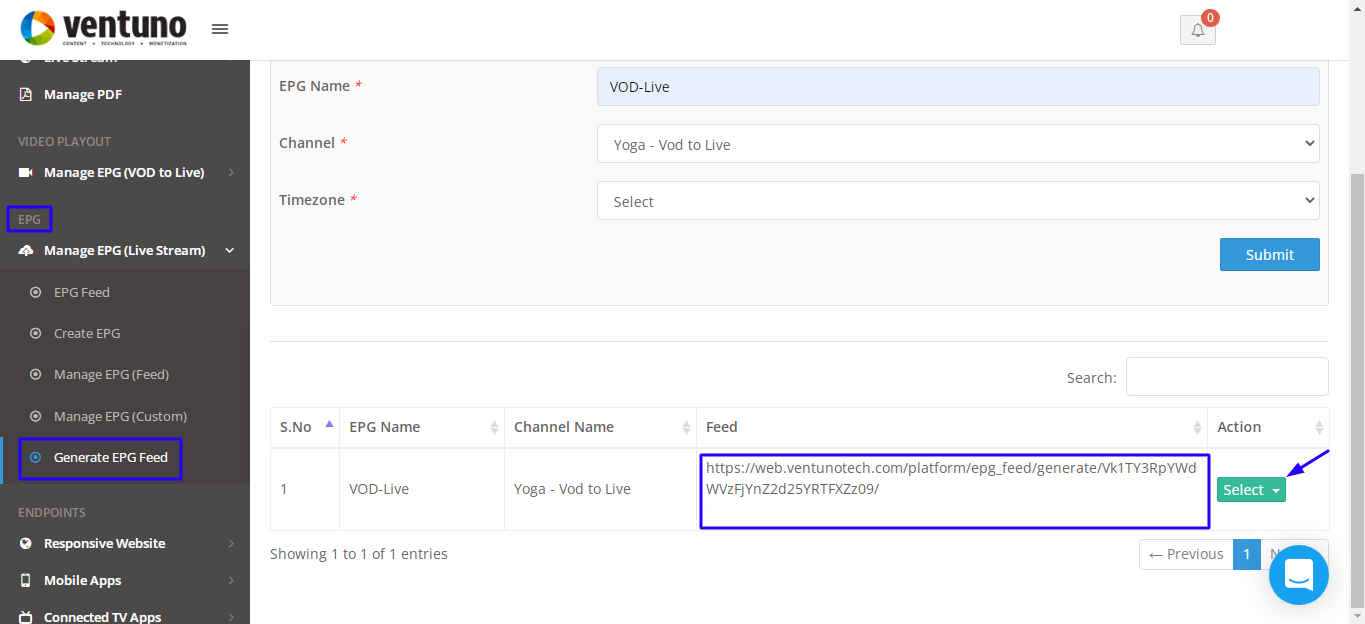 You can now create ad breaks to the live stream. Ad marker is used to 'Create ad-breaks with your commercials in the live stream'.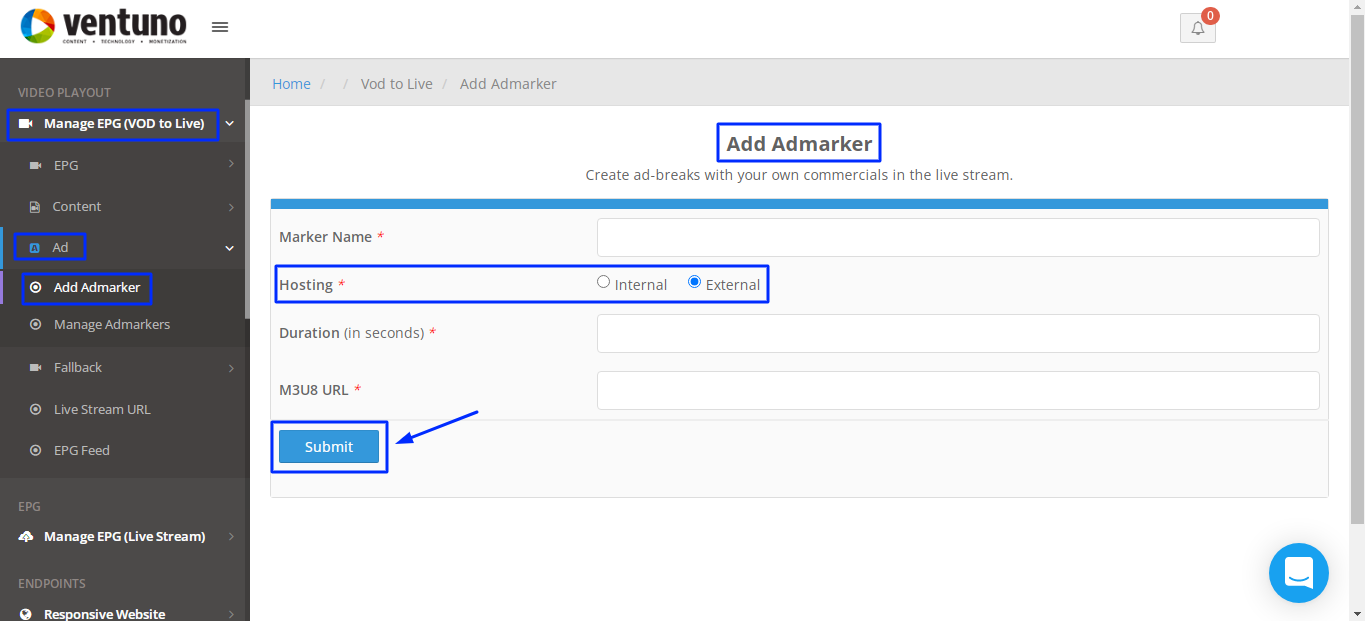 Adding content fallback is also very important to fill the gaps in the Livestream when you are unable to play advertisements or the content failed to play. You can play a Fallback video by using this option in case there is an issue with the Live-stream.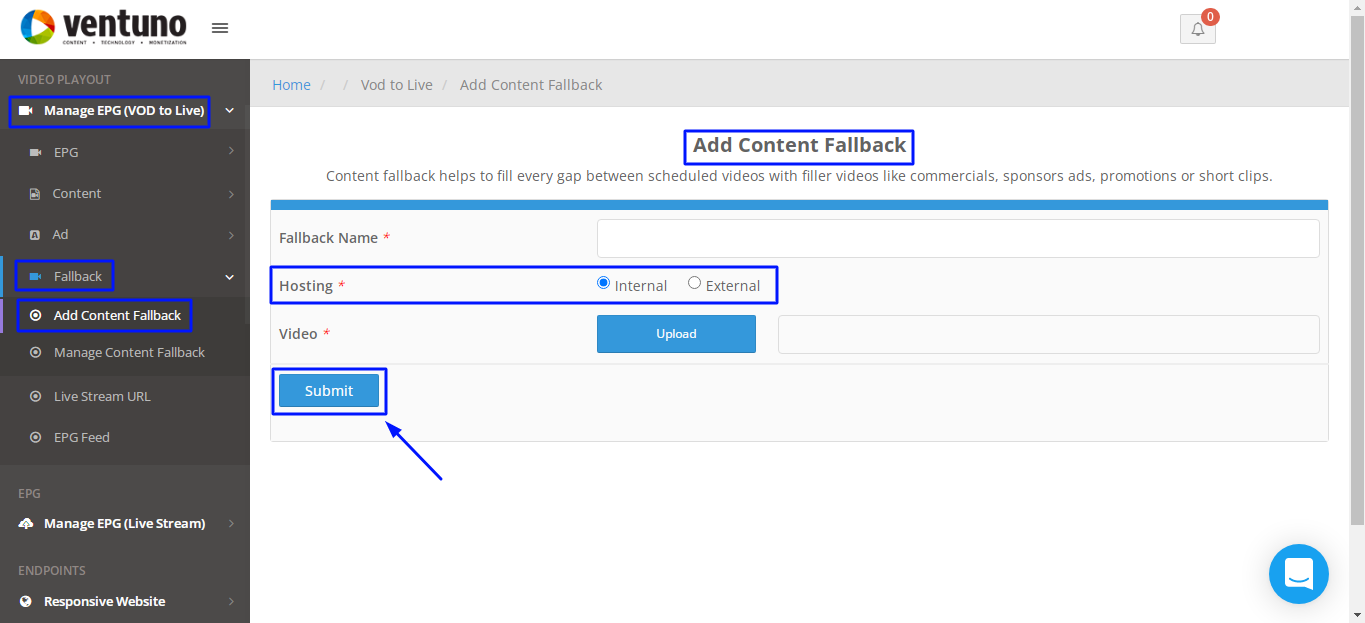 Once you are done setting up these steps, you can generate a live stream URL. Enter the details of the EPG create, click on Generate URL and click on the Preview button.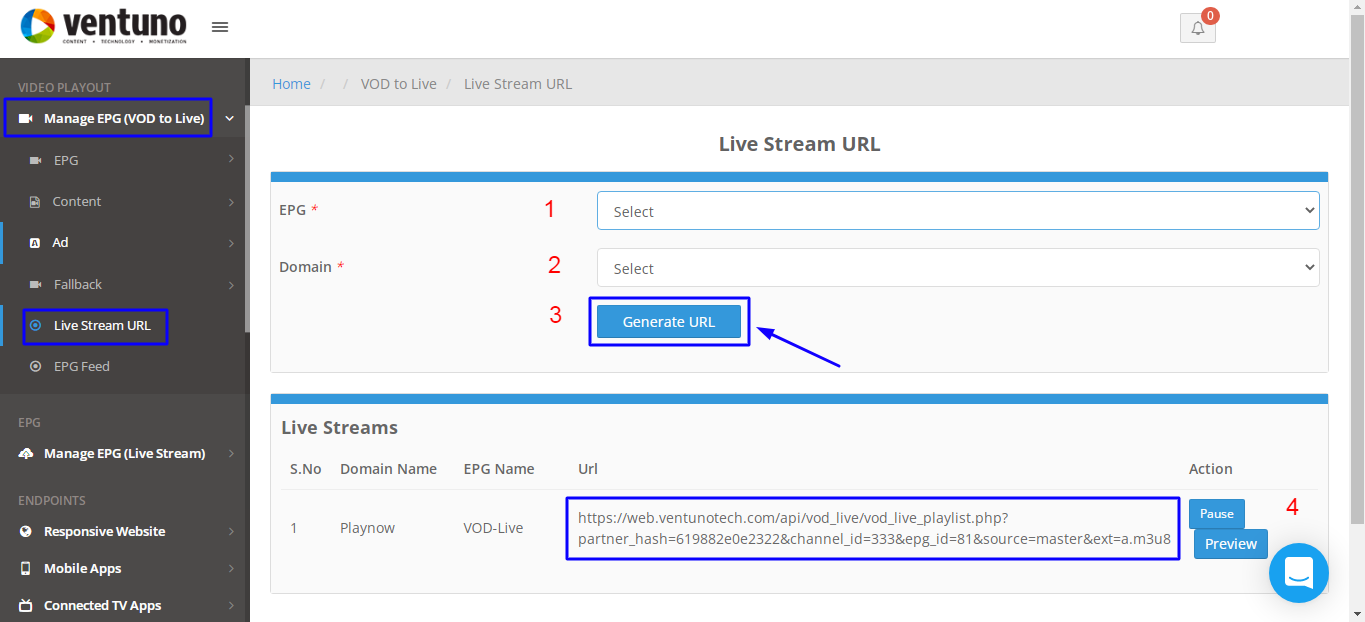 Upload this as a Livestream so that the video will play on the endpoints. Check out how you can create and publish a live stream here.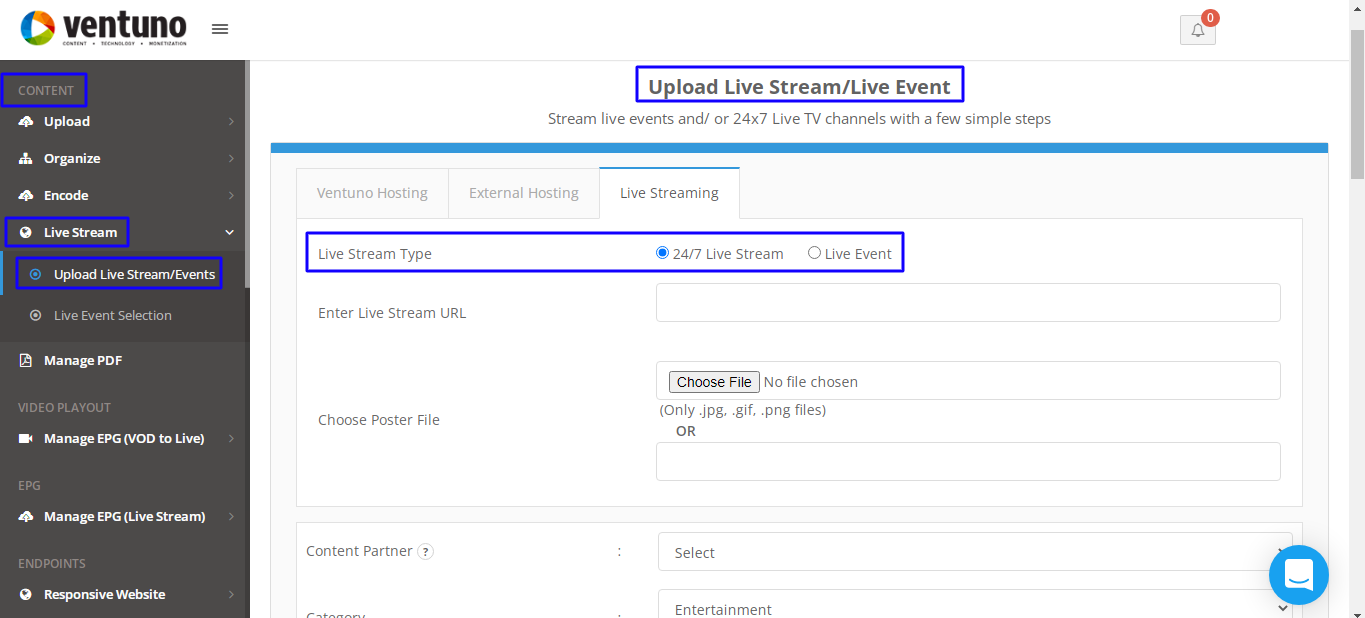 FAQ
Conclusion
FAST channels have transitioned from an early stage of growth and matured. The market has grown exponentially with the entry of some of the biggest platforms in entertainment.
Ad buyers are fascinated with the FAST model as it allows them to run well-targeted non-skippable ads on large screen TVs to millions of users.
So this means that while there are competitors in the market, you have a chance at acquiring a major market share in terms of users. With the growing set of viewers, you will have more channels and more content. What will follow is a growing number of ads which will translate into more revenue for your platform.
Ventuno's sophisticated technology can help you create the right base for your free, ad-supported streaming.
Create TV channels from your existing VOD content.
Monetize your OTT channels with ads, subscriptions, and transactions.
Cut 24/7 live streams to individual videos and publish these videos across all your apps. Save several hours of manual work.
Add a paywall to your live stream by integrating your payment gateway with Ventuno. Get paid directly by your users and keep all of your revenue.
Ventuno Analytics presents data on video engagement, revenue, purchases, users, watch time and much more
If you are a content owner or content distributor launching your FAST channel, Ventuno can help you. Ventuno is the ideal solution to create FAST channels, monetize them, and broadcast them on your own platform. Get in touch with us.
Looking to launch your own streaming service?