What's one thing that grew like crazy in 2020 due to COVID? Live streaming. 
Millions of people live-streamed with their friends, colleagues, students, and customers.  
Live streaming is growing pretty quickly, and many businesses are now creating a live streaming website.
If you are wondering how to build a live streaming website for your business, then you are in the right place. This article will explain the step-by-step guide on how to create a live streaming website. 
Table of Contents :
Why Do You Need to Build a Live Streaming Website?
Steps to Create a Live Streaming Website
What to Consider When Selecting a Live Streaming Platform?
How to create your live streaming website with Ventuno? 
What Is Live Streaming?
I am sure you have experienced live streaming at least once. When you watch your favorite concert or listen to Zoom classes, chances are they are being streamed live i.e happening in real-time. 
Technically, live streaming is when the video streamed is sent over the internet in real-time. 
Social media videos, TV broadcasts, video games, online classes, fitness classes can all be live-streamed. 
For many organizations, live video streams are often used to broadcast one-time events. This generally includes concerts, business conferences, a live talk show by your favorite YouTuber, or any other event that has a beginning and end. 
There is another kind known as 24/7 live channels. Some examples of 24/7 channels are TV channels such as CNN, BBC, ESPN, etc that keep running continuously and don't have a beginning and end.  
Why Do You Need to Build a Live Streaming Website?
Live streaming is changing the way brands interact with their audiences. It enables businesses to engage with viewers in authentic ways.  
In fact, marketers are now investing 28% times more in live streaming than ever before. 
1. The Rising Popularity of Live Streaming
To begin with, live streaming has the potential to help reach thousands of new users with a click of the button. 
Let us look at some stats below. 
47% of viewers are live streaming more than ever. 
In 2019 alone, live streaming crossed 1.1 billion hours.
82% of audiences say that they would rather watch a live video than read a blog. 
2. Live Streaming Helps Reach a Wider Audience
One significant advantage of live streaming is that it has the power to expand the viewership of an event — from hundreds to thousands (or more). 
It helps reach audiences on an unprecedented scale while launching a new product, exclusive shows, and more. 
3. Live Streaming Helps Increase Your Revenue
Live streaming is a great way to drive tons of revenue for your business. In 2016, it was valued at a $30 billion industry, and it is estimated to double in value by 2021. 
According to the ReelSEO survey, 73% of B2B businesses using live streaming reported positive ROI. 
4. Live Streaming Helps Understand Your Users 
Live streaming is a great way to collect data about your viewers and convert those data into insights. Some of the key metrics that companies can track are — average watch time, most-watched videos, user location, etc. 
By understanding your data, you can better strategize your marketing efforts — leading to increased revenue and maximum ROI. 
For instance, the most-watched live streams can give you a clear idea about what kind of streams your audiences are interested in. 
Steps to Create a Live Streaming Website
Let me explain how you can create a live streaming website in five easy steps. 
1. Pick your technology partner 
There are three ways to build a live streaming website. 
#1: Hire an In-House Developer
If you have the technical knowledge or know a qualified developer, you can create your own live streaming website. 
However, we would strongly recommend against this option as there are a lot of things that go behind developing and maintaining your streaming website. 
You not only need to build all the features of your OTT platform, but also need dedicated resources to maintain your website, servers, CDN, and update your website/ apps. 
This option is only feasible for businesses that have a good amount of expertise and resources, including time and money. 
#2: Outsource it to a Website Development Agency
There are many agencies that specialize in building live streaming websites. From designing to back-end operations — they take care of all. 
They generally charge an upfront fee for the development and a monthly/ yearly fee for maintenance and updates. 
We would not recommend this option as building a live streaming website from scratch is not easy – you need to integrate lots of third-party tools like video player, ad-server, payment gateways, CDN, servers, video CMS, and more. 
You will also need a team to maintain and update the website — fixing bugs, adding new features, and more. Again, you can choose to outsource it, but that will involve additional costs. 
#3: Using a SaaS Platform
One of the most recommended ways is to get a SaaS platform and instantly get started with live streaming — no coding required! 
You don't need to hire developers or incur maintenance overheads. Besides, you can cancel your subscription to the platform at any time. 
Ventuno is one such option that provides a readymade SaaS platform — easy to launch and monetize your live streaming services. 
I understand that there are more options for creating a live streaming platform than ever before. So how do you pick the right one? 
What to Consider When Selecting a Live Streaming Platform?
Every business has different needs. For instance, companies that require live streaming for internal business communication need to choose a platform that offers a high level of security. 
Similarly, if you are using it as a marketing tool, you want to focus more on the viewers' experience. 
Here are a few factors to consider while choosing a live streaming SaaS platform. 
Customization
It's important that your live streaming website resembles your brand's look and feel. The platform you choose should enable you to easily customize your website — add logos, change colors, and more. 
Is the platform customizable? Are you able to build a white-label live streaming website? 
Authorization
Are you able to make changes to your website yourself? Or, do you have to ask an agency to even make small changes? 
With Ventuno, you get an admin panel where you can customize and create your website, upload and organize videos and live streams, monetize them, and view detailed analytics – all from a single place.  
Pricing
Check whether the pricing for the platform is within your budget and offers all the important functionalities that you require. In short, it should be worth the cost. 
Security
Your audience should be able to view your content without worrying about any breach of security. Check whether your platform provides watermarking options, HLS encryption, and DRM support. 
Monetization
Are you able to monetize your live streaming website in different ways? 
Your vendor should be able to help you monetize with ads, subscriptions, and pay-per-view/ rentals. 
Check what payment gateways the platform integrates with and whether that gateway is supported in your country. 
2. Monetize Your Live Streaming Business 
Once you have selected a platform, the next is to decide how you want to monetize your business. 
There are three ways you can monetize:
Advertisement Video On Demand (AVOD): Here, you get paid when viewers watch an ad during your live stream. 
These are three types of ads: 
Pre-roll ads – ads that run before the video/ live stream

Mid-roll ads – ads that run in the middle of the video/ live stream

Post-roll ads – ads that run after the video or live event is over 
YouTube is the most famous example of a website that is monetized with AVOD. 
Here's another example of an ad-based business model.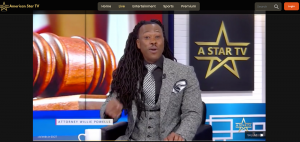 AmericanStarTV lets you watch their live streaming for free, but they run pre-roll ads on the stream. 
Subscription Video On Demand (SVOD): Users pay a monthly subscription fee to access all your live streams. 
For example, you pay a fixed fee to Netflix every month (that is debited automatically from your credit card) and are able to watch all the videos on Netflix. 
Pay-per-view (PPV): Users pay a certain amount every time they want to watch a new live stream. Mostly used for live events like boxing matches. 
UFC is a classic example of a live streaming website being monetized with pay-per-view. 
3. Stream to All Devices 
You need to decide if you want to launch just your live streaming website or apps as well. 
Your audience might also be present on mobile devices like Android, iOS, and connected TV devices like Roku, Amazon Fire TV, Android TV, Samsung TV, and more.   
Different people use different devices to consume live streams. If you want to reach a wider range of audiences, you need to make your streaming available on all devices. 
4. Create Your Streaming Schedule
If you are streaming 24/7, then you can create a schedule and showcase it to your viewers. This will help them understand what they can expect to see the whole day. 
Look how HeroGo TV does it. HeroGo TV is a streaming platform that has 15+ live streams in different categories. 

5. Customize Your Live Streaming Website
Before your final launch, wait…you need to customize it! 
Ensure that the aesthetic matches your brand, starting from color schemes to header images and video thumbnails. 
Anything that is visible to your viewer's eye should communicate your brand look. 
Many SaaS live streaming platforms offer readymade templates to help set up websites. 
With Ventuno, you can quickly launch your streaming website, mobile apps, and TV apps. You can choose one of our templates, customize it with your branding, and launch your website and apps quickly. 
That's it! 
Now that you know how to create a live streaming website, here's a quick tutorial on how to do it using Ventuno. 
How to create your live streaming website with Ventuno? 
Creating your live streaming website is as easy as it can get. 
You have three options for designing your website: 
Customize our templates with your branding 

Ask us to make changes to our templates 

Ask us to implement your own design
As you can see, you can customize our templates without much help from our side. Just choose a template, import your logo, add text, and change the color scheme. Your test website will be generated and it will be hosted on one of our servers. 
After you test and approve the website, you can map your current domain URL to the IP address and go live. 
After you have launched your website, you can use our dashboard to manage your entire operations – right from uploading videos and live streams, organizing them into shows/ categories/ playlists/ seasons, monetizing them with ads/ subscriptions/ pay-per-view, to viewing detailed analytics.  
Wrap Up!
Consumer behaviors change and old technologies die out. Businesses are constantly looking for new ways to reach customers and build a brand presence. 
Live streaming is creating quite a buzz in the market. 
After all, it is accessible and beneficial to everyone. It's time that you start using it if you still haven't. 
Live streaming allows you to expand your audience reach, providing a huge potential to grow. 
Build your customized live streaming website with Ventuno