In recent years, there has been an unprecedented shift in how people consume content today. 
From traditional cable TV channels to streaming videos at one's own convenience, the demand for OTT platforms has soared gradually. 
OTT platform, or over-the-top platform, allows you to deliver content to your audience over the internet. Here's a graph below that shows the revenue in the OTT Video segment is projected to reach US$205,565m in 2022.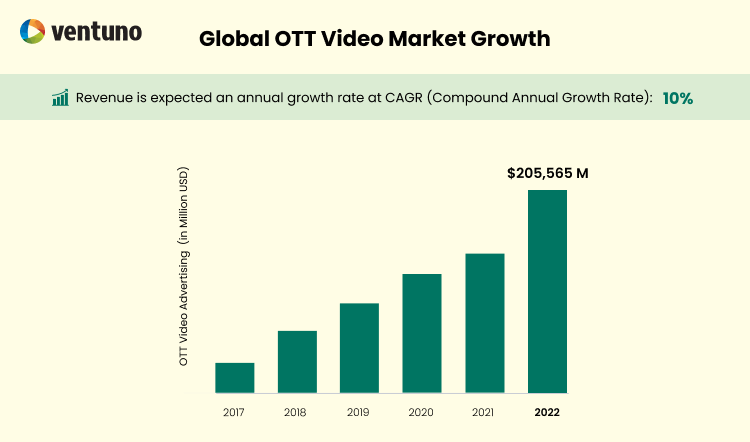 With a white-label OTT platform, every video content creator can subscribe to a third-party OTT platform provider and brand it like their own. 
This helps you build your own brand and establish your company in the market. 
In this article, we are going to cover everything about the white-label OTT platform, the benefits of using a white-label solution, and how to choose the best live streaming platform for you.
What Is a Whitelabel OTT Platform? 
A white-label OTT platform is a pre-custom-made solution readily available to broadcasters and producers without any display of links or logos of the platform provider. 
In simple words, white-label video streaming platforms use a custom video player that displays your label instead of any third-party branding. 
Today, you will find many user-friendly OTT platform provider that offers no-code white-label solutions for easy integrations. It comes equipped with a wide range of functionalities. 
Ventuno, for example, has been providing white-label solutions for over a decade that helps integrate with your VOD platform. 
Most importantly, you can ask for bespoke solutions that cater to your unique video business needs. More and more content producers are using white-label app solutions for the promotion of their videos online. 
Benefits of Using a Whitelabel OTT Platform
The benefits of a white-label service solution are not limited to only depicting professionalism. But it also offers additional flexibility, video monetization, and more. 
All in all, you get to build your own brand and stand out from the crowd. 
Now, let's dig deeper into it in this section.
No Third-party Interference
White-label streaming allows you to create a professional impression and manage your platform in whatever you like. 
For instance, you can remove ads from your videos unlike in the case of YouTube to deliver distraction-free VOD content. This ultimately affects your viewers' experience for good. 
Multiple Ways to Monetize Videos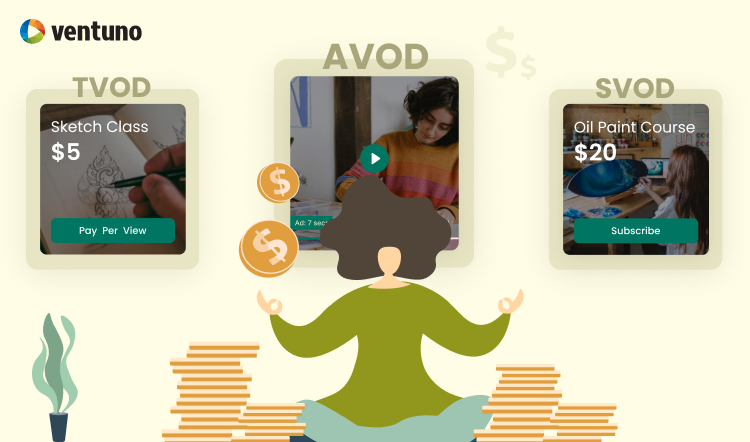 When you sign up for a third-party platform like YouTube, you are restricted to their money-making policies. 
The rising popularity of the OTT platform also contributes to the fact that you can make money from your videos. Launching your own OTT platform allows you to monetize your videos in various ways you desire. 
Whether you want to launch a subscription model or sell merchandise or raise funds, you can do it all by subscribing to a white-label solution and branding it as your own. 
Scope to Scale Your Business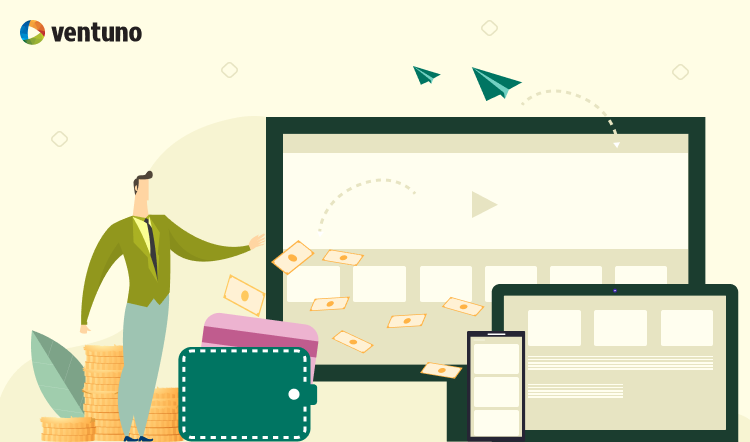 When you use a white-label video solution, you get full control over the platform. For starters, you can personalize the video platform as per your requirements. 
Secondly, you can control the access of your OTT content, improve the viewing experience, and so much more. You get full flexibility to run your video streaming business in your own style and grab viewers' attention. 
Besides, the top OTT platform provider will offer in-depth analytics to help you make informed decisions in favor of your business.  
Increasing Brand Value
When you are an independent production house having your own OTT app, it helps create your own brand identity. 
Say, for example, Netflix  – its brand value has raised to $21.2 billion with a 105% growth. In the past year, Netflix's brand value has more than doubled. 
A white-label solution enables you to add your own elements such as logo, color, theme, etc. Most importantly, you can decide your UX/UI design in accordance with your business. 
All these factors combined with quality OTT content help you gain visibility into the market and retain your brand identity. 
What to Consider When Launching an OTT Platform
If you want to build your own OTT app, it's crucial to consider some of the most standard features that every OTT platform provider should offer. 
Content Management System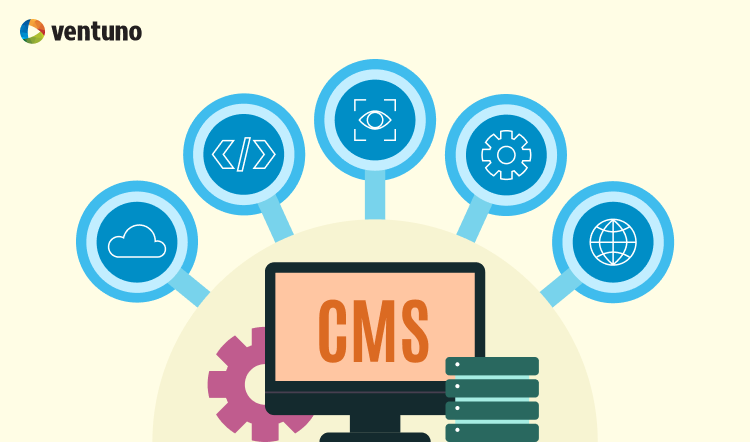 As the name suggests, the content management system ( CMS) is responsible for uploading, organizing, and distributing your content. 
Thus, you need a robust system that helps you grow your video business without any hassle. Moreover, a content management system should essentially support adaptive bitrate functionality to enable viewers to play videos without any latency on various devices and network speeds.
It will keep audiences glued to your platform. 
Furthermore, having a powerful CMS means access to an agile video player that gives users the right experience. It should support both live streaming and video on demand (VOD), VAST & VPAID tags.
Integrations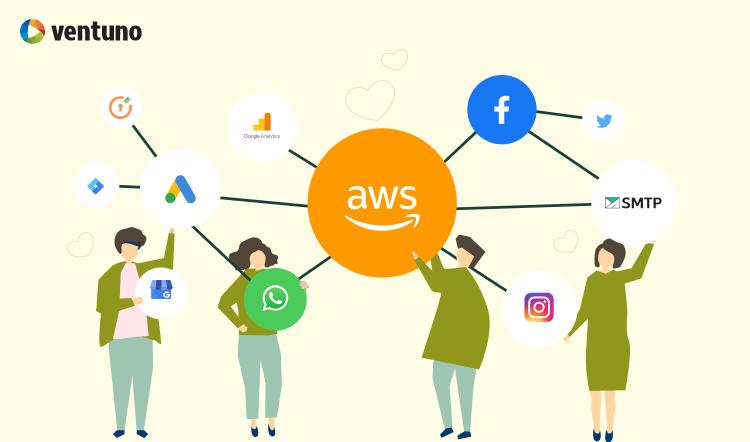 Integration is another important feature that helps expand the OTT platform's functionality. Choose an OTT platform provider that offers seamless integration with third-party applications so that can you can grow your business effortlessly. 
For instance, by integrating with different payment gateways, you can provide a smooth check-out process to your viewers. Again, by connecting with marketing tools like email automation, you can run your marketing campaign right from the OTT app dashboard and keep track of your metrics. 
Similarly, there are other functions that you might want to connect your OTT platform with – Google Adsense, Google Webmaster, social media channels, etc. 
Analytics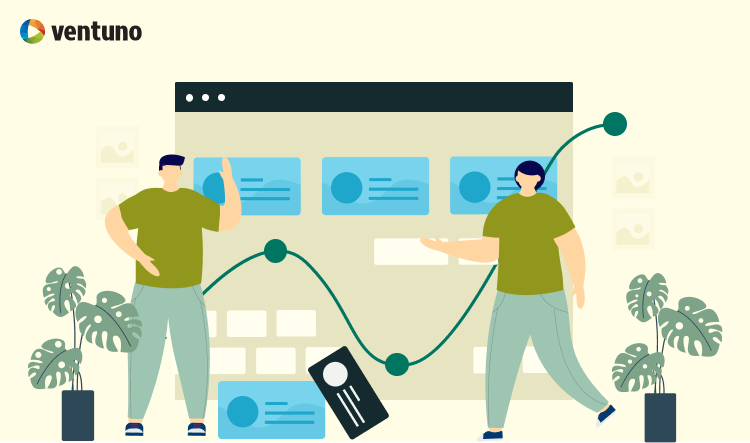 How would you measure if your business is going in the right direction? It's crucial to have access to video analytics to understand how your videos are performing, who are your subscribers, track their behavorial patterns, and more. 
Keeping track of different metrics like most-watched videos, an average number of hours spent watching videos, and others can help you better strategize in the future. These KPIs play a key role in running and scaling your video streaming business. 
Most importantly, you might want to track payouts for your content partner if any. If you are on a revenue-sharing basis, you might want to track revenue for each one of them and pay at the end of the month. 
Generally, you will get a separate portal where your content partner can upload videos and set up monetization for each video. You will get separate analytics for those videos. 
Video Recommendation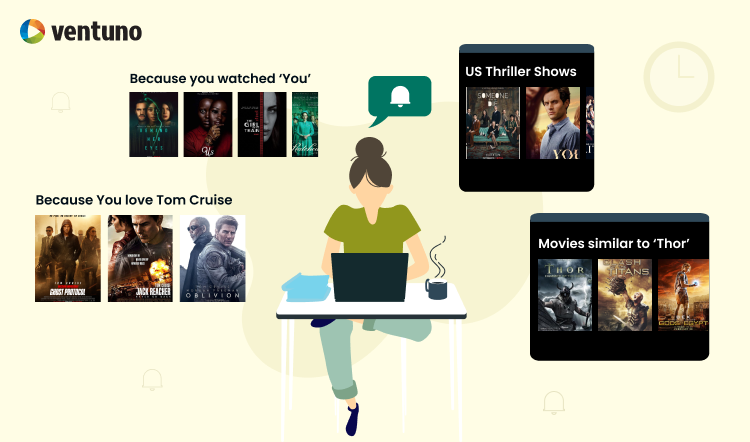 You may not realize but recommending videos to your viewers based on their watch history and other behavioral activity can increase retention. That's why Nextflix today is a dominant player in the OTT market with its ability to give out AI-driven 'video suggestions.'
You should be able to suggest videos based on keywords they are looking for, different categories of videos, and others. This will ensure your users keep watching their favorite videos and not leave the app.
How Can You Break Into the OTT Market in 2022?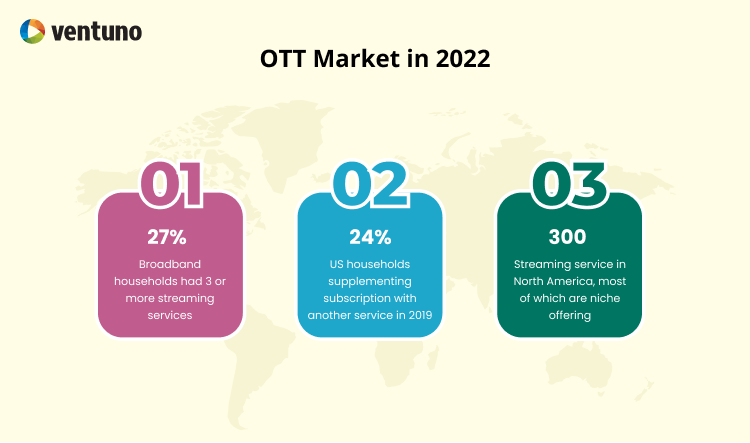 You aren't late. If you want to start your own video streaming business, there's no better time than now. 
A survey showed that 24% of US households had an added subscription to one of the big streamers with another service in 2019 Q3. That means, it still leaves a lot of room for you to enter the OTT industry and generate revenue with your video content. 
And if you are thinking, you don't have to be as big as Netflix or Amazon prime to start making money. 
That being said, it's crucial to have your own OTT app to reach a wide range of audiences. 
Having your own platform allows you to meet all your customers in the right place at the right time. Using Ventuno, an end-to-end white-label videos solution provider, you can easily enter the OTT market. 
Here are the different things that you need to take care of for starting your own OTT business. 
Creating Presence at Multiple Platforms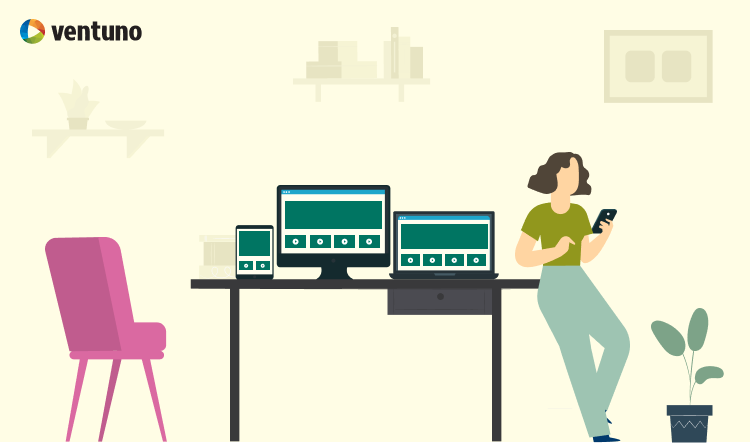 Building your own OTT platform with the help of Ventuno will enable you to be truly omnipresent. Sticking to an iOS app or a website will only restrict your reach. Ventuno allows you to launch your OTT platform on multiple ecosystems, including Roku, Android mobile app, iOS mobile app, Android TV, Amazon Fire TV, Roku, LG TV, Apple TV, or Samsung TV.
Having a Solid Content Library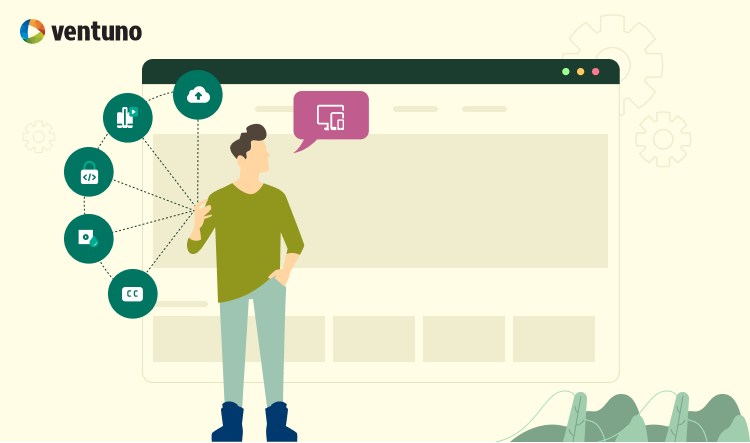 The next step is to create a solid content library with enough videos for your audiences to watch. You can typically start with 100 videos, and keep adding more at regular intervals. 
It's crucial to define your content type so that your subscribers/viewers can know what they can expect once they subscribe to your service. Is that investment worthwhile for them?
Ventuno has a strong content management system that lets you upload, organize, and distribute your VOD as well as live content efficiently. It supports different functionalities like adaptive bitrate for the superior viewing experience, subtitles support in multiple languages, watermark placement to secure your videos, and more.
Deciding on a Monetization Method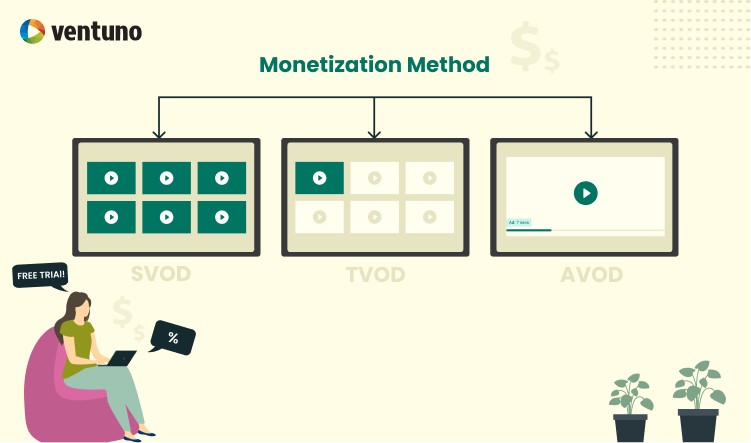 The next step is to decide how you want to make money from your videos without compromising your viewers' experience. There are various monetization models, including advertisement, subscription, and pay-per-view. 
You can even sell your merchandise, offer coupons, raise funds, and more. 
Most importantly, while most OTT platform providers take a share of your revenue as their commission, Ventuno lets you keep 100% of your revenue. There's no hidden cost involved. 
Adding Your Own Brand Name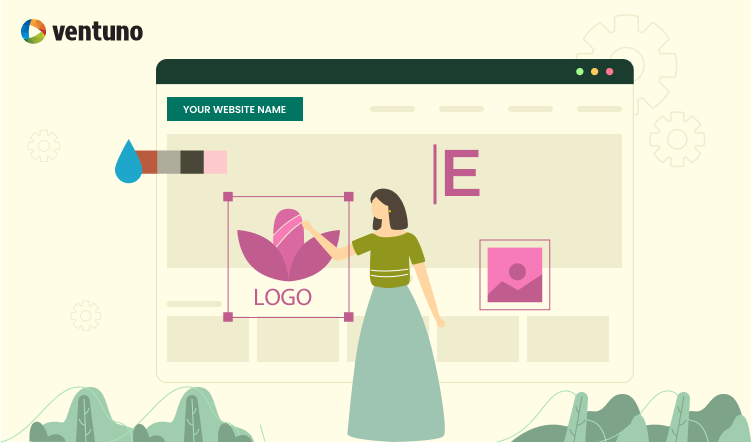 Lastly, subscribe to a white-label solution and add your own branding to it. 
Ventuno lets you choose from a variety of templates to create beautiful websites, mobile apps, and connected TV apps. You can add your own brand name, band logo, and color as per your own choice. 
Now that you have settled down on important points, you are ready to launch. To begin with, you can offer free trials to attract new visitors to your site or app to explore your content. 
Run marketing campaigns to promote your brand and spread awareness about your OTT service. 
Conclusion
Choosing a white-label OTT platform is one of the best ways to build your brand and earn revenue for your business.
But at the same time, it's important to create quality content combined with entertainment if you want your viewers to keep coming back to you. 
Do whatever it takes to provide a superior viewing experience to your users, and you will find yourself a growing base of subscribers. 
You can easily build your own OTT app using Ventuno. You can get a personal account manager to support you with Ventuno's white-label VOD platform.
Looking to launch your streaming service?