Internet technologies and mobile devices have sparked a revolution in digital content consumption. Cisco declared that in 2022, online videos will make up more than 82% of all internet traffic.
With so many entertainment options today, a huge video library may not be sufficient to keep customers hooked to your streaming service.
Streaming services must emphasize customer satisfaction more than ever before in order to compete in a highly competitive industry.
To improve satisfaction, the focus has to be on tailoring the right viewer experience. For this, the video content has to be efficiently managed and organized.
On the surface, it may seem quite plain. However, managing video content is quite different from managing other types of data, such as text and images.
Here is why
1. Storage
2. Organization
3. Deliverability
4. Access rights
A video CMS (Content Management System) is undeniably the backbone of your streaming business as it makes it easy to organize, maintain metadata, manage asset relationships, and create business rules for monetizing content.
What Is Video CMS?
Video CMS is a centralized platform that streamlines the process of uploading, managing, and publishing your video assets.
So what exactly are video assets? Video assets include the original video files, encoded videos, thumbnails, subtitles, and their associated metadata.
Now that you know what a video CMS is, let's understand how it works and why your OTT business needs it
1. Upload: The workflow begins with ingesting your videos into a CMS. It can either be uploaded from your file system, cloud storage, or RSS feed.
Once your video is uploaded, it has to be processed (encoded). This makes sure your video is secure and deliverable.
2. Organize: Add metadata to your videos to make them easily accessible and establish a relationship or hierarchy between them for intelligent content curation.
3. Manage: The most important purpose of a video CMS is to establish business rules. This includes scheduling video content and its availability in different regions and languages aligned with your content rights.
4. Publish: The most challenging task of a streaming service is to deliver videos over multiple devices, regions, and formats (1080P, 720P, 480P, 240P, etc.) based on bandwidth requirements. This is when a video CMS comes into play.
Obviously, you'll know Netflix as the world's largest streaming service with over 200 million subscribers in more than 190 countries. What isn't immediately obvious is how the streaming, recommendation, or other features operate without a hitch?
For this, Netflix built its own CMS – Titus!
Not every content owner has the luxury of building their own video CMS. But that doesn't stop them from competing with Netflix and the likes.
Here is the list of features you should look for in the video CMS that will power your streaming service.
Features to look for in an OTT CMS
The right content management system relieves you of the burden of managing and distributing content.
Essentially, a good content management system must enable you to manage your video library efficiently along with delivering your content smoothly
Let's examine the features you should consider when you are choosing the right CMS for your OTT business
1. Upload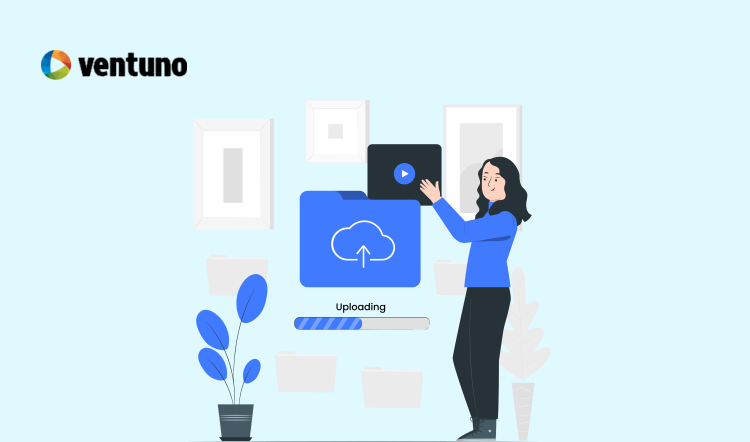 Uploading is effortless when you have the right Video CMS. No matter whether you're uploading one video or in bulk, the process should be simple.
In addition, the CMS must support ingesting videos from your file systems, cloud storage, FTP, or RSS feed.
You should also be able to easily upload additional documents or worksheets to your videos.
Here is how you can start hosting your videos with Ventuno
2. Video Organization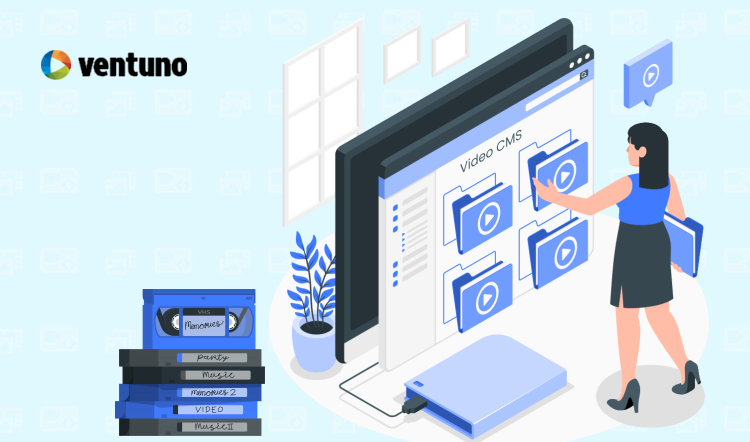 Your video CMS must enable you to organize your content into an accessible video library.
A well-organized, user-friendly video library relies on metadata management.
In general, content type, genre, and language are used to categorize videos into hierarchies.
💡 Keep your categorization future-proof and intuitive for your audience.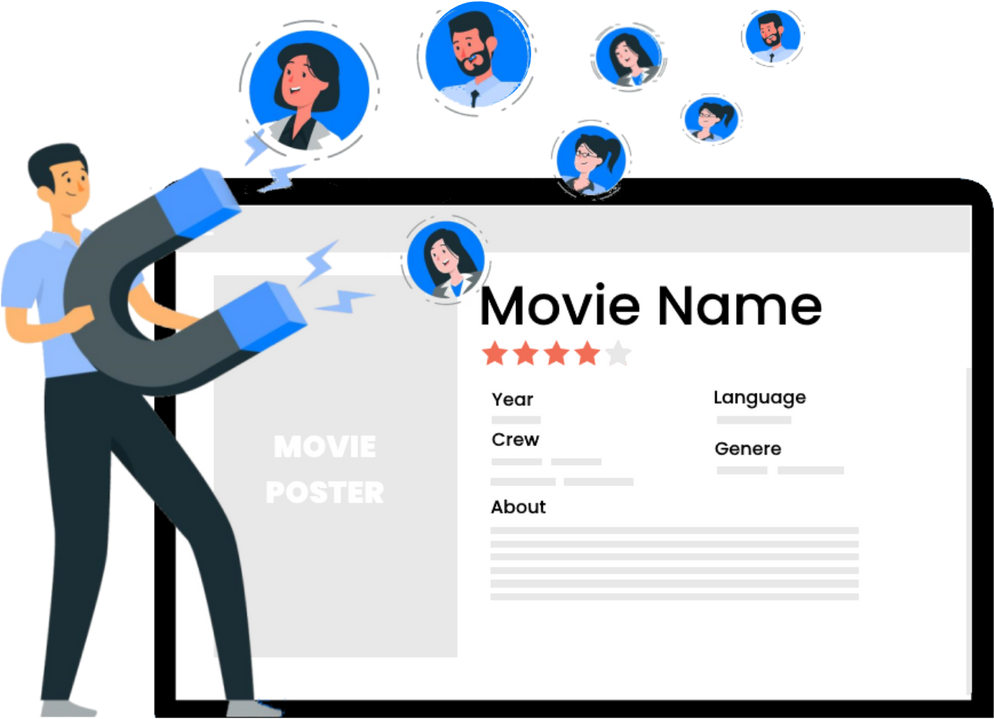 If you are a broadcaster with a few channels, organizing may sound like a massive task, but with Ventuno, it is straightforward.
You can manage multiple channels, each with its own shows having multiple seasons and each season having its own episodes – all from a single dashboard.
Moreover, you can add movies and associated videos—like trailers, and movie clips and link them with the movie.
In addition to creating your own custom playlists, Ventuno's video CMS creates intelligent playlists based on tags and categorization.
Discover how you can organize your video content we are here to assist you
3. Publish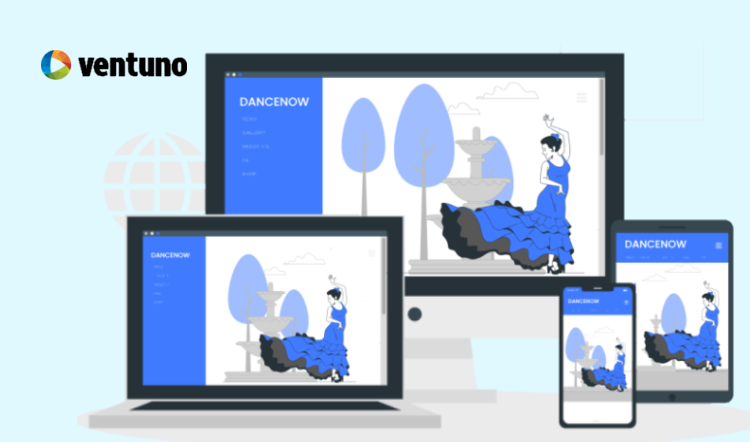 In order to leverage the full value of your video assets, you'll need a Video CMS that will ensure your videos are delivered seamlessly, and at high quality.
In other words, your videos must play on all devices, including PCs, smartphones, tablets, and TVs.
You must be able to distribute live and VOD content in a swish.
Creating websites and streaming apps to publish your content is as important as hosting them.
An all-encompassing OTT platform provider like Ventuno takes care of everything – from hosting to flawless delivery.
Learn how to create a website to publish your videos.
In addition, you must be able to schedule videos and live events. Showcase and promote them across your website and apps.
Live streaming is all about reaching audiences in real-time. Therefore, only when users are aware of your live stream will they watch it on a particular day.
For this, your CMS must allow you to easily schedule live videos for a particular date and time and notify users of the same.
Also, you must be able to livestream your VOD content. FAST (Free Advertising-supported Streaming Television) is gaining popularity. This makes it more important than ever before for your CMS to allow you to support live streaming your existing video content.
Sharing your content on social handles is a proven method to acquire an audience. Your CMS must enable you to publish and promote your content on social handles on schedule or with a button click.
Learn more about how to distribute your video content – our experts can help you
4. Video Encoding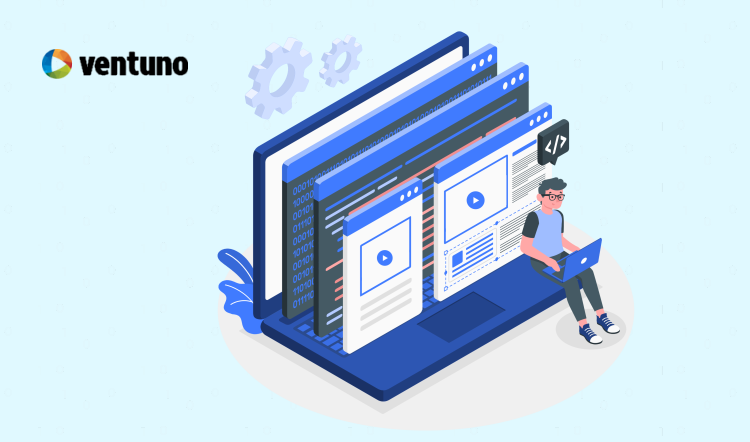 The video CMS you choose must automatically prepare your content for multi-device delivery.
Viewers across the globe may enjoy your content on a wide range of screens and network capability. Your CMS must enable you to satisfy them all with a friction-free video viewing experience.
For this, your videos must be adaptive bitrate encoded.
So, What is adaptive bitrate encoding? Adaptive bitrate encoding is the process of altering the bitrate and quality of video and audio according to the network conditions in order to ensure smooth delivery of your videos.
Imagine you are streaming a movie on your mobile phone while traveling on a bus. It is playing at 720pixels. Now your bus is moving to an area where the network coverage is low. The player will automatically load the video at a lower resolution, say 360 pixels, so that you can continue watching without interruption.
Although adaptive encoding is useful while traveling it is not restricted only to travel. The internet connection can be quite unstable even if it is over wifi when there are load issues or network switches.
Another major consideration is protecting your content from piracy, for this Ventuno enables you to add watermarks to your videos while they are encoded Apart from security watermarks also helps you with branding your content.
5. User Profile Management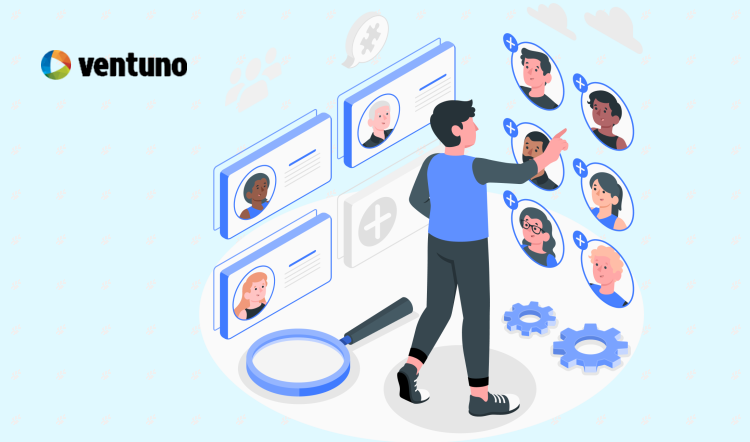 You should be able to create sub-user profiles to ensure a smooth workflow.
Managing a large content library on your own could be exhausting. However, what if your video CMS empowered you to create sub-users to deal with specific tasks on your platform, effectively halving your workload?
You can become a super-admin and delegate authority to sub-users by deciding on roles such as a content partner, editor, moderator, and so on depending on your business needs.
You may have a content team that uploads videos, designs thumbnails, and fills in metadata, an admin team to respond to the live chats and comments, and a marketing team that sends custom emails and push notifications to your audience.
You can create a user account for each of your team members and grant them access only to features they require
Say, you work with about 40 independent content creators each contributing about 3 videos to your library weekly. Would you like to upload all 120 videos yourself every week? What about letting the creators upload it themselves?
Let's make this more interesting. Now each of these partners may have their content monetized differently and you have agreed to different types of revenue share with them. Say one of them gets a fixed $0.2 for each view while another gets 40% of the revenue share. How many hours are you going to spend calculating this every payment cycle?
What if I say none. It's all calculated for you and you just need to make the payments to your partners?
An OTT platform provider like Ventuno who understands your business like no one else, lets you define how you would like your revenue to be shared with a content partner and creates reports for the same.
6. Subtitles and Captions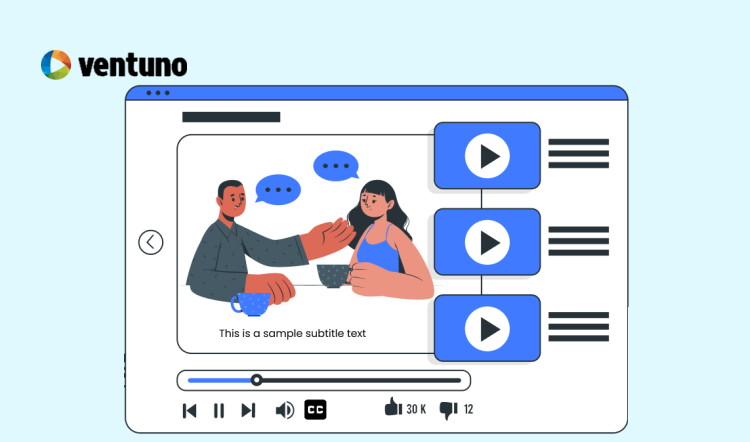 If you want to increase accessibility for your video content, you need to add subtitles/captions to your videos.
CC and subtitles - aren't they the same? No. The purpose of closed captioning is to allow deaf and hard-of-hearing people to experience videos, so they include background sounds and speaker changes. Assuming the viewer hears the audio, subtitles don't include background sounds or notifications of speaker changes.
Your CMS must enable you to add them in multiple languages and in both SRT and VTT formats.
What's the deal about the format? Though you may see both SRT and VTT as just formats to save you subtitles there are a few major differences that can add value to you.
While SRT doesn't include metadata or styling options like bells and whistles, VTT supports them. But some of the social media video players like Facebook player support only the SRT format. 
Your choice of subtitling format depends on what you are trying to achieve with the subtitles on each of your videos
1. Do you need advanced styling options? - go for VTT
2. Will you share the videos on social platforms? - go for SRT
3. Do you need metadata for your captions or subtitles? - VTT is the clear winner

This is how a VTT and SRT closed caption file will look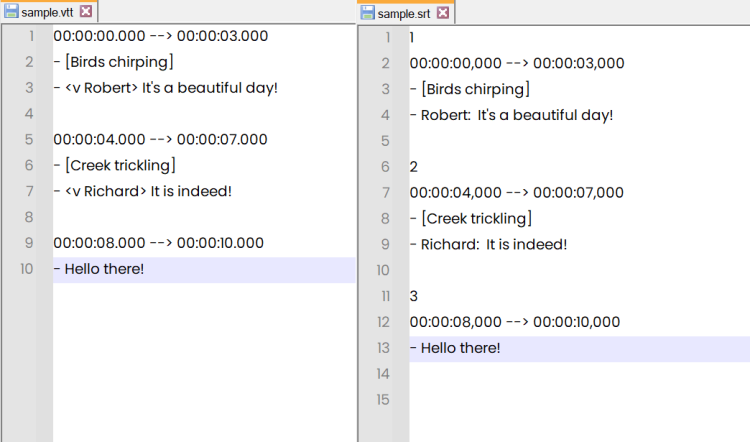 Once, you have decided and add the subtitles/captions. It is about how easily your audience can access it.
Your users must be able to turn it on or off and choose the caption language from the player while watching the videos.
7. Content Rules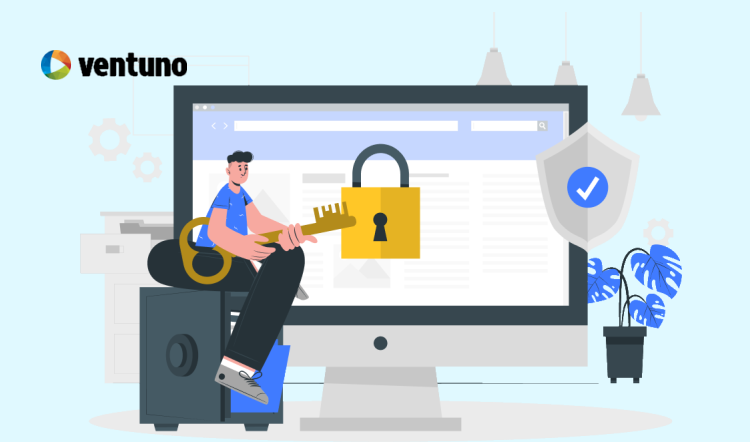 You must have complete control over your content's availability. You must be able to schedule them, take them offline, and restrict content in certain regions.
Georestricting (geotargeting and geoblocking) is one of the most important factors that can make sure your distribution aligns with your content rights. 
Sometimes, you might want to take content offline temporarily - due to license renewal or other rights-related reasons. Your video CMS must support you here, instead of deleting such content, you must be able to make them temporarily inactive.
Furthermore, your CMS must provide absolute flexibility to monetize your content. You must be able to decide what content is accessible to your audience.
For instance, you can make promotional content like trailers, available for anyone who visits your website/apps but restrict access to some content by making it available only for registered or subscribed users.
With Ventuno, you can even create multiple plans and make some content available only for subscribers who have subscribed to a particular plan.
You must be able to set clear rules if a video could be accessed by sitting through ads or if one needs to purchase them individually or in bundles.
After all, it is your business and you must be the one who decides who gets to watch what.
Final thoughts
While we've outlined the technical features you'll need in a video CMS in order to run your streaming service smoothly, here are the two most important aspects you can only discover after using a product
1. User friendly: The only way in which you can know if your choice is right is if users both admins (your employees and partners) and viewers are comfortable using your platform.
2. Adaptable: A video CMS should integrate easily with the rest of your technology stack, such as chatbots, ad servers, payment gateways, email servers, or any other tool you might need.
Explore a free week of Ventuno to figure out what you need to run your streaming service.
Looking to launch your own streaming service?