Listen to this article
Everything, including TV, has become easier to access due to the availability of the internet. Antennas, satellite dishes, and fiber-optic cables are no longer used for broadcasting television. Instead, television programs are distributed over the internet.
There are so many ways in which content is distributed over the internet. It is no doubt that IPTV is one of the major players.
According to a study by data science central, there are approximately 123 million IPTV subscribers around the world and this is growing by 12% annually.
All this would make you think, what is IPTV? how is it different from traditional TV and OTT? Let us uncover it together
What is IPTV?
IPTV refers to Internet-based Protocol Television where the internet is used to deliver TV programs and videos that are either live or on demand.
Simply put, IPTV is watching television over the Internet.
IPTV is an abbreviation for Internet Protocol Television. It is a form of broadcasting in which the internet is used to deliver content instead of cables and satellites.
More and more people are choosing it as an alternative to traditional television viewing methods such as cable, satellite, and over-the-air.
How is IPTV different from traditional TV?
Data Transmission
So, let's begin this with a simple question. How do you change the content on a linear TV? You pick the remote and change the channel.
This means that your TV is receiving signals for all the subscribed channels and you choose to view one of them.
This is because your service provider would send the same content to all their users as multicast signals.
Multicasting is sending packets over a server that can be received by many receivers.
Whereas in an IPTV, you receive your content via unicasting.
Simply put, the content remains in the ISP (Internet Service Provider's) server, and only the program you select is sent to your device.
So, when you switch the channel a new stream is transmitted from the server to your device.
Flexibility
With IPTV, users can access video-on-demand (VOD) content and watch live broadcasts on a subscription basis.
This gives viewers the freedom of accessing their favorite shows at will while still having the option of enjoying live events and programs like on traditional TV.
Devices
In a traditional TV, cables are connected to a TV to receive signals from satellites. In an IPTV, you can cut the cords but your TV must be capable of receiving data over the internet.
Not all TVs can do this right away. Unless you have a smart TV, you will need to buy an IPTV set-top box or a device that converts streaming signals into a format your TV can understand, like a Google Chromecast or Fire TV stick.
Does this all sound like OTT (Over the Top)? Though IPTV is similar to OTT, they have some differences, let us understand them
IPTV
OTT
The video is streamed to devices that are connected to a particular network based on IP
The video is streamed over a publicly accessible Internet connection


The video is streamed over a publicly accessible Internet connection

Internet transmission replaces satellite or cable.



Usually works on a Subscription model


Multiple monetization models like – AVOD, SVOD, TVOD, FAST or Hybrid of all are used to monetize content

The service scope is usually local
Eg: Sling TV, YouTube TV

The service scope is global
Eg: Netflix, Youtube
How does IPTV work?
The Transmission Control Protocol/Internet Protocol (TCP/IP) suite is used for the distribution of content. For this, the video has to be stored and encoded before it is streamed.
Storage
Live programming works just as in traditional TV. They are streamed as they are produced.
Typically, an HLS link is generated and this link is used by your platform provider to stream the live content.

A typical example of this would be a 24x7 live news channel
On the other hand, to stream pre-recorded content like movies or shows, they need to be stored.
The videos need to be uploaded to a Content Management System (CMS) and organized to establish a hierarchy and relationship between them.
Encoding
Set-top boxes over a managed cable network offer guaranteed uptime, which means you are very unlikely to see video outages or drastic changes in quality.
On the other hand, streaming video over the internet is a whole different story. This is because network speed can fluctuate.
Videos have to be encoded in different bitrates to playback and switch quality based on the viewer's network capabilities
Streaming
Finally, videos are streamed to the viewers over the internet. Simply put, viewers can watch videos on the internet without having to download them.
This happens through a continuous transmission from a server (IPTV service provider) to the client (user device).
A video file is typically transmitted via the HLS streaming protocol and streamed in real-time seamlessly.
Types of IPTV
There are different types of IPTV streaming and each serves a different purpose. Let's take a look at each of them
1. Video on demand (VOD)
In the past, we used to bind ourselves to the TV and wait for our favorite shows to stream for hours. It's not the case anymore. We are now able to watch anything whenever we like. Thanks to Video-on-Demand.
The video file is encoded and stored in a server and is streamed on the end user's device using an IP network.
2. Near Video on Demand (NVOD)
The NVOD allows a viewer to select from a limited number of broadcast video channels.
NVOD channels generally serve as Pay-Per-View channels and have predetermined schedules.
The viewer can select the timing of the starting of a program through NVOD, which broadcasts programs at staggered intervals (e.g. 30 minutes) across a number of channels.
Simply put, NVOD enables cable and satellite providers to offer their audiences the opportunity to view their favorite shows on different channels at various times.
Although, there is a certain amount of flexibility in the availability of content NVOD still uses pre-determined schedules. This restricts pausing or resuming anytime.
3. Live Broadcast
Live streaming allows you to broadcast events as they happen. This creates an opportunity to connect with their audience on a more personal level.
For instance, by enabling a live chat feature you can make the communication two-way instead of one.
4. Time Shift TV
Time-shift television allows users to watch previously aired television programs without recording them. It is becoming widely available giving people more flexibility.
5. 24x7 Live TV
This is similar to traditional TV, but the content is delivered over the internet. You can set up any number of Live TV channels on the internet without satellites and thus save cost.
How to create a 24x7 live channel?
1. From the Content section of the left menu select Livestream and then select Upload Livestream/Live Event.
2. Select 24x7Live Stream as the Live stream type. 
3. Enter your HLS Stream URL. Alternatively, you can share an RTMP live stream which will be converted and streamed as HLS
4. Upload a Poster for your Live Stream. Alternatively,  you can also use 'Text' as a poster for your Stream.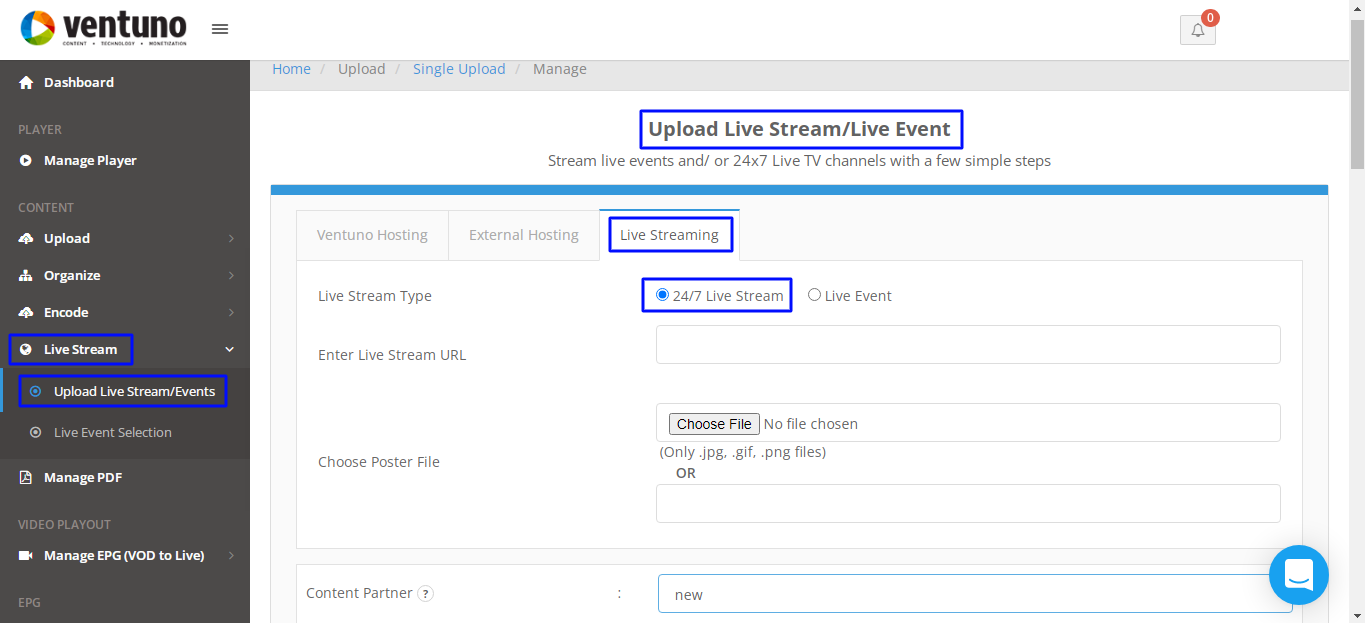 5. Select the Content Partner from the drop-down list if the live stream belongs to a third-party content provider. 
6. Select a Category based on the content (eg: Sports, Entertainment, News)
7. Provide a Name and Description for the Live stream.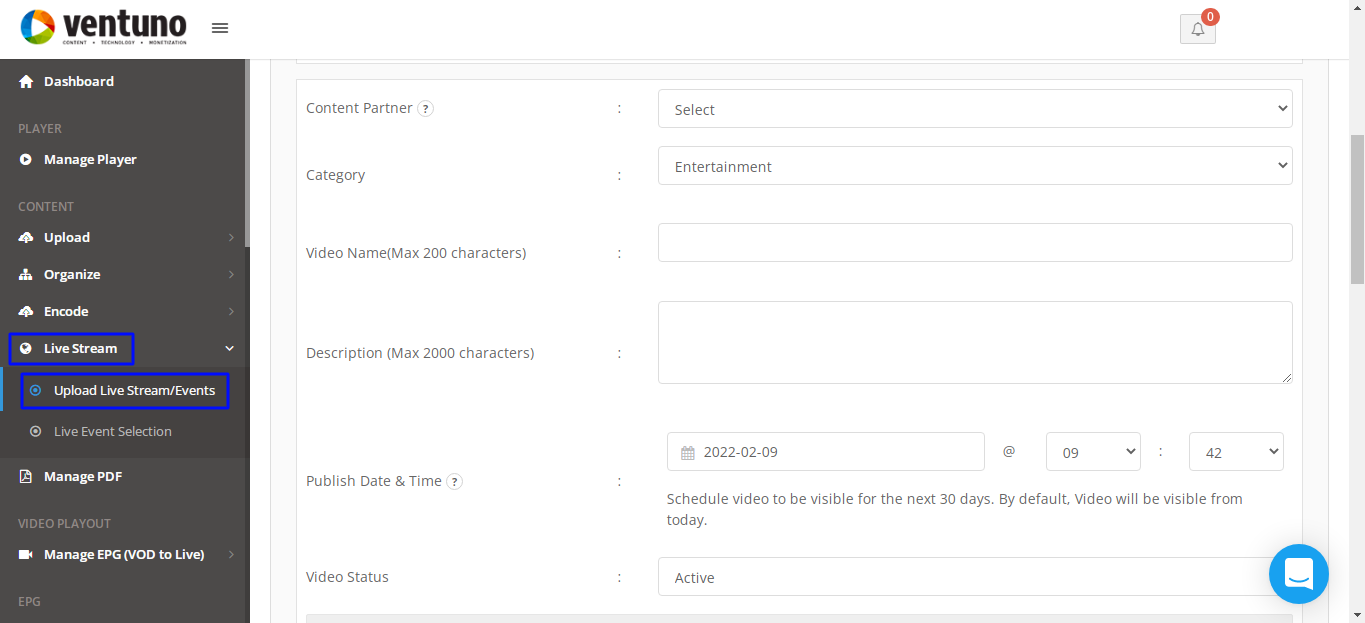 8. Add tags for the Stream under Video tags and Select the stream Language.
9. You can also Geo-block your Stream under Geo-Targeting by selecting the countries of choice.
10. Finally, click Save Changes to complete the Live stream creation process.
You can also create multiple live channels from your existing VOD content.
When you have multiple channels an Electronic Programming Guide (EPG) will help your users navigate through your channels.
FAQ
What does IPTV stand for?
IPTV stands for Internet Protocol television and involves the viewers receiving video content through an IP network
What's the difference between IPTV and linear TV?
Instead of receiving broadcast signals from an antenna, satellite dish or fiber-optic cable, IPTV content is streamed via the Internet.
Are IPTV services available in all countries?
IPTV services are available in most countries, but you still need to check if it is available in your country
Is it legal to watch IPTV?
The legality of IPTV depends on the service in question. As long as the provider holds the appropriate licensing for all the content it provides, IPTV is legal.

Simply put, IPTV providers need permission from copyright owners to stream copyrighted TV shows, films, or other content.
How to identify illegal IPTV providers?
The three red flags that indicate an IPTV provider could be illegal are:
1. Payments are asked in cryptocurrencies and bitcoins
2. You are able to access content that is blocked in your region/country
3. You are bombarded with misleading and low-quality ads
Should you use a VPN with IPTV services?
VPN stands for Virtual Private Network and it allows you to use the internet in a secure and anonymous fashion. VPNs also work well with IPTV services.

Again, make sure that it is legal to access the IPTV with a VPN in your country. Accessing illegal IPTV services can threaten the security of your devices and may also leave you open to prosecutions and fines
Wrap-Up
The term IPTV comes up a lot when discussing online video streaming services. IPTV is a method of showcasing videos or TV programs that can be viewed live or on-demand through the internet.
Connect with our experts if you are looking to launch your own OTT streaming service
Looking to launch your own streaming service?