A decade ago we used to buy CDs and DVDs to watch movies and listen to music. Nowadays, more and more people just stream everything online through services like Netflix and Spotify.
That's why media companies have switched to a subscription-based model instead of selling physical copies. It's just easier and more convenient for people to access media digitally these days.
The transition from physical media to subscription-based streaming was driven by changes in consumer behavior, the convenience and affordability of subscription models, and the ability to collect data and reduce piracy.
However, the process of monetizing these services is not as simple as it may seem. Payment gateways play a crucial role in ensuring secure and efficient transactions between users and streaming service providers.
In this blog, we will take a close look at how payment gateways play an important role in streaming services, exploring their importance, functionality, and the benefits they offer to both service providers
What are payment gateways?
A payment gateway is a virtual platform that handles transactions made on your website and apps.
When your customers make a payment for your streaming service, the payment gateway securely processes the transaction by safely transmitting information between the customer's bank or credit card company and you.
Essentially, it's the technology that enables your customers to pay for your streaming service and allows you to receive payment for your time and effort.
The need for a secure payment gateway in your streaming service
Without a doubt, subscription-based streaming services have been growing in popularity over the past few years.
As a streaming service, it's really important to make sure you're providing your customers with a secure way to pay for your service.
Building Trust:
Have you ever made a payment when you are taken to a suspicious payment gateway? Well, your customers might feel the same way.
By implementing a trusted payment gateway, you can help protect your customers' sensitive financial information, like their credit card numbers and personal data. This helps build trust and loyalty with your customer
Reputation:
Did you know that using an unreliable payment gateway can put your business and customers' financial information at risk?
It's important to use a trustworthy payment gateway that will protect your users' sensitive information and prevent fraud or security breaches. This not only ensures your customers' safety but also helps build trust and credibility for your business.
Convenience and User Experience
Your payment gateway must be user-friendly. In fact, if customers don't find a payment gateway they prefer, 42% of them will leave your site without making a purchase!
What to consider when choosing a payment gateway for your streaming service?
As a streaming service provider, one of the most important decisions you will make is selecting the right payment gateways to process your transactions. With so many options available, it can be challenging to know where to start.
Let's explore the key factors to consider when selecting a payment gateway for your streaming service, so you can make an informed decision that will benefit both your business and your customers.
1. Security
Choose a payment gateway that is PCI-compliant and has features like two-factor authentication and SSL encryption to ensure secure transactions and protect customer data from fraud. This builds trust and provides peace of mind for your customers, leading to the success of your subscription-based streaming service.
2. Recurring Billing
When choosing a payment gateway for your streaming service, don't forget to look for one that can handle recurring billing. Since most streaming services are based on subscriptions, you need a payment gateway that can handle payments that come in regularly.
Grace Period
Are you tired of losing subscribers just because their payment failed to go through on time? Grace period is the solution you've been searching for.
By offering a grace period to your subscribers, you can provide them with a buffer period to update their payment information without losing access to your content.
It's essential that your OTT platform provider and payment gateway both support this feature
Here is a table on the default grace period in the popular payment gateways
| Payment Gateway | Grace Period | Retry Period |
| --- | --- | --- |
| Android | 3,7,14,30 days | In-app internal |
| Apple | 16 days | In-app internal |
| Roku | 3 days | 1 day |
| Amazon | 5 days | In-app internal |
| Stripe | 21 days | Retry every 5 days |
| Paypal | 4 days | Retry once a day |
A table of the grace period and payment retry in popular payment gateways
How to find out if the grace period feature is working for your business?
If more users renew their subscription during the grace period than those who let it expire, it means that your streaming service is keeping more customers and gaining active subscribers. This can help reduce the churn rate, which is when customers cancel their subscriptions, and ultimately boost the number of users.
From the
Analytics
section of the left menu, select 
Monetization
and then
Grace period user reports
.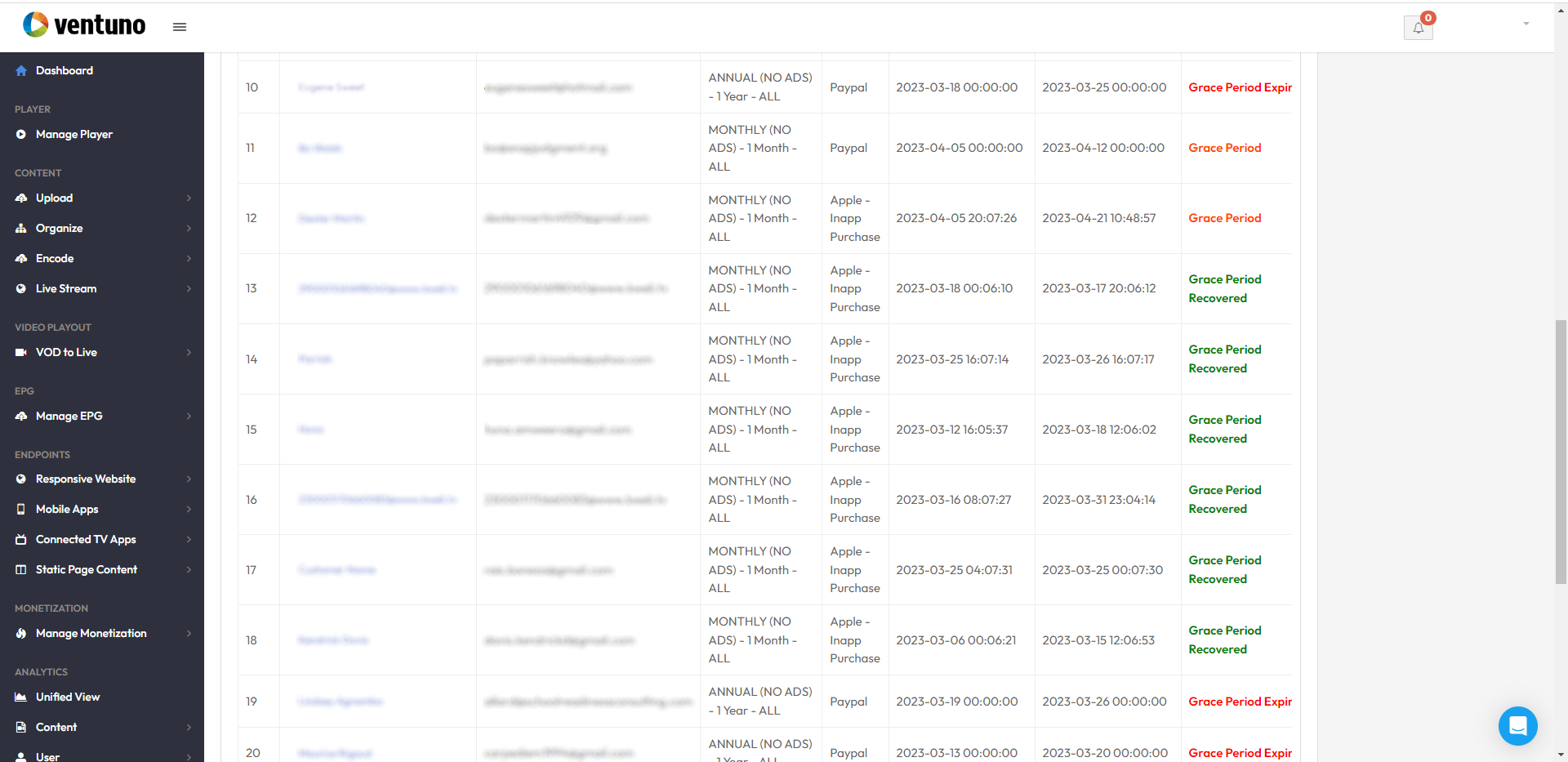 You can see the report with the date filter.
Multi-tier plans
As a streaming service owner, offering different pricing tiers can be a game-changer for your business. It allows you to cater to the varying needs and budgets of your customers, and can also help you increase your revenue by offering premium features or content at a higher price. Providing discounts and exclusive benefits for long-term subscribers with private plans is also a great way to encourage customer loyalty. In today's highly competitive market, having multiple pricing tiers can help you stand out from your competitors.
It's crucial to choose payment gateways that support creating multiple pricing plans as it can make managing your subscriptions, billing, and revenue a breeze. Payment gateways that support multiple pricing tiers can automate the subscription process, making it easy for customers to choose and switch between different plans as they please. This not only reduces customer churn but also increases customer satisfaction. Additionally, it helps you keep track of your revenue and provides efficient customer support for billing-related issues.
For instance, Disney + Hotstar has different plans, the SVOD plan is priced higher than the AVOD plan as it provides access to a broader range of content without ads. However, the AVOD plan is more affordable and targets users who prefer free content with occasional ads.
Furthermore, pricing plans differently in different regions allows Hotstar to take into account the local purchasing power of customers.
By offering different plans and pricing them differently, Hotstar can gain more users and increase its revenue streams. This strategy helps them to expand their customer base by appealing to a wider audience.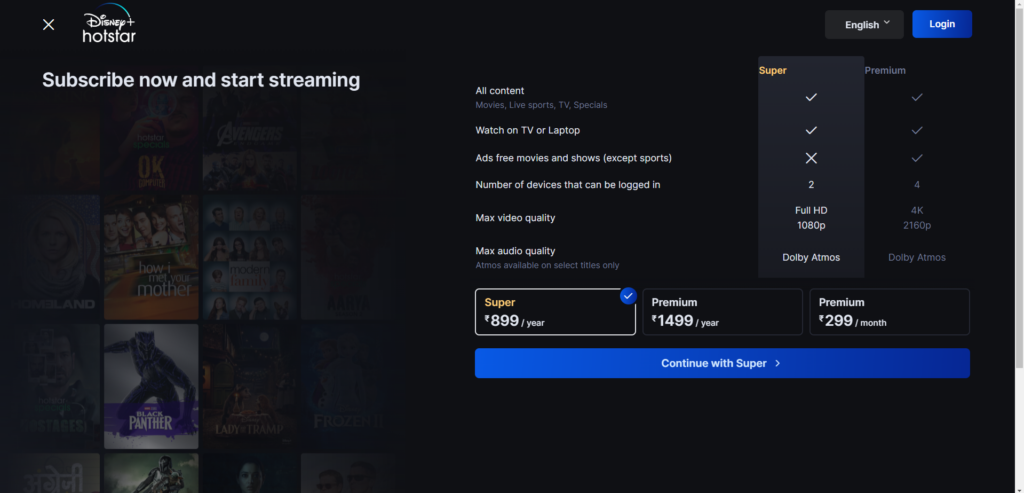 Creating a Subscription Plan With Ads
1. From the
Monetization
section of the left menu, select
SVOD
and
Manage SVOD Plans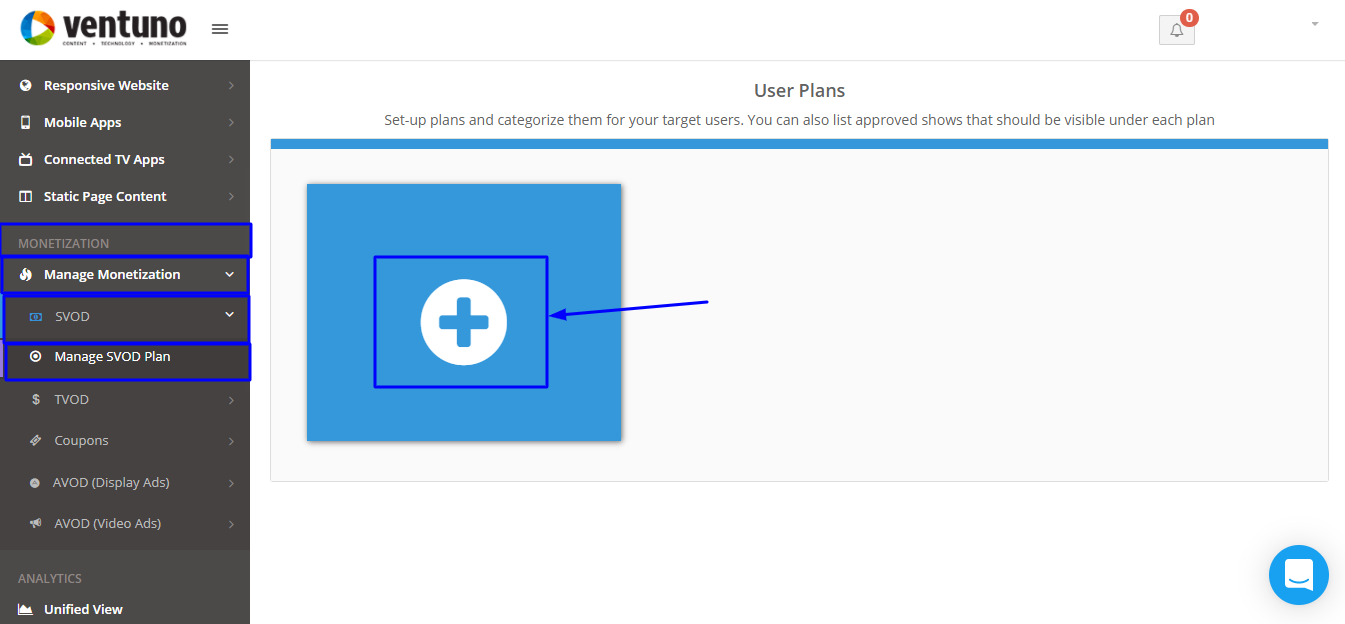 2. Click on the
Plus +
button
3. Fill in the name and select its type (Normal, Trial, or Free) from the dropdown
4. Click on
Add New
button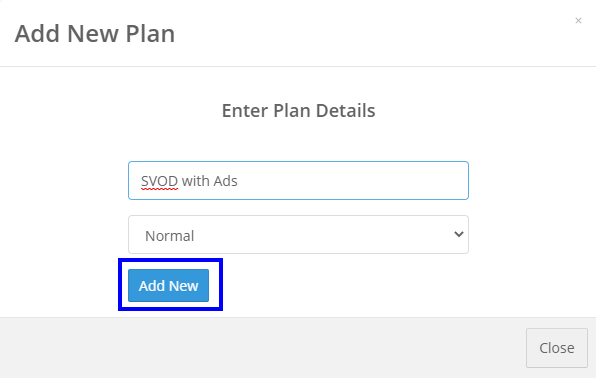 5. Click on the plus icon and fill in details for the plan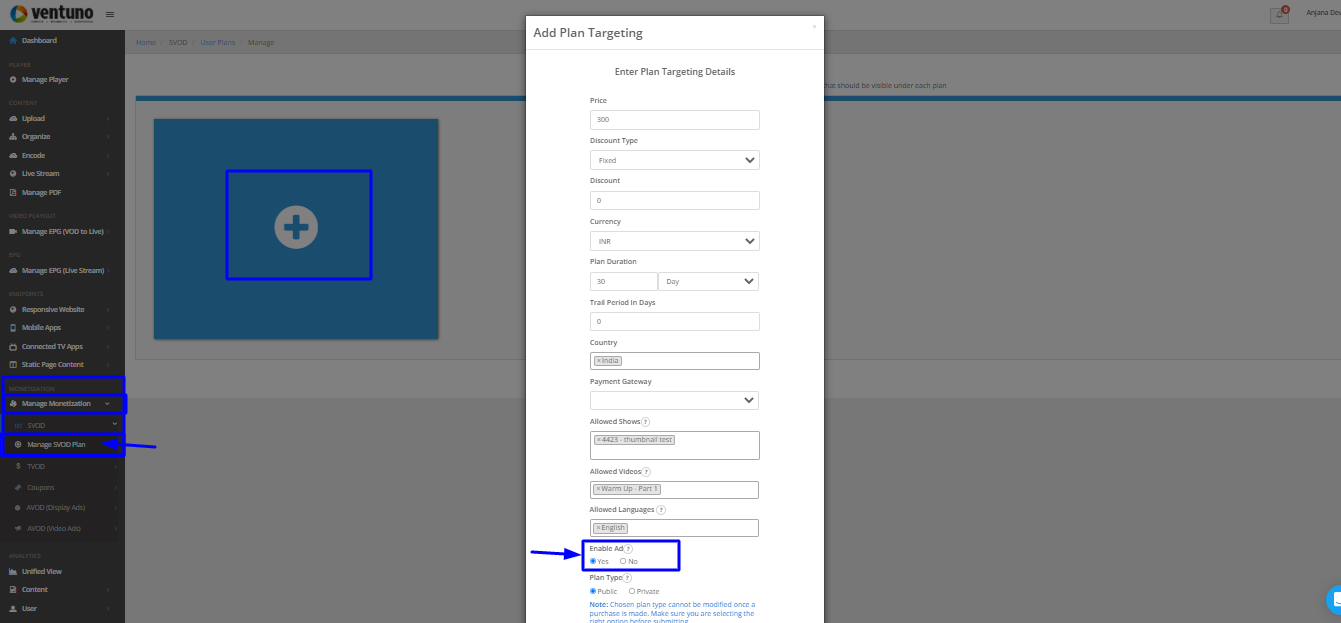 6. Head to the Enable Ads section
Selecting
Yes
– The subscribers of this plan will see ads
Selecting
No
– The subscribers of this plan will not see any ads
7. Hit the
Save
button
How to Enable Ads on Existing Subscription Plans
1. From the
Monetization
section of the left menu, select
SVOD
and
Manage SVOD Plans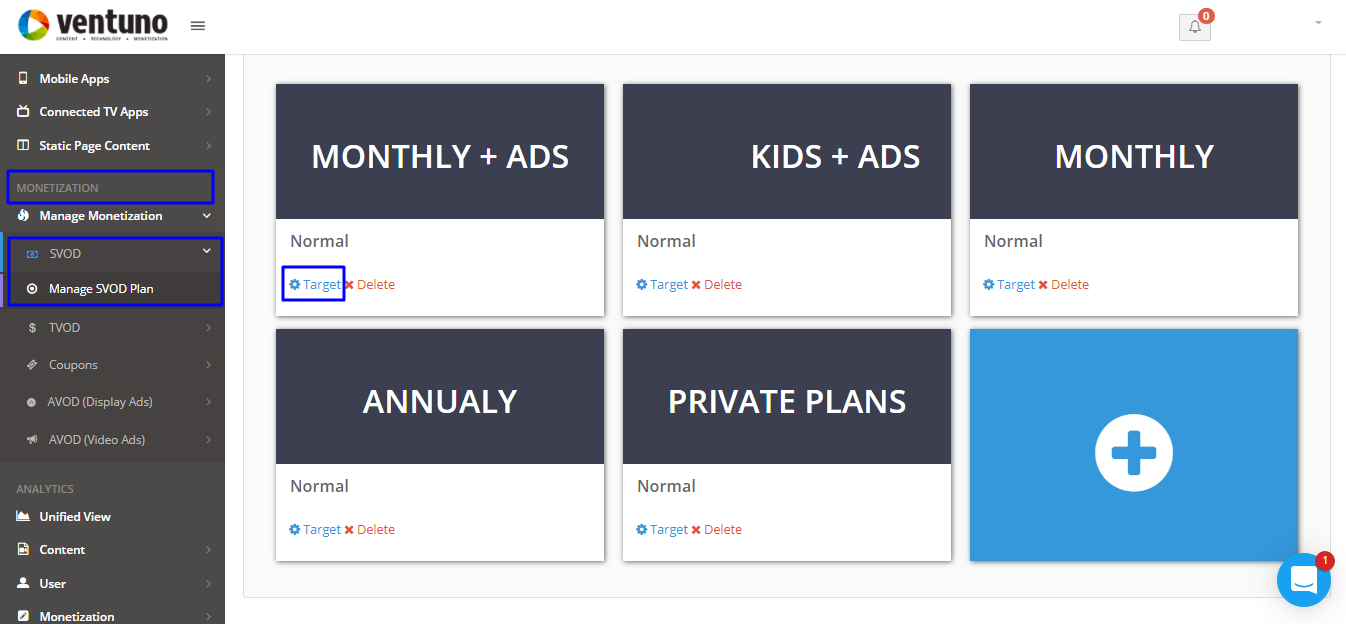 2. Click on the
Target
option under the respective plan
3. Head down to the Enable Ad section
Selecting
Yes
– The subscribers of this plan will see ads
Selecting
No
– The subscribers of this plan will not see any ads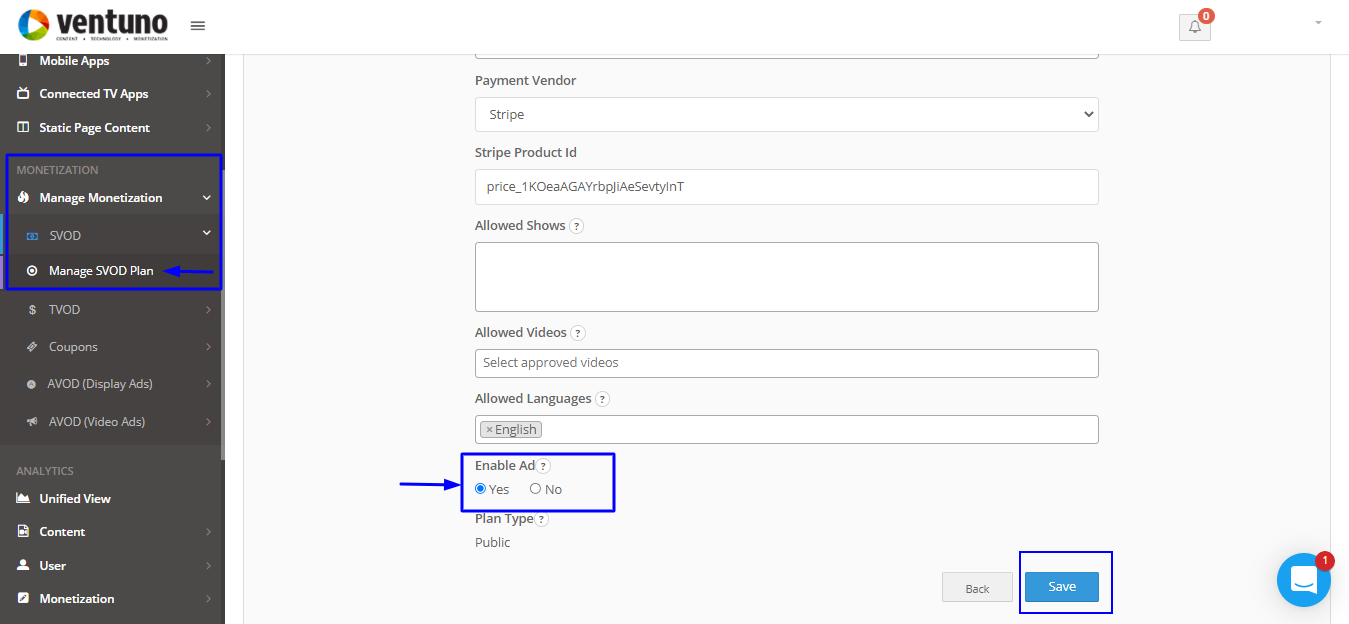 4. Hit the
Save
button to apply the choices to the plan.
3. Integration
Payment gateway is the bridge between your customer and your bank account. Having a payment gateway that is easy to integrate is important for several reasons
Firstly, it improves the user experience. Customers can complete their transactions quickly and easily without running into any technical difficulties. This leads to happier customers who are more likely to complete the payment process.
Also, integrating a complex payment gateway can be time-consuming and expensive, so having an easy-to-integrate option can reduce these costs and make it more affordable for you to implement.
Moreover, an easy-to-integrate payment gateway means you can get your service up and running faster.
When choosing a payment gateway, it's a good idea to look for one that has well-documented APIs that can be easily integrated. Alternatively, you could choose a payment gateway that's already supported by your OTT platform provider. This will save you time and effort, and ensure that the integration process is as smooth as possible.
At Ventuno, we've got you covered when it comes to payment gateways. We've pre-integrated with Stripe, Paypal, and Braintree so you can easily choose the payment provider that suits you best. Plus, if you have a specific payment gateway in mind, we can set that up for you too!
4. Regional Popularity
When you choose a payment gateway that is widely used in your region, it can help to increase customer trust and confidence.
When customers are already familiar with a payment gateway, they are more likely to trust it and feel confident making transactions through it. This, in turn, can help to reduce cart abandonment rates and increase overall customer satisfaction.
Additionally, using a popular payment gateway in your region means that it would already be integrated with many banks and financial institutions in your area. This can make the processing of payments faster and more seamless, which can further enhance the customer experience.
For example, Flutterwave is a payment gateway that is popular in African countries. By using Flutterwave, a streaming service owner in Africa can ensure that customers can easily and securely make payments through a payment gateway that they already know and trust. This can help to build customer loyalty and increase the chances of repeat business.
Top 3 Best Payment Gateways
1. Stripe
Stripe is considered one of the best payment gateways because it offers a user-friendly interface, excellent fraud prevention features, and supports multiple payment methods.
Stripe also has a robust API that allows developers to integrate it into any website or application with ease.
Another reason why Stripe is popular is that it supports over 135 currencies and has a fast and reliable payment processing system.
2. Braintree
Braintree is another popular payment gateway that is known for its robust security features and excellent customer service.
Braintree is part of the PayPal family and supports multiple payment methods, including credit cards, PayPal, and mobile payments like Apple Pay and Google Pay.
Braintree also offers features such as recurring billing, customizable payment pages, and multiple user accounts.
3. PayPal
PayPal is one of the most popular payment gateways and has been around for a long time. It's trusted by millions of customers worldwide and supports multiple payment methods, including credit cards, debit cards, and Venmo.
PayPal also offers a user-friendly interface, excellent security features, and fast payment processing.
Additionally, PayPal has a wide range of integration options, including plugins for popular e-commerce platforms like WooCommerce and Shopify, which you can also use in your merchandise stores if you have one.
How to integrate payment gateways into your Ventuno Account?
I will walk you through integrating your Stripe Account. The process is similar for most of the popular payment gateways.
Step !: Grant access to your stripe account
1. Log in to the Stripe dashboard and navigate to
Business Settings
.
2. Click
Team
.
3. Select
+ New Member
in the top right.
4. Add our email address to invite us to the Stripe account.
5. Select the
role
6. Click
Invite
to send the invitation email.
Step 2: 
1. From the Invoice & Billing section of the left menu select
Manage Payment Gateway
.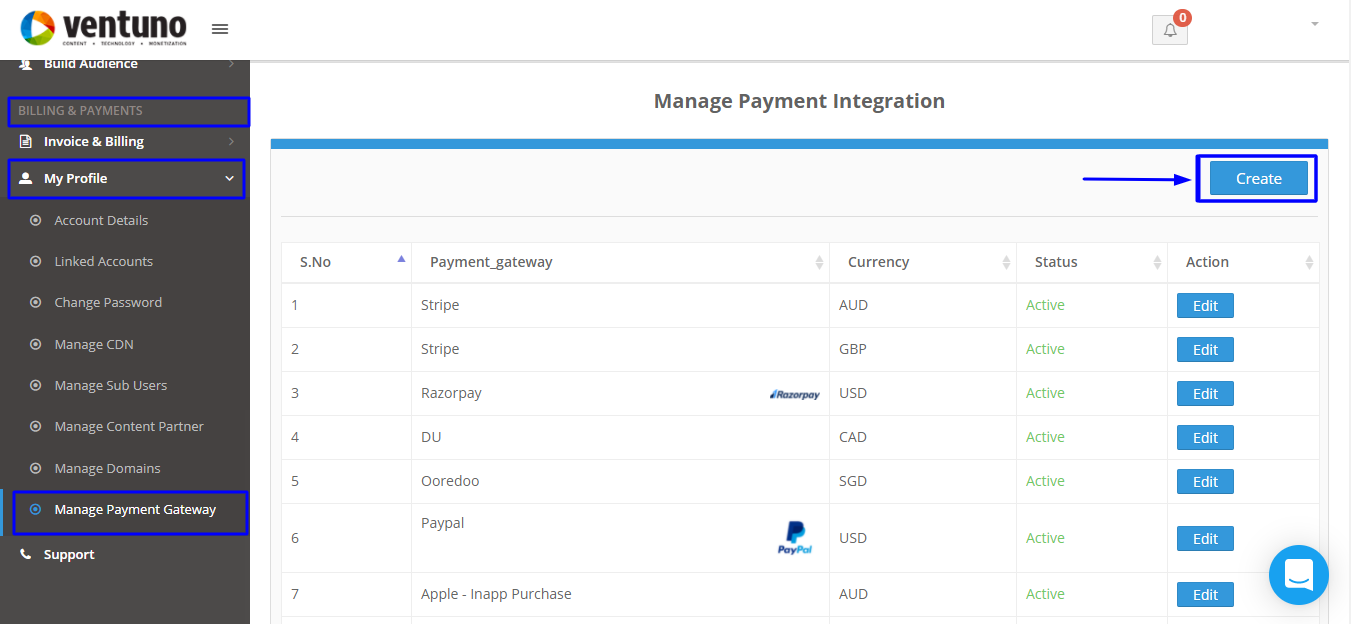 You will be taken to the manage payment gateway page. 
2. On this page, select 
Create
.
3. Select the payment gateway of your choice from the
Payment Vendor
drop-down menu. (We will select Stripe in this case)

4. Enter the
public key
and
secret key
from the stripe account (or your payment gateway vendor).  
5. Select the
currency
of your choice 
⚠️ Note:  You should create a different profile for each currency
6. Select the status Active and click
Submit
to integrate the stripe payment gateway. 
Step 3: Setting up payment gateways for plans
1. After integration, you can select the same e while
creating an SVOD
or
TVOD plan
. 
In-app Purchases
As the name suggests, in-app purchases (IAP) refer to transactions made within an app or service. For streaming services, IAP can include things like subscribing to premium content, and purchasing access to individual movies or TV shows.
Advantages of using IAP
One major advantage of using IAP for streaming services is that it offers a convenient and streamlined way for users to access premium content or make purchases without having to leave the app or service. This can help increase user engagement and loyalty by providing a frictionless experience.
Disadvantages of using IAP
One major disadvantage of using IAP is that the payment processing fees charged by app stores such as the Apple App Store or Google Play Store, Roku and Amazon Fire TV store can be higher than those charged by standalone payment gateways.
Additionally, using IAP can limit the amount of control that streaming services have over the payment process, as it is subject to the policies and guidelines of the app store.
Be aware of the fees associated with using IAP and factor them into your pricing and revenue calculations. Stay up-to-date on the policies and guidelines of the app stores where your streaming service is available, and ensure that you are in compliance with their rules and regulations.
Wrap-Up
In this article, we covered the topic of payment gateways and how to choose one for your streaming service.
It's important to prioritize secure and trustworthy payment providers that are popular in your region. Additionally, consider the commission fees charged by the payment gateway for each transaction.
By keeping these factors in mind, you can make an informed decision about choosing the payment gateway providers for your streaming service.
Thinking of launching your own streaming service but don't know where to start? Ventuno empowers creators like you to launch, manage, monetize, and scale your streaming service.
Let's make payment processing a breeze for your streaming service