The purpose of coupon marketing is to offer a discount to your valuable customers and increase their desire to save money by upgrading plans or purchasing more content.
But coupon marketing is not just about your existing users. In fact, coupons are a great way to introduce new customers to your OTT service and then convert them to regular users.
It's not surprising that coupons can make your streaming service more attractive than your competitors. But what may surprise you is that coupons can also be a great way to grow your email marketing list, build a social following and most importantly increase engagement on your mobile app push notifications.
If you are wondering how we've got you covered. This article is a step-by-step guide on effective coupon marketing for your OTT business that will skyrocket not just your sales but also your user base.
What is OTT Coupon Marketing?
Like every other business, OTT coupon marketing is about making use of coupon codes and discounts to attract and retain users.
There are two types of coupons
1. Generic Coupons
These are coupons that are available to everyone on the internet. You probably share these coupons on your social handles to attract new users by incentivizing your plans
Your streaming service can leverage generic coupons such as holiday coupons, Signup coupons, refer-a-friend coupons, and upsell coupons
Holiday Coupons: Promoting your content around holidays not only attracts new users but will also boost your viewing numbers. For instance, creating TVOD coupons during Christmas or Thanksgiving can boost your viewership and sales. If you have more of kids' content, creating subscription coupons around school breaks would make more sense.
Signup Coupons: Generally people are hesitant to subscribe to streaming brands that are not already popular. Providing a sign-up offer could be just the nudge that would convince them to try your service.
Referral Coupons: People are much more likely to subscribe to your OTT service if referred by a friend or family member. So let your users save while they introduce a friend to you. This will make your users advocate for your streaming service. Ultimately, you are gaining popularity and users.
Upsell Coupons: Upsell coupons are used to persuade users who are considering buying a monthly subscription to purchase a discounted annual plan instead.
2. Personalized coupons
Understanding your customers is the first step toward creating personalized coupons. This can be done by monitoring user behavior on your platform. How your users interact with your content. Also, you can ask your users to fill out a profile, preferences, or survey so that you can have some basic data to start with.
Your viewers may appreciate receiving personalized coupon codes as opposed to generic codes because it makes them feel valued.
Cart Abandonment Coupon: When you include a discount code or special offer with abandoned cart emails, you sure will be able to recover these lost sales. For instance, if a user has added TVOD content and abandoned the cart, you can send them an email promoting that piece of content with a discount coupon
Sorry Coupon: Turn a customer's frown upside down by giving them an exclusive discount code as a way to comfort them. For instance, if a user faces an issue in the payment gateway or something goes wrong with their account, you can give them a sorry coupon. This way you show them that they are valued.
Re-engagement Coupon: It is almost impossible to avoid a decline in user engagement being an OTT service in this highly competitive era. Re-engagement coupons can revive a user's interest in your streaming service.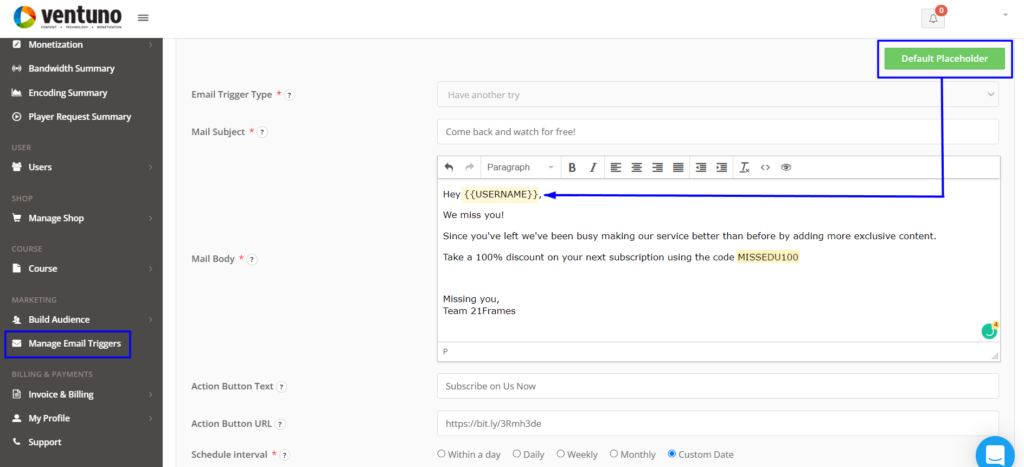 Why should your streaming service have a coupon campaign?
Coupons offer several advantages to your streaming service that you might not immediately think about. Despite coupons providing discounts on your plans, they can increase your user base and overall customer spending.
If used rightly, coupons can create a sense of saving, urgency, and being valued and spike sales.
Everyone wants to save a few bucks. This is the reason why there are tons of websites that focuses on coupons and discount codes.
The number of people (only in the US) hunting for a Netflix coupon may surprise you.

That said, let's dive deep and understand why your OTT service should have coupon campaigns
1. Building brand recognition with new customers
A discount can help you reach a broader audience than you ever imagined. A discount or an offer is the most popular way to promote your streaming service. Coupons increase brand awareness regardless of whether they are redeemed.
2. Coupons give you the chance to upsell
Even though customers are drawn to your OTT service only because of the coupon, getting them to enjoy your content can lead to an upsell.
Upselling coupons is a great way to boost your revenue because they don't appear pushy. Instead, they simply motivate your customers to come back for more or subscribe to a higher plan.
For instance, if a user subscribes to your monthly plan, you can send them a coupon that will help them to save when they upgrade to an annual subscription.
If you acquire a user with a coupon, you can promote relevant content to them with or without coupons. Say, a user purchased a TVOD content using a festive season coupon that you shared on your social media, promote content of a similar genre to them or share coupons for purchasing TVOD bundles or even a subscription plan. This way you can convert them to a regular subscriber
3. It's easy to track the ROI of your coupon campaign
When people redeem a coupon or use a coupon code on your streaming service, you don't have to ask them how they found your OTT service. You can record the number of coupons that were redeemed under various codes to determine the success of your offers.
Later, you can also track how many of these users have converted to other plans.
In this case, it is evident that Welcome50 is the most popular coupon and Gold50 is the least popular.
The Coupon Usage Count field gives you a clear indication of the success of any coupon campaign.
If you have targeted different coupons on different plans you can also measure the success of your coupon campaign based on the plan and come up with ideas for better performance.
How did Netflix use coupons to win customers?
Netflix is undoubtedly the champion of the streaming industry today. However, the seeds were sown in the late 1990s and were carefully nurtured with the best marketing strategies in the early 2000s.
Netflix distributed coupons towards free Netflix DVD rentals inside the boxes of DVD players sold to consumers, and later on, through retailers – this way they grew the user base for their DVD rental business.
When they created an on-demand streaming platform the users liked the convenience and that's how Netflix evolved as a streaming giant.
How to use coupons to maximize profits
Here are the strategies that can work wonders for your OTT-business
1. Creating expiration dates will create urgency and give people a reason to subscribe/rent your content immediately because they do not want to miss out on something good.
2. Discoverability: Encourage users to share your generic code on social media. This will not only increase brand awareness but also quickly spike your user base.
Also, share these codes in your mailing list to maximize its reach.
3. Incentivize customers to spend more: Gives customers a reason to rent more or subscribe to a higher plan on your streaming site by sending timely coupons. For instance, if you notice a user subscribing to your base plan, send them an email with a coupon code a couple of days before expiration telling them that they can get a certain amount off if they upgrade to the next plan.
How to create coupons with Ventuno
1. From the Monetization section of the left menu, select Manage Monetization > Coupons > Add Coupon.
2. Type in the Coupon Name for your reference) and a Coupon Code. The coupon code is what you will share with your customers to avail the discount 
3. Add the Coupon Description and Terms and Conditions.
4. Select Plan Type - SVOD or TVOD. Now you can select individual plans by checking them or selecting the Check All Plans will make the coupon applicable to all your plans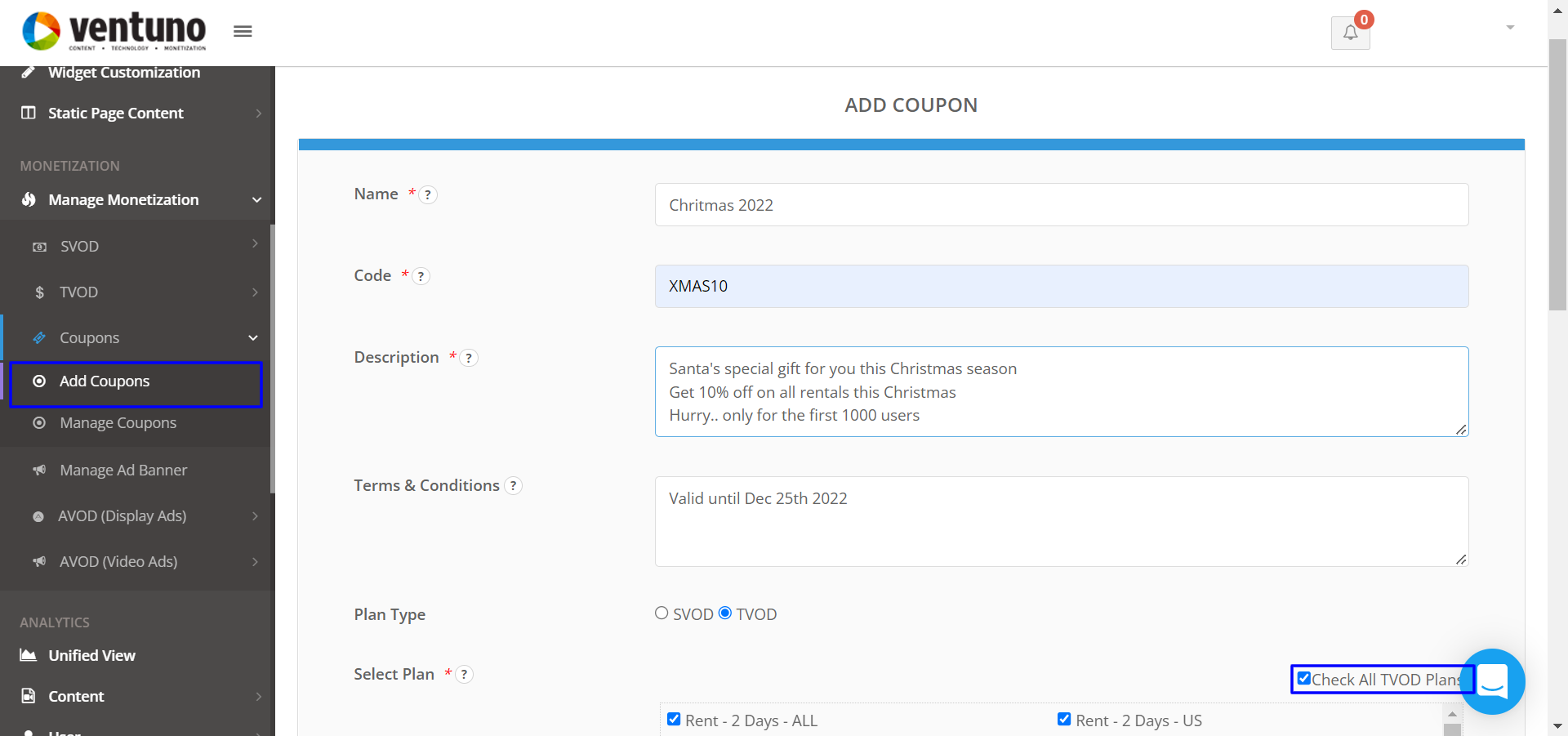 5. Choose the coupon Type (Fixed or Percentage), and enter the Discount.
Setting your coupon redemption limits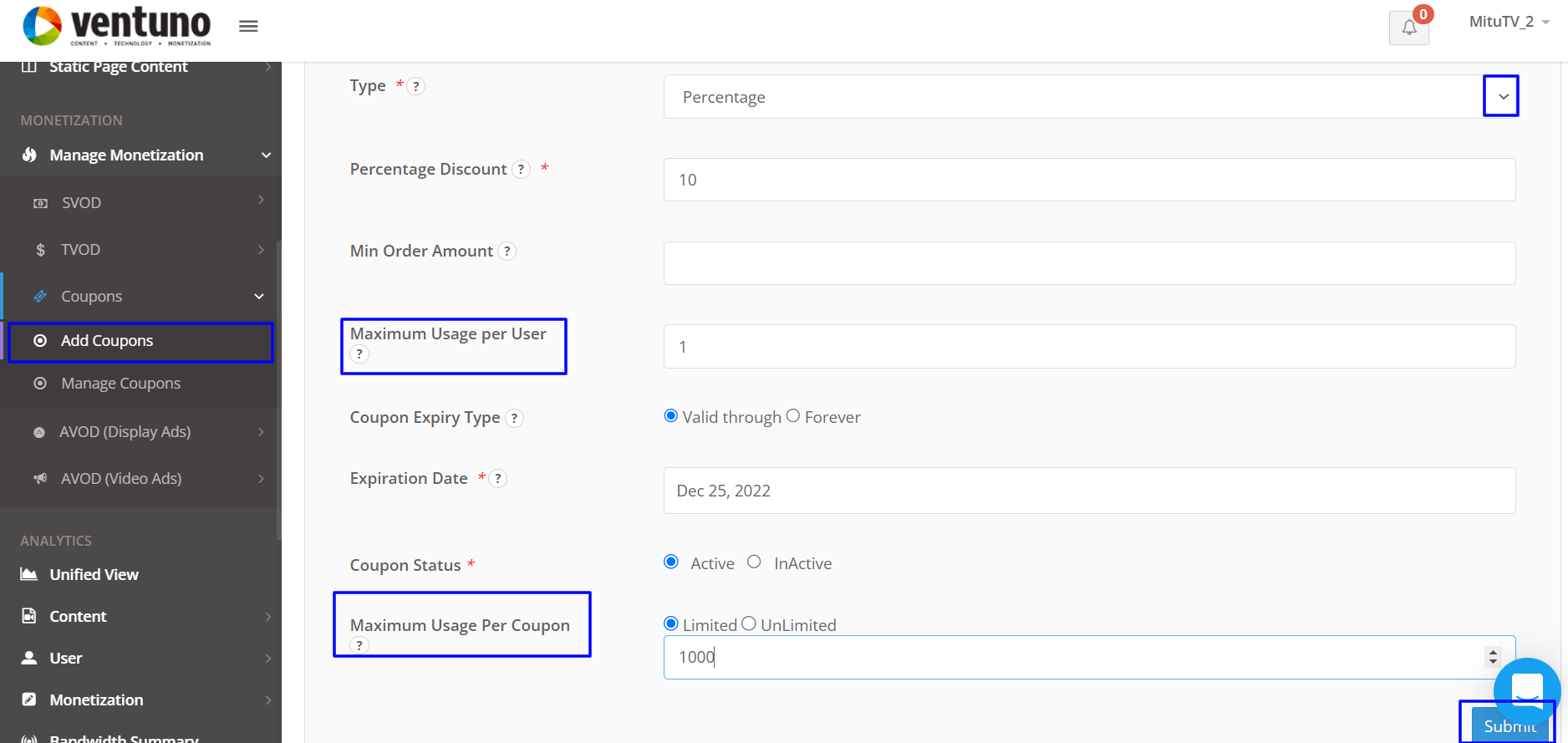 6. You may want to restrict the number of times the same user can make use of a coupon to measure the reach of a campaign. You can do this with the Maximum Usage per User field. You can set it to 1 or any number. You can leave it blank if you don't want to put any limits
7. Add the Expiration Date of the coupon. Alternatively, you can also make the coupon available forever
8. You can also want to limit the availability of the user. Eg: only 1000 users can use this code. This can be set in the Maximum Usage Per Coupon Field
9. Hit the Submit button to create your coupon.
Wasn't it simple?
You can manage your coupons, and make them inactive/active anytime
Wrap Up
So, what are you waiting for? With coupons, you can engage customers and give the boost your video business needs. Track the reach of each of your coupon campaigns and skyrocket your user base with a winning coupon strategy.
Looking to launch your own streaming service?