Did you know 74 percent of US households have at least one subscription streaming video service? This is not surprising given OTT platforms such as Netflix, YouTube Premium, and HBO Now raked in USD 1.27 billion in 2018!
As opposed to Pay-TV, the SVOD market continues to expand with an increasing number of consumers opting for video content that is personalized and on-demand. Statista reports a rise in the global users for SVOD content to 411 million by 2022.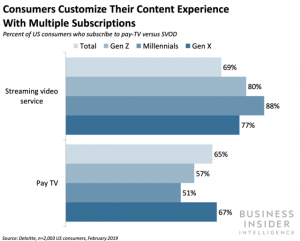 Even though there are more than 300 OTT video services worldwide, there is room for a lot of new SVOD services in the market. For example, indie movie services such as Mubi and Kanopy are doing well in the saturated market.
Not sure if launching an SVOD streaming service is right for you? Go through these 6 points to make a decision.
Table of Contents: 
5. Subscriber Retention & Expansion
Unique content
Do you create content that is specific, unique, and premium? If your answer is yes, then it makes perfect sense for you to add a paywall and earn off your videos. Many businesses run video content that is not readily available to the general public and is also extremely specific to the demands of viewers or subscribers. 
For example, DailyBurn is a health and fitness company that launched its workout video collections website in 2011 as a low-cost alternative to private training. Their website functions as a paid membership site where the target audience can purchase subscriptions and access training videos.
Today, the company has one of the most successful OTT services under the health and fitness category. Imagine if Daily Burn also had a YouTube channel publishing the same videos for free for everyone else to watch. Why would anyone be willing to pay them then?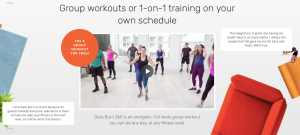 If your content is already available for free somewhere, there are two things that you need to do before launching your SVOD service:
Put out exclusive paid content on your website. On YouTube, publish teaser clips. Netflix follows this strategy.

Upload your video content on the website first, so that your most loyal fans will pay to watch it without waiting. You can then upload these on YouTube after some time to make it available to the general audience.
By making content exclusive to their OTT platform, service providers ensure that the consumers subscribe to them to access that content. For example, Disney pulled most of its content from Netflix before launching Disney+.
Audience type
Having a solid customer base for your videos is terrific. You can be assured they are not only viewing your content regularly but also enjoy it. However, the most critical question to ask yourself is whether these 'fans' are willing to pay for your videos.
What happens once you make your videos a paid commodity? Will they continue to watch them? Can they afford to pay, or are they willing to subscribe? If the answer to all of these questions is a "yes," then you are well on your way to adding a paywall and charging your subscribers for the video content you create.
If somehow, you are not sure whether your customers are ready to pay, you can run a limited offer on exclusive video content to check if this strategy can be implemented in the long term
When Sling TV, a live TV streaming platform popular for including sports networks such as NFL and ESPN, decided to enter the market, it gave potential subscribers a one-week free trial. A free trial can be a great way for your users to test the waters.
Niche category
Sometimes it's better to be a big fish in a small pond. It's easier to become successful in a niche category such as fitness. Although OTT brands such as Netflix, Hulu, and Amazon Prime cater to almost every kind of viewer, independent video content creators/enterprises often have to look for a niche.
Consumers are looking for targeted content that is tailored specifically for them. So, producing video content in a niche category is most likely to make you unique enough to reach out to specific audiences.
According to our experience, some categories just work better than others. For instance, videos on health and fitness, sports, movies, religion, and food are found to be some of the most successful categories in SVOD.
Let's take the example of Simply South, one of the largest OTT platform for South Indian movies. It has over 2000 movies in Tamil, Telugu, and Malayalam, catering to an enormous subscriber base from South India in the UK, US, UAE, and Malaysia. They have carved a niche and cater to the South Indian diaspora. 
Glo, a health and fitness app featuring yoga, Pilates, and meditation classes, targets those interested in any of these activities. It offers a two-week trial to potential subscribers.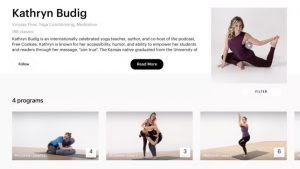 RedBull TV, on the other hand, plays videos covering globetrotting adventures, new music artists, and live events featuring top athletes in the world. 
Making your subscribers pay for a generic category is increasingly difficult because of so many options. For example, people prefer Netflix to watch English movies. For Hindi, HotStar has more options. Thus, being in a niche category helps as there is less competition.
Path to profitability
Do you have a clear path to profitability? You should be able to predict the revenue you might make through subscriptions in 1, 3, 6, and 12 months.
Irrespective of what route you take, you will have to incur costs while you are building your SVOD business. This could mean shelling out money for production, technology expenses, or employee overheads.
If you are planning to do paid marketing, you will have to keep a budget aside for that. 
No matter what your costs are, make sure not to overshoot your budget. 
Another question you might want to ask yourself is, what would be the cost of failure. Not to sound pessimistic, but knowing exactly what it costs to be successful or fail are both equally important in your business journey. Therefore, planning your finances is essential for sustainability, just as in any other business.
Subscriber retention and expansion
HBR reports that obtaining a new subscriber can be 5 to 25 times more expensive than retaining an existing one. The big question is: how are you prepared to drive subscriber loyalty? By ensuring that you consistently put out content that is relevant, unique, and useful to your subscribers, you create the perfect balance between retaining current users and adding new users.
Therefore, update your pricing model often. If the price is not right for your subscribers, your SVOD business is not going anywhere.
Bundle up! For example, imagine an offer stating, "10 videos for just $1!." Of course, it doesn't have to be this less. But your subscribers will flock to purchase the package before the deal expires. Thus, bundling enables you to keep your audience engaged.
Know who your target audience is, what they want, and how to deliver what they want. Half the battle is won when you know how to keep your subscribers engaged and happy. If you have the answers to all of these questions, then you are ready to start a subscription video business.
OTT platform provider
Do you have the right technology to launch your SVOD service? There are hundreds of vendors to choose from, and the vendor you choose can make or break your streaming service. 
Compare all the OTT vendors based on features, support, and price. It's advisable to go ahead with a SaaS platform that provides all the features that are needed to launch and monetize your streaming service. 
Over to you
The subscribers for streaming services are expected to grow to USD 1.1 billion by 2021. With the increase in accessibility created by more significant internet rollout, improved broadband connections, and high-performing video devices, opportunities for OTT video streaming platforms is enormous.
What are your thoughts on this article? reach out to us at info@ventunotech.com if you would like to discuss!
Looking to launch your streaming service?