Have you spent months planning to move your traditional TV channel to the cloud or trying to set up an online TV channel?
In addition to carefully planning your content and infrastructure, it's essential to use the right tools and resources to start an online TV channel.
It can be challenging to manage and deliver content using cloud technology. However, when you find the right platform with robust functionality and reliability, you can increase revenue while reducing costs.
You will need to select a platform where you can not only upload and organize your video content but also schedule and publish it to your online TV channel.
In this article, we will discuss how to use cloud technology to deliver your content as linear channels on your own website and apps as well as third-party applications.
Cloud Playout – What Does It Mean?
Cloud Playout is the process of managing the content of linear TV channels and then distributing them over satellite or OTT platforms.
At the most basic level, cloud playout is a method of delivering video content using cloud technology.
In a cloud playout system, video content is stored on a cloud and streamed to viewers over the internet.
Storing the video content on a cloud allows for more flexibility and scalability in the distribution of video content and reduces costs and complexity compared to traditional playout systems.
For instance, when you use a cloud playout platform like Ventuno to manage and deliver your content, you can eliminate the need for dedicated hardware and software to encode and distribute your video. Moreover, you can scale up or scale down based on your requirements reducing the costs associated with unused capacity.
Another key advantage of cloud playout is that it enables broadcasters and creators to store and access their video content from anywhere in the world, as long as they have an internet connection.
Imagine you have a team of creators adding to your video library from various locations across the globe. You would have needed an exclusive team to coordinate all this and upload them to dedicated hardware with a traditional system.
But with a cloud platform, your team can access the system from anywhere in the world and easily add to your content library.
All this makes it easier to manage and distribute video content via a cloud platform.
Also, with a cloud playout platform, you can quickly and easily make changes to your programming schedule without any complexity.
So without a doubt, broadcasters and content creators are moving to the cloud system for better management and delivery of their content.
How Is Cloud Playout different from VOD?
Although cloud playout and Video on Demand (VOD) are related, they are two distinct concepts.
VOD refers to a service that allows users to watch video content, such as movies and TV shows, whenever they want, rather than having to watch it at a specific time.
Services like Netflix, Hotstar, or Amazon Prime Video, which allow users to access an extensive catalog of content and choose what they want to watch are VOD services
Cloud playout, on the other hand, is a technology that is used by broadcasters and other video businesses to manage and distribute the content that they want to broadcast.
In essence, cloud playout is a way for broadcasters to schedule and play the content they want to broadcast at a specific time, while VOD is a service that allows users to access and watch content on demand.
Cloud playout is like a buffet, where the network pre-cooks a selection of dishes and keeps them warm in a warming tray for customers to choose from and enjoy at their leisure. VOD is like ordering off a menu, where the customer can choose from a list of dishes and the restaurant will serve the dish they order.
Why Are Broadcasters and Content Creators Moving to the Cloud?
The broadcast and media industries are undergoing significant change. A study says that 76% of all TV sets are connected and this will only increase in the future
This means that 76% of devices are no longer connected to a cord and are using the internet to deliver content.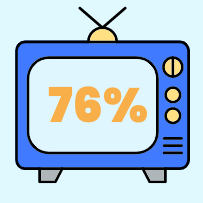 76% of all TV sets are CTVs
Broadcasters and content owners are moving to a cloud-based solution because of two main reasons – flexibility and personalized reach.
Flexibility
Cloud playout allows broadcasters to introduce a new channel or adapt an existing one with a minimal cost.
Imagine that a broadcaster wants to launch a new sports channel during events like Asian Games or the Olympics. With traditional methods, it would require a significant investment for creating a new channel.
In contrast, with cloud playout, the broadcaster can simply add another channel through a web-based interface, eliminating the need for dedicated hardware and software. They can also scale up or down their capacity as needed, based on the demand.
Additionally, the cloud playout platform can deliver content to a wide range of devices like mobile apps, CTV apps, and third-party platforms, expanding the reach of their content and increasing revenue.
Personalization
Cloud playout enables broadcasters and content owners to deliver personalized programming and advertising that appeals to the viewer's interests and geographical location.
For instance, different ads can be delivered to audiences in different cities, someone in New York would see an ad for a local restaurant and someone else in Los Angeles would see an ad for a beverage on the same content.
Similarly, viewers aged 18-20, may see an ad for a university, and another segment of viewers aged 20-34 may see another ad say fitness equipment.
This way, ads can be targeted based on geography, age, device, or other user-specific information.
Cloud Playout Use Cases
Cloud playout has many use cases, including live streaming events, on-demand video, linear TV channels, and OTT platforms.
1. Linear TV Channels
Linear TV channels are scheduled programming that airs on a set schedule, similar to traditional TV. Cloud playout allows broadcasters to manage the delivery and distribution of their linear TV channel.
For example, YouTube TV is a streaming service that offers a variety of linear TV channels to viewers, including news, sports, entertainment, and more.
2. Live Streaming Events
Live streaming events is a common use case for cloud playout, as it allows broadcasters to deliver live events to various devices.
In recent years, as the COVID pandemic has limited the ability to hold large in-person events, many music festivals and concerts have moved to a virtual format, using cloud playouts to deliver the events to viewers around the world.
3. Over-the-top (OTT) platforms
OTT platforms use cloud playout to manage the delivery of their content to viewers, including storing and organizing the content, scheduling and publishing the content, and delivering the content to various devices and platforms.
This can be useful for brands who want to distribute their content on their own streaming service or on third-party OTT platforms.
4. FAST Channels
Cloud playout platforms enable integration with FAST channels, allowing broadcasters and content owners to easily schedule and publish their streams as FAST channels.
The stream can be exported along with EPG details and shared with the other platforms for syndication.
How to Choose a Cloud Playout Provider?
When choosing a cloud playout provider, there are several key factors to consider, including the provider's reliability, scalability, and cost-effectiveness. Here are some specific things to keep in mind when choosing a cloud playout provider.
1. Reliability
The most important consideration when choosing a cloud playout provider is their reliability.
This is especially important if you are delivering linear TV channels, as any disruptions could impact the viewer experience.
💡How to identify a reliable Cloud Playout Platform Provider?
A reliable cloud playout provider is a platform that can ensure your content is consistently delivered to viewers without interruptions or technical issues.
Look for providers that have a proven track record of uptime and availability, and make sure they have robust systems in place to ensure that your video content is delivered to viewers without interruption.
2. Scalability
If your viewer demand is likely to fluctuate, or if you plan to expand your operations in the future, look for a provider that can accommodate your changing needs.
Scalability ensures that the provider's platform is able to handle a larger volume of traffic and support your growth.
💡How to identify a scalable platform provider?
A scalable cloud playout provider's platform allows you to easily add or remove capacity as needed, giving you the flexibility to adjust to changing demands and circumstances.
You must always have the capability to add or remove channels based on your requirement.
3. Cost Effectiveness
Cost is an important factor to consider when choosing a cloud playout provider because it can impact your overall budget and financial planning.
💡How to choose a cost-effective cloud playout platform?
Carefully evaluate the costs of different providers, you can choose a provider that fits within your budget and meets your needs.
Typically, a SaaS cloud playout solution will charge you a fixed platform fee and a variable usage fee based on the amount of content you deliver. Some providers may ask for an additional setup fee.
Look for providers that offer competitive pricing and flexible pricing plans that can accommodate your budget and needs.
4. Customer Support
Finally, make sure to choose a provider that offers excellent customer support.
💡How to evaluate the customer support of a cloud playout platform?
Look for providers that offer 24/7 support and a range of options for getting in touch, such as phone, email, and live chat.
A dedicated account manager would be an added advantage. This will ensure that you can get the help you need when you need it.
What to look for in your Cloud Playout Platform Provider?
In addition to the basic capabilities of a cloud playout system, such as the ability to store and stream video content, look for providers that offer additional features and functionality that can enhance your operations.
Look for a provider that offers advanced scheduling and playlisting capabilities, as well as analytics and reporting tools that can help you understand and optimize your video content distribution.
There are a few features that a cloud playout platform should have to ensure a hassle-free workflow.
1. Easily manage VOD assets and scheduled live feeds
Being able to easily manage VOD assets and scheduled live feeds in a cloud playout system can help you work more efficiently, as you will be able to quickly upload and organize your content, schedule and publish it, and deliver it to your viewers.
The video library is where you can view and manage all of your uploaded videos, as well as live videos and videos that are scheduled.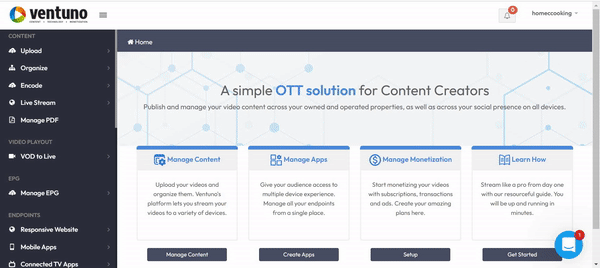 And best of all, you can easily generate a live stream feed out of your uploaded videos.
How to convert your VOD content to a stream?
Create a 
channel 
before starting the process to make sure the entire process is smooth. Once the Channel is created, you need to link Shows with this channel, this can be done by 
editing show details
1. From the 
VOD to Liv
e section of the left menu select 
Content 
and then select 
Add Program
2. Select the domain at which you want to add the stream, if you have configured only one domain with your account it will be selected by default.
3. Select 
Channel 
under which you want to create the stream. Then select the 
Program Type
 based on your requirement. It could be
 Media, Promo, or Advertisement
4. Then select the
 Content Type
 as 
Show 
or 
Playlist 
based on how you have curated the content to be streamed.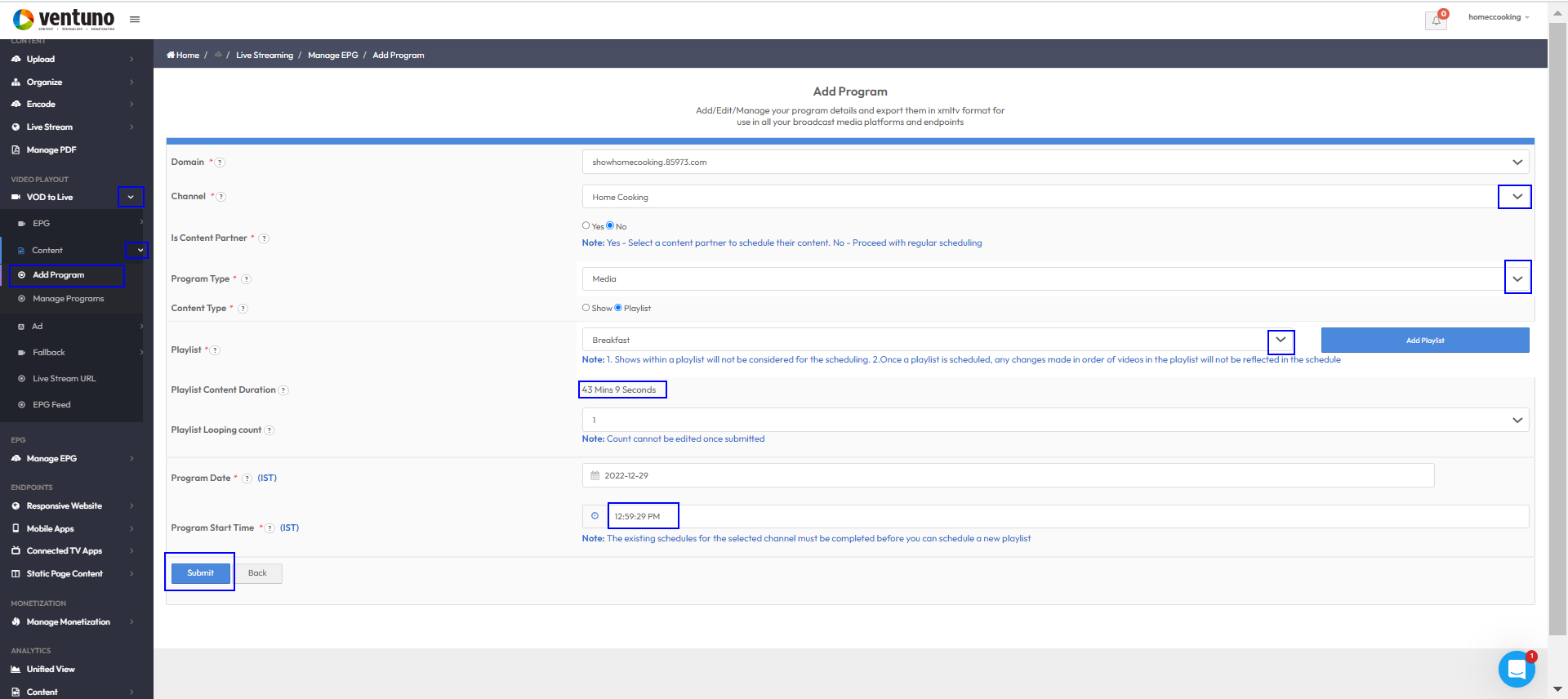 5. Now from the dropdown select the required Show/Playlist.
6. Finally, select the number of times you want to 
loop 
the content, for 
example, if your playlist is of duration 24 hours and you loop it 7 times, the same playlist will be streamed the entire week – once every day.
7. Once, you select the start time of the stream, the end time will be automatically calculated and shown.
8. Click on the 
Submit 
button and you have generated a linear stream from your VOD content
2. Support Schedule Changes
It is important for a cloud playout platform to support schedule changes in an easy, quick, and reliable manner to allow for flexibility, efficiency, and a better viewer experience, as well as to support monetization efforts.
Being able to easily and quickly make schedule changes allows you to be more flexible and adapt to changing circumstances. For instance, if you need to make a last-minute change to your schedule due to an unexpected occurrence, the platform must allow you to quickly adjust your programming to meet the needs of your viewers.
How to override the program schedule?

1. From the Video Playout Section of the left menu, select Manage EPG Content > Add Program

2. Select the EPG from the drop-down

3. Select the Yes option in the Is Content Partner field
⚠️ Note: No is selected by default

4. Select the content partner who contributes the required piece of content

5. Select the content which you want to stream at the selected time
⚠️ Note: once the content partner is selected, the videos only uploaded by the content partner will be listed,

6. Fill in details like the Program name and select the time slot you want to insert the program.
⚠️ Note: For scheduling the content insertion, you need to add the programs 2 hours before you want the video to be added to the EPG.

7. Finally, hit the Submit button

Alternatively, you can also delete the programming for a specific interval and schedule another program at the time.
3. Program Looping Capability
Looping programs repeatedly allow you to deliver continuous programming to your viewers. This can be especially useful if you have a limited amount of programming available.
Moreover, this can help your viewers catch up on shows that they missed.
When you schedule content, you can select the number of times you want to loop it, for example, if you schedule a playlist of duration 8 hours and loop it 3 times, the same content will be streamed thrice in a day.
4. Optimize Playout by Device
Your content must be optimized for different devices to deliver a better viewer experience. For this, the videos must be adaptively encoded and must be delivered seamlessly through apps designed for the specific device.
By optimizing your content for different devices, you can reach a wider audience. And most importantly, your viewers will be able to access your content on the devices that they use most often.
5. EPG
An Electronic Program Guide (EPG) is a feature that provides information about the programming that is currently airing or scheduled to air.
EPG help viewers find and watch content that is of interest to them.
An efficient cloud playout system must not only generate an EPG for your stream but must also empower you to export your stream along with the EPG to distribute in other networks.
FAQ
Wrap Up
Cloud enables broadcasters and content owners, to store and access video content from anywhere in the world. The flexibility in how they deliver their content and the reduced costs compared to traditional satellite methods have made many content owners and broadcasters move to a cloud-based infrastructure.
Most importantly, cloud playout enables broadcasters to distribute their content on third-party apps and their own apps, and to easily manage VOD assets and scheduled live feeds. Additionally, cloud playout systems typically offer features such as an electronic program guide (EPG) and the ability to loop programs repeatedly, which can improve the viewer experience.
Planning to set up a cloud-based linear TV. Reach out to us!
Looking to launch your own streaming service?