The OTT TV industry has become a highly competitive space for content creators. Year after year, several new players are coming into the markets the world over and the competition just keeps growing. 
To give your brand a fighting chance at survival and market dominance, you need to be present on every OTT platform and device that your audience uses. For instance, Samsung has the largest number of smart TV users in the world. That reason sure is enough for you to have your Samsung TV app too, and in this article, we will show you different ways in which you can build your Samsung TV app right from scratch.

So, how and where do you start? Building a Samsung TV app from scratch seems like a lot, right? But, what if we told you it's easier than you think it is. Let us explain that to you in just a bit. 
Before that, let's first get a quick understanding of Samsung TV apps and the operating system they use.
Table of Contents :
1. What is Samsung TV and Samsung TV App?
2. Why should you launch your Samsung TV App?
3. How to create your Samsung TV App?
4. Cost of Building a Samsung TV App?
What Is Samsung TV and Samsung TV App?

Samsung TV is a smart TV that has an in-built operating system, called Tizen OS. This operating system comes pre-installed on all smart TVs by Samsung.

A Samsung TV App is a video streaming app that is downloadable through the Samsung TV store. Users can download and stream content on any app they have a subscription for like Netflix, Disney, Amazon Prime, etc., on their Samsung Smart TV.

Confused between Samsung TV and Apple TV? The main difference is that Samsung TV is an actual TV, whereas Apple TV is a streaming device plugged into your smart TV. Unlike in the case of Apple TV, you do not connect any external devices to stream OTT content on a Samsung TV.

Ventuno helps you build Samsung TV apps that are downloadable from the Samsung TV store.
Why Should You Launch Your Samsung TV App?

Samsung has been the global market leader for 15 consecutive years since 2005. Their QLED TV sales in 2020 alone were 7.79 million units.

With its home-built TV operating system, Tizen, Samsung has the world's largest TV streaming platform.

Any guesses for how many Tizen users there are all over the world? If not, be prepared to have your mind blown.
About 155 million smart TVs are using the Tizen operating system. And as their smart TV sales continue to grow, so will the number of Tizen users all over the world.  
Now, who wouldn't want to jump onto that wagon, right?!
Creating a Samsung TV app can be a revolutionary decision for your brand.
So without further ado, let us show you the different options you have to create your own Samsung TV app.
How To Create Your Samsung TV App?
If you're new to coding or don't know anything about how to create an app from scratch, don't worry. We've got you covered. Here is a list of ways to create your Samsung TV app:
Build It Yourself
Well, if you don't know how to code yet, so what? It's never a bad time to start. Especially when you have a strong purpose to learn and apply your coding skills to something fruitful and fulfilling.

You can take some time and focus on learning the skill by:

joining classes to learn the basics of coding and building your skills from there.
Building a Samsung TV app by yourself probably sounds cheap and cost-effective but you may end up spending a lot more on the building and maintenance of the app.

Use Tizen Studio


Samsung has launched a special developer package called

Tizen Studio

, that helps you with the necessary set of tools to develop a native Tizen app. The tools available under Tizen Studio consist of a toolchain, an IDE, sample code, an Emulator, and the required documentation to help you use each tool and create your app.

Tizen Studio can be installed and run on your Windows, macOS, and Ubuntu.  Tizen Studio runs on Windows®, Ubuntu, and macOS.

Again, with no development or coding background, this can be a tad bit cumbersome to use. Here are some known disadvantages that Tizen Studio users have reported:

For coding newbies, using Tizen can be a bit complicated, especially when you are trying to incorporate customizations. 

The documentation that comes along with it also lacks some important information.

Many users have reported that the system is not intelligent enough to make recommendations or suggestions. 

Hire A Developer/ Team Of Developers
Hiring a developer or setting your own in-house team is another way to create a Samsung TV app from scratch. However, this option is suitable for high-budget creators who have the money and resources to build and manage the app.

Since you are building the app in-house, you will get good flexibility and control over it. You will need to hire at least 2-3 people to build and manage your apps. Don't forget that you need to build the platform that is used to manage your OTT operations from scratch. The platform usually consists of the following:

   •    Video CMS – to upload and organize videos and live streams 
• Video player – to play the videos on the app
• Servers – to auto-scale when the demand increases/ decreases
• CDN – to stream the videos
• Storage – to store the videos
   •   Ad server – to manage ad campaigns 
   •   Payment gateway – to collect payments 
   •   Analytics – to view analytics

Overall, it will cost you hundreds of thousands of dollars for app development and maintenance.

Use A SaaS OTT Platform


Now, coming to the most lucrative option of all – using a SaaS OTT platform like

Ventuno

to build and maintain your Samsung TV app.

Using white-labeled SaaS platforms like Ventuno to build your own feature-rich Samsung TV app from scratch can offer a hoard of advantages:


You get a single platform to manage your entire OTT operations – right from uploading & organizing videos, launching your apps, monetizing them with ads, subscriptions, pay-per-view, and viewing detailed analytics.
• Creating and launching the app is cost and time-effective.
• Your users get to enjoy nothing less than the superlative quality of video and design.
   •   With Ventuno, you get the flexibility of including features, payment options, region specifications, etc. of your choice and preference. 
• There are zero upfront costs. All you need to do is pay a fixed monthly fee & a variable usage-based fee.
• Apps are built in adherence to Tizen's rules and requirements.
• You can also collect payment in different currencies to tap the global market reach of Samsung smart TV.
• You don't need to hire any developers. Ventuno manages your app for you.
• And.. you can cancel at any time.
Imagine you get all of this… Just at a fraction of the cost!
Choose Ventuno and create your Samsung TV app in a simple five-step process.
• Sign in to your Ventuno account.
• Upload your content.
• Choose your template and design.
• Set up the monetization.
• Launch
• And let us manage and technically support the backend system for you!

Your app is all set to soar in the skies of Samsung's world-dominating ecosystem.

Cost Of Building A Samsung TV App
Now, let's talk about what it can cost you to build a Samsung TV app from scratch. We have some researched figures for you to do an easy comparison:
1. Building an app on your own will probably cost you a lot more time than money. And therefore, it is the most cost-efficient method of all. But, as we discussed, it's not an easy thing to do.
   2.   Hiring a developer or team of developers would cost you anywhere between $30,000 to $40,000 for development alone and then the monthly fees for hosting and support are separate.  
   3.   Using a SaaS platform can do the job for you at just a fraction of this cost.

Ventuno's pricing is highly competitive and once you're signed up you'll know how the services are worth every penny's worth! The basic plan starts from $250/ month.


Conclusion

Growing your OTT audience by multifold can become a reality after launching your Samsung TV app. So wait no longer, and choose what option is best suited for you.

What are your thoughts on this article? reach out to us at info@ventunotech.com if you would like to discuss!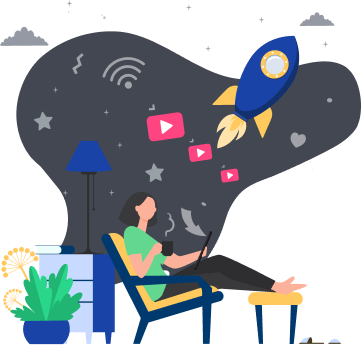 Discover how to build your Samsung TV app with Ventuno